Havana Embassy Flag-Raising Live Stream: John Kerry To Fly American Banner In Cuba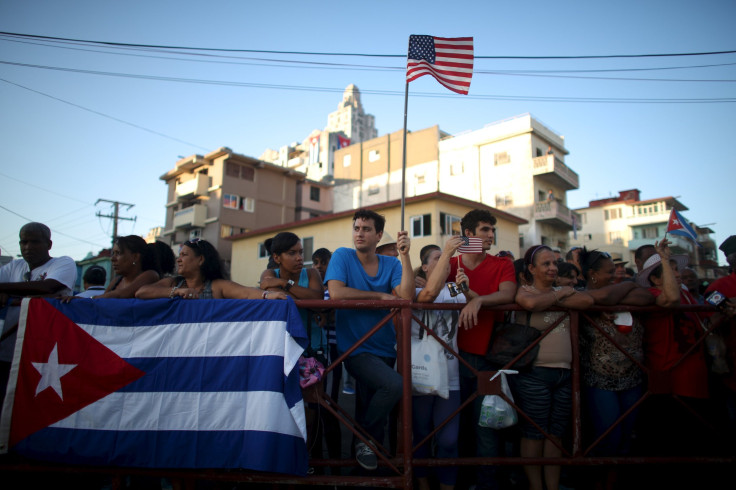 The thawing diplomatic relationship between Cuba and the United States was set to reach a new level Friday with an American flag-raising ceremony at the U.S. Embassy in Havana. U.S. Secretary of State John Kerry was scheduled to attend the historic event, which will officially reopen the embassy about 50 years after the countries severed ties due to the rise of the Castro regime and the Cold War. The American flag hasn't flown over the embassy since Jan. 3, 1961, Agence France-Presse reported.
Kerry was set to be joined by the three Marines who took down the flag decades ago: James Tracy, Francis East and Larry Morris. The three veterans were not expected to raise the flag themselves, but they said they were excited nonetheless. "Just to see Old Glory go back up over Cuba," East told CNN, "it's going to be great."
The ceremony was to begin at 9:45 a.m. EDT. You can tune in for the flag-raising below or catch the live stream on state.gov.
Kerry's visit was due to be the first time a sitting U.S. secretary of state has visited Cuba in about 70 years. His flight there was announced July 20, when the two countries formally re-established diplomatic relations. That same day, Cuba raised its flag in Washington, D.C. The U.S. Embassy in Havana technically opened at that point, so Friday's event was considered largely ceremonial.
While in Cuba, Kerry will meet with dissidents as well as officials like Foreign Minister Bruno Rodriguez. However, no meetings were scheduled with President Raúl Castro or his brother, Fidel Castro, who published a letter this week demanding the U.S. reimburse Cuba for financial losses incurred by a trade embargo.
Friday's visit will be the first in a series of discussions about human rights, law enforcement, health and education, among other topics, the Associated Press reported. "We will talk very directly about a sort of road map toward real, full normalization," Kerry said.
© Copyright IBTimes 2023. All rights reserved.
FOLLOW MORE IBT NEWS ON THE BELOW CHANNELS