HB2 Abortion Ruling: With Most Texas Clinics Closed, What Are The Alternatives?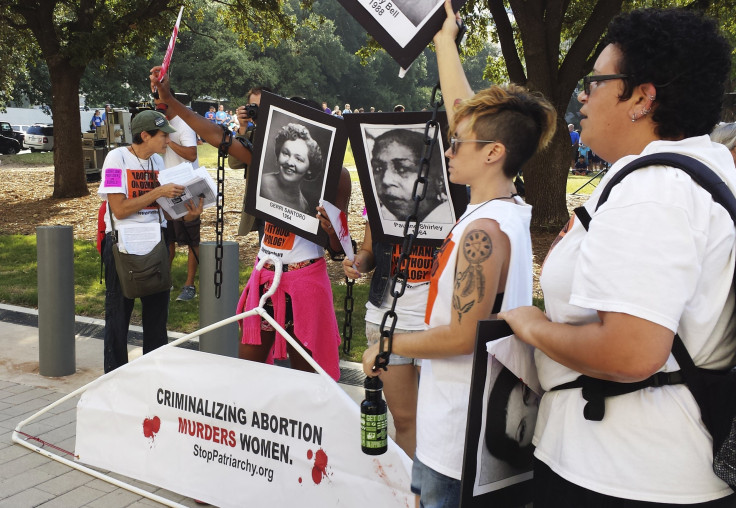 It is now much more difficult to get an abortion in Texas. On Thursday, a three-judge panel in The Fifth Circuit Court of Appeals in New Orleans, Louisiana, voted to uphold a portion of the Texas law known as HB2 (House Bill 2), reported the New York Times.
The ruling gave Texas permission to require that all abortion clinics in the state needed to meet the same standards (building, equipment and staffing) as hospital-style surgical centers. To meet those standards, which abortion providers said were unnecessary, abortion clinics would need to spend millions to upgrade. As a result, on the same day of the ruling, 13 of the 21 abortion clinics left in Texas serving almost 6 million women of reproductive age were forced to shut down immediately. According to the New York Times, before HB2 was passed in July 2013 in the Texas State Legislature, Texas had 41 abortion clinics. Now there are seven.
The panel agreed with the state's lawyers that there was insufficient evidence that a "large fraction" of women seeking abortions would face an unconstitutional burden because of the surgical-center requirements and resulting clinic closings. Citing data from the state's expert Dr. Daniel Grossman, who argued that only about one out of six Texas women seeking an abortion would live more than 150 miles from the nearest clinic, the panel wrote, "This is nowhere near a 'large fraction.'"
But many pro-choice advocates have posited counterarguments. Maya Dusenbery of the website Feministing wrote in a tweet, "1 million ppl have to travel 300 miles roundtrip but that's somehow not a 'large fraction' facing an undue burden." And to convey the real-world repercussions for women in Texas who wanted abortions but who have limited means, RH Reality Check, a website that comments on reproductive and sexual health and justice, delineates what HB2 will mean in terms of cost and time for a composite figure they call "Maria," a single mother with a child making minimum wage. After this HB2 ruling, factoring in "Maria's" monthly take-home income and the estimated cost of travel to her nearest clinic, with its attendant gas, food, lodging, child care and lost wages accounted for, it would be almost equal to or even exceed an entire month's wages.
The law has had a significant impact on the number of women who have had legal abortions. A study released by the Texas Policy Evaluation Project in July reported that the number of legal abortions in Texas dropped 13 percent since the November 2013 HB2 law was passed.
In a conversation with International Business Times, Sarah Erdreich, a reproductive rights activist and author of "Generation Roe: Inside the Future of the Pro-Choice Movement," said that the Fifth Circuit ruling was "devastating" and showed the court's "disregard" for women's health. "We're going to see an uptick in women crossing the border to Mexico," she said. "This is something we've already seen since this past summer. They're leaving the Rio Grande and other underserved areas to get pills, sometimes crossing the border, sometimes buying them at flea markets."
"Historically, although abortion was illegal, it didn't stop women from having them," she said. "Women are still going to continue to terminate unwanted pregnancies. They'll just take more dangerous measures including performing dangerous self-abortions." Erdreich added that there is a possibility that health care providers who have been trained to perform abortions may begin doing so for their patients -- without advertising it. "But that's not to say all women in Texas will find that with their doctors. Hopefully, doctors who are trained will step up and do it for them."
Ultimately, Erdreich says that for many low-income women, even before the Fifth Circuit ruling on Thursday, "abortion is legal in name alone. There's not equal access."
© Copyright IBTimes 2022. All rights reserved.
FOLLOW MORE IBT NEWS ON THE BELOW CHANNELS