Henry Kissinger, Ex-Secretary Of State, Gets TSA Pat-Down At JFK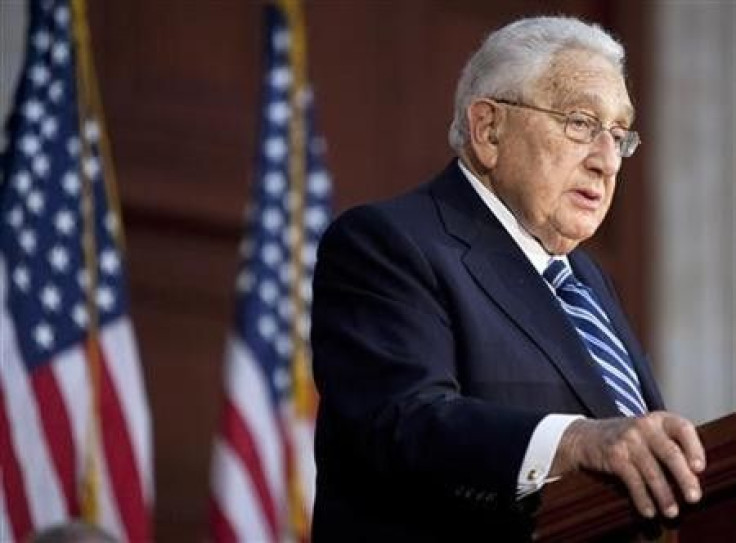 In a sign that airport security workers don't discriminate, former U.S. Secretary of State Henry Kissinger was subjected to a TSA pat-down before boarding his flight at LaGuardia Airport in New York.
Kissinger, 88, is a Nobel Peace Prize winner and served as secretary of state to Presidents Nixon and Ford in the 1970s. He was involved in getting the country out of Vietnam and assisted in opening up relations between China and the United States.
A freelance reporter observed Kissinger, who was in a wheelchair, being patted down Friday at LaGuardia on his way to Toronto, according to the Washington Post.
Matthew Cole, the freelance reporter, described the pat-down as the full Monty.
He stood with his suit jacket off, and he was wearing suspenders. They gave him the full pat-down. None of the agents seemed to know who he was, Cole said, according to the Post.
Kissinger took the pat-down in stride and was looking forward to being served breakfast on his flight, the paper said.
Henry Kissinger is the latest prominent figure to be patted down by the TSA. The agency is arguably one of the most hated in the country for what people contend is unnecessary security measures, including nude body scans.
Celebrities getting the TSA pat-down include model Bar Refaeli, who suggested the TSA agent who patted her down must have been a lesbian over the way she was handled by the agent. Jennifer Hudson is another notable celebrity who got the TSA treatment.
Then there are ordinary Americans like 7-year-old Dina Frank, who has cerebral palsy and received a pat-down so vigorous her family missed their flight from John F. Kennedy International Airport to Florida.
GOP presidential candidate Ron Paul, who stopped active campaigning yesterday, even raised money off of people's disgust for the TSA through his End The TSA money bomb -- a short-term, topic-specific approach. The fund-raising gimmick raised more than $250,000 for Paul, who is an advocate of smaller government and, like many Americans, would like to see the TSA eliminated.
© Copyright IBTimes 2023. All rights reserved.
FOLLOW MORE IBT NEWS ON THE BELOW CHANNELS