Here's How Canada's Wildfire Smoke Travels And Spreads Across US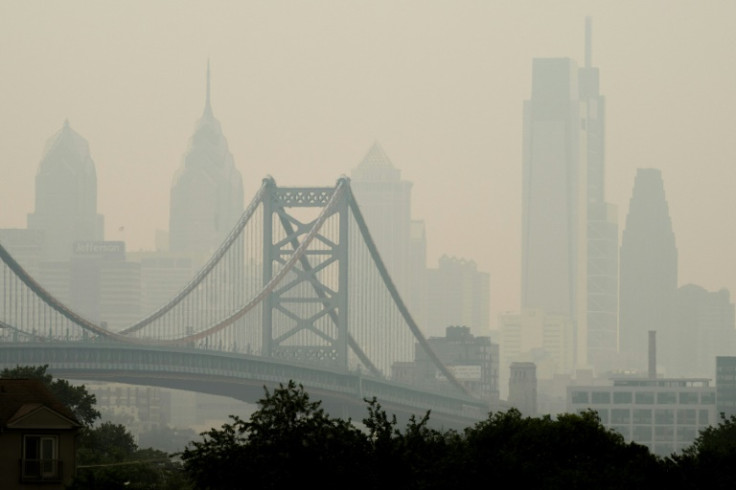 KEY POINTS
Climate experts blame weather systems and wind flow as smoke from Canadian wildfires reach U.S.
A meteorologist said a heat dome likely caused Canadian wildfires to ignite quickly
Canada's natural resources minister warned the wildfires would get worse through the summer
As Canada struggles to combat its worst wildfire season, climate and weather experts have explained why the U.S. is feeling the impact of fires burning over the border and thick toxic smoke shrouds its major cities.
In an interview with Politico, Dave Phillips, a senior climatologist at Environment Canada, said strange winds and a low pressure area off Nova Scotia on the Canadian east coast are causing the smoke from the Canadian wildfires to move toward the U.S.
Phillips said these acted "like a vacuum cleaner, just sucking air southward and eastward."
Tom Kines, a senior meteorologist at AccuWeather, echoed Phillips' remarks, telling Time Magazine that all the smoke from the wildfires "gets caught in the wind flow, and pushed out into the states."
"That's basically what's been happening over the past day or two," he said.
Kines said that the northeastern part of the U.S. was engulfed with toxic air quality because the wildfires in Canada continue to burn and generate smoke into the sky.
"[As] long as you have a source of smoke it's going to be an issue," he said.
The AccuWeather meteorologist noted that the Canadian wildfires are generating so much smoke that it's already "close to the ground," causing reduced visibility and air quality issues.
Climate change also exacerbated Canada's wildfire season as the country experienced extreme heat.
Jeffery Berardelli, a Florida-based meteorologist, told The Guardian that some parts of Canada had experienced a "heat dome" after a "stronger" high-pressure system developed in its prairie region. This phenomenon likely caused widespread wildfires in the country.
Berardelli noted that a heat dome in Canada is a "very rare occurrence in this part of the world," adding that it is "rarer than a 1-in-1,000-year event."
The meteorologist warned that as the climate in Canada becomes hotter than in previous decades, this phenomenon will likely occur earlier and more often in the coming years.
So far, hundreds of firefighters from around the world have flown to Canada to help put out more than 400 fires, of which some 200 are out of control.
But Canada's Natural Resources Minister Jonathan Wilkinson warned that the risk of wildfires continues to increase and remains "unusually high" throughout the summer due to dry conditions.
Meanwhile, some events in Canada and the U.S. were postponed or canceled as hazardous thick smoke blanketed the region.
The New York Times reported that the Temiskaming Hospital in Ontario, Canada, is canceling all surgeries and obstetric procedures scheduled for Friday as the air quality around the hospital continues deteriorating.
In Pennsylvania, the 54th annual Special Olympics Summer Games, scheduled to begin Thursday and end Saturday, have been canceled. Rock N' Roll Lot parties scheduled at four McDonald's parking lots in the central part of the state Friday were also postponed.
Philadelphia's school district superintendent has announced that all public schools will shift to remote learning Friday, saying there was "no indication that air quality would significantly improve for the remainder of this week."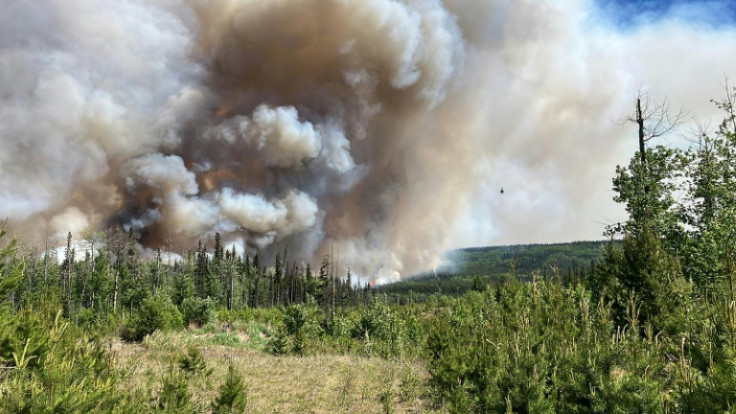 © Copyright IBTimes 2023. All rights reserved.