High BPA Levels In Urine Linked To Obesity In Children: Study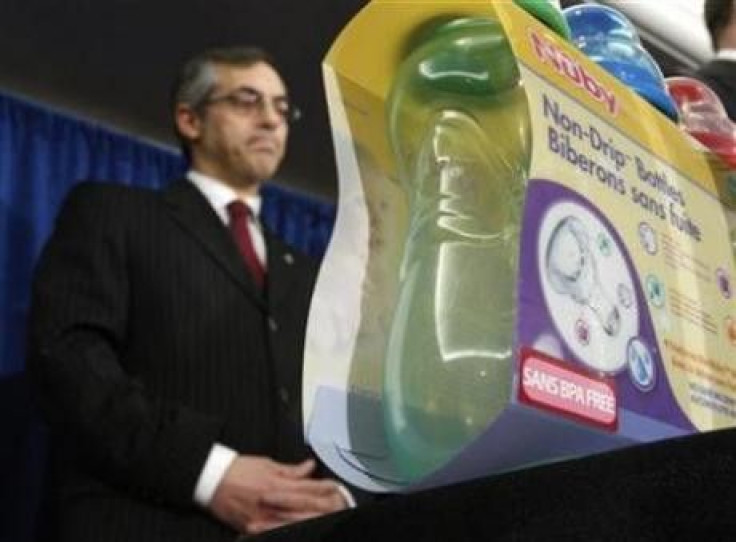 New research suggests that children with higher levels of Bisphenol A (BPA) in their urine are also more likely to be obese.
BPA, a substance used in making a variety of plastic products, bears some chemical similarities to the hormone estrogen. Previous research already shows that BPA can disrupt normal metabolic processes in people and even possibly change gene expression patterns in mice. Studies have also tied BPA's estrogen-like characteristics to disorders with roots in abnormal sensitivity to estrogen, like breast cancer. Last September, New York University researchers found a connection between high BPA levels in urine and obesity in a sample of 3,000 children and teenagers.
Now, a new study penned by researchers from the University of Michigan and published in the journal Pediatrics on Monday adds further evidence of an association between BPA and childhood obesity. The scientists examined data from the National Health and Nutrition Examination Survey compiled by the U.S. Centers for Disease Control. They looked at data on 3,370 children with records on both their body-mass index (BMI) and urinary BPA levels.
Higher levels of BPA in urine correlated with a higher likelihood of falling into the 95th percentile of BMI – the technical qualification for obesity. Additionally, children with higher levels of BPA in their urine were more likely to have an abnormal waist measurements relative to their heights.
"Our study suggests a possible link between BPA exposure and childhood obesity," lead author and pediatric endocrinologist Donna Eng said in a statement. "We therefore need more longitudinal studies to determine if there is a causal link between BPA and excess body fat."
Coauthor and pediatrician Joyce Lee said she and her colleagues were surprised that they didn't find a link between higher BPA levels and elevated risks for diabetes and heart disease. Other studies have found such a connection in adults.
"Based on these results, BPA may not have adverse effects on cardiovascular and diabetes risk, but it's certainly possible that the adverse effects of BPA could compound over time, with health effects that only later manifest in adulthood," Lee said in a statement.
There are some limitations to the study. The researchers note that other scientists have found BPA tends to get stored at higher levels in fat tissue versus brain and liver tissue; it may be possible that obese people store BPA differently than nonobese people, which might account for higher concentrations of BPA in their urine. Plus, it is still unclear exactly how BPA might bump up a person's risk for obesity and other health problems, or if it's possible to gauge long-term exposure to BPA from a single urine test.
Many manufacturers have already begun voluntarily recalling BPA-containing products for fear of the compound's effect on children and other vulnerable subpopulations. The U.S. Food and Drug Administration banned the use of BPA in children's drinking cups and baby bottles, but said there wasn't enough evidence yet of adverse health effects to merit a broader ban.
SOURCE: Eng et al. "Bisphenol A and Chronic Disease Risk Factors in US Children." Pediatrics published online 19 August 2013.
© Copyright IBTimes 2023. All rights reserved.