Hilary Clinton to meet with Libyan rebels next week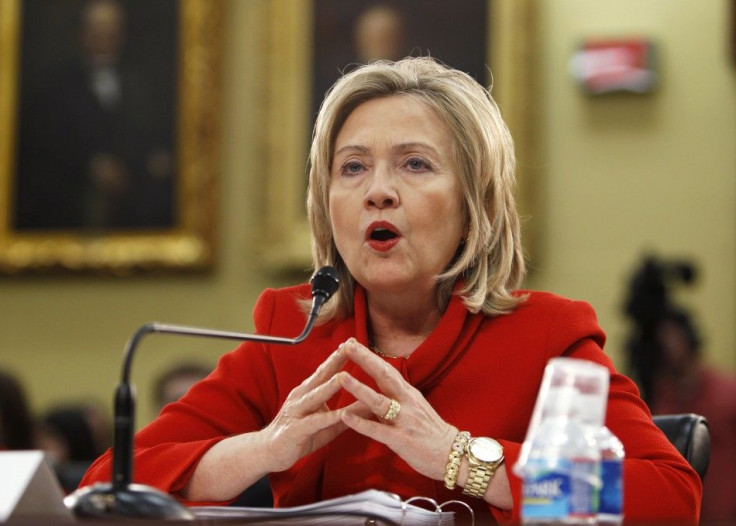 U.S. Secretary of State Hillary Clinton said she plans to meet with Libyan rebel leaders in the U.S. and when she travels next week to France, Tunisia and Egypt.
We are reaching out to the opposition inside and outside of Libya, Clinton said while announcing her trip to Tunisia and Egypt. I will be meeting with some of those figures, both in the United States and when I travel next week, to discuss what more the United States and others can do."
She did not specify which Libyan opposition members she would confer with.
While U.S. officials have reportedly reached out to various rebel groups in eastern Libyan either directly or through middlemen, Clinton will be the highest government official to formally speak with them.
We are standing with the Libyan people as they brave bombs and bullets to demand that Gaddafi must go — now, Clinton said to a House panel.
Clinton also has her doubts about the effectiveness of a proposed no-fly zone over Libya, citing similar measures were taken against Iraq and Serbia without adequately protecting its citizens.
We are working to create an international consensus because we think that is absolutely critical to anything that anybody, especially us, does, Clinton said.
Absent international authorization, the United States acting alone would be stepping into a situation whose consequences are unforeseeable."
Clinton said that when she visits Tunis and Cairo, she will urge their regimes to install democratic reforms.
Clinton's comments come on the same day that France became the first country to formally recognize the Libyan National Council (LNC) as the legitimate government in Libya. French President Nicholas
Sarkozy met in Paris with two representatives of the new provisional council, Mahmoud Jibril and Ali al-Esawi.
The council is led by Mustafa Abdel Jalil, Libya's former justice minister, who defected soon after Moammar Gaddafi's government began a brutal suppression on protesters in February.
© Copyright IBTimes 2023. All rights reserved.