Hillary Clinton Campaign Spread Obama Muslim Rumors, Says Former Aide Reggie Love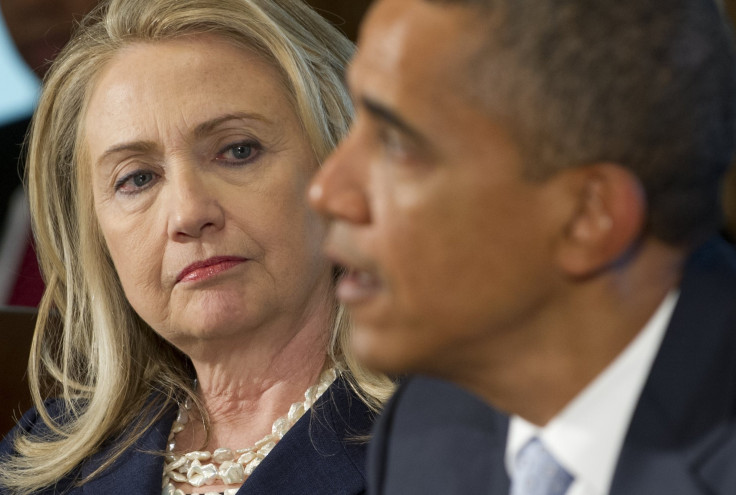 A former personal aide to United States President Barack Obama said Monday that false rumors he was a Muslim were "moved along" by Hillary Clinton staffers in 2008. Reggie Love, speaking Monday with Fox News radio host Brian Kilmeade, said he didn't know where the story questioning Obama's faith originated, but the campaign had solid indicators that "folks from that camp" were spreading it.
One of Kilmeade's questions to Love revolved around an excerpt from his book, "Power Forward: My Presidential Education," which chronicles Obama's rise to president. Love wrote about a moment on the tarmac at the Ronald Reagan Washington National Airport in 2007 where Clinton approached Obama to apologize for a staffer who suggested Obama was a drug user and seller.
Obama "very respectfully told her the apology was kind, but largely meaningless, given the emails it was rumored her camp had been sending out labeling him as a Muslim. Before he could finish his sentence, she exploded on Obama. In a matter of seconds, she went from composed to furious," according to a Washington Post excerpt from the book. Love described it as the moment Obama -- who is a Christian -- knew he would win the Democratic nomination for president.
Love confirmed this account to Kilmeade Monday, saying that Obama's campaign had "pretty decent data points" that told them about Clinton's role in the rumors. "For then-Sen. Obama, the campaign trail had been very challenging for him, and one of the things I don't think he expected was in the Democratic primary there would have been as much smearing, as you want to call it, and going after people's credibility and who they are as a person with information that is a little less than accurate," Love said.
Claims that Obama was or is Muslim cropped up in his first bid for the presidency, and they've resurfaced in the run-up to the 2016 election. Earlier this month, GOP front-runner Donald Trump failed to correct a supporter who referred to Obama as a Muslim in a question at a New Hampshire town hall event. Then, neurosurgeon Ben Carson told reporters that he "would not advocate that we put a Muslim in charge of this nation," according to CNN.
Clinton, the Democratic front-runner, took aim at Trump on Twitter, writing that "not denouncing false statements about POTUS & hateful rhetoric about Muslims is disturbing, & just plain wrong." She also rejected a question from CNN's Don Lemon about whether she started the so-called "birther" movement. "That is so ludicrous, Don. You know, honestly, I just believe that, first of all, it's totally untrue, and secondly, you know, the president and I have never had any kind of confrontation like that," Clinton said, according to Politifact.
© Copyright IBTimes 2023. All rights reserved.