Hillary Clinton Columbia University Speech Live Stream: How To Watch Her Call For End To Mass Incarceration Online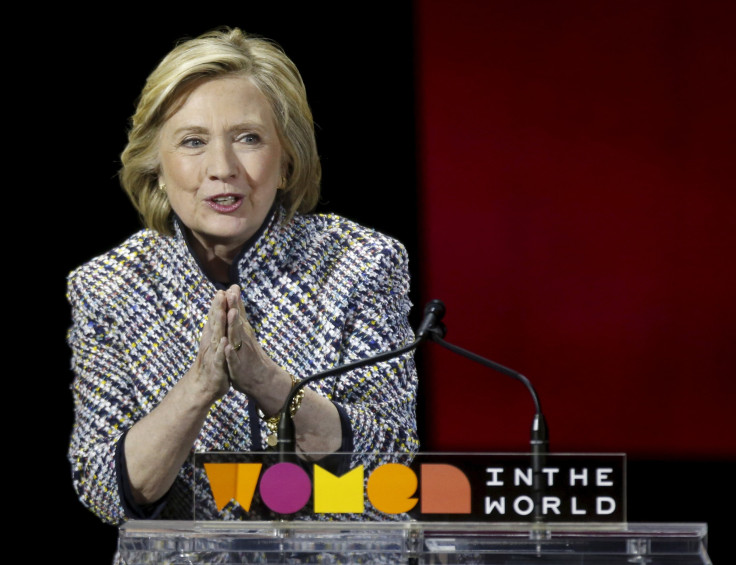 Former U.S. Secretary of State Hillary Clinton is expected Wednesday to call for an end to mass incarceration and for national use of police body cameras in her first major public policy speech since launching her presidential campaign April 12. Clinton's speech, to be delivered at the David N. Dinkins Leadership and Public Policy Forum at Columbia University in New York City, is scheduled to begin at 9:45 a.m. EDT. To watch a live stream of Clinton's speech, view it in the player below or click here.
Clinton's expected remarks come as national leaders address the ongoing civil unrest in Baltimore and the longstanding distrust between law enforcement and communities of color. Clinton will call on the nation to "end the era of mass incarceration," a Clinton aide told Time. In addition, Clinton is expected to detail her vision for criminal justice reform, including proposals that emphasize treatment instead of prison for nonviolent drug offenders and people with mental health issues.
"She will also discuss the hard truth and fundamental unfairness in our country that today African-American men are far more likely to be stopped and searched by police, charged with crimes and sentenced to longer prison terms," the Clinton aide said. Wednesday's speech will be Clinton's first public remarks since rioting broke out in Baltimore on Monday night over the death of Freddie Gray, a 25-year-old African-American who died in police custody April 19 after suffering an unexplained spinal injury. His death came one week after his April 12 arrest.
Clinton's criminal justice reform plans reflect a sea change for the presidential candidate. As a U.S. senator and a first lady, Clinton backed tougher proposals on crime, such as so-called three-strikes laws and harsher federal sentencing guidelines. But that change is in line with a nationwide rethinking on criminal justice policies, Time reported.
The annual forum, named for David Dinkins, New York City's first African-American mayor, addresses "many of the challenging issues including education, the environment, labor, tourism, immigration and fiscal crises that successful and urban ecosystems must contend with," said a statement on the forum's website. Other notable scheduled forum speakers will include U.S. Sen. Kirsten Gillibrand, D-N.Y.; former Vice President Al Gore; U.S. Rep. Charles Rangel, D-N.Y.; former Pennsylvania Gov. Ed Rendell; Philadelphia Mayor Michael Nutter; former New York City Mayor Michael Bloomberg; and current New York City Mayor Bill de Blasio.
© Copyright IBTimes 2023. All rights reserved.