Hillary Clinton, Countless Celebrities 'Go Purple' for Spirit Day [VIDEO]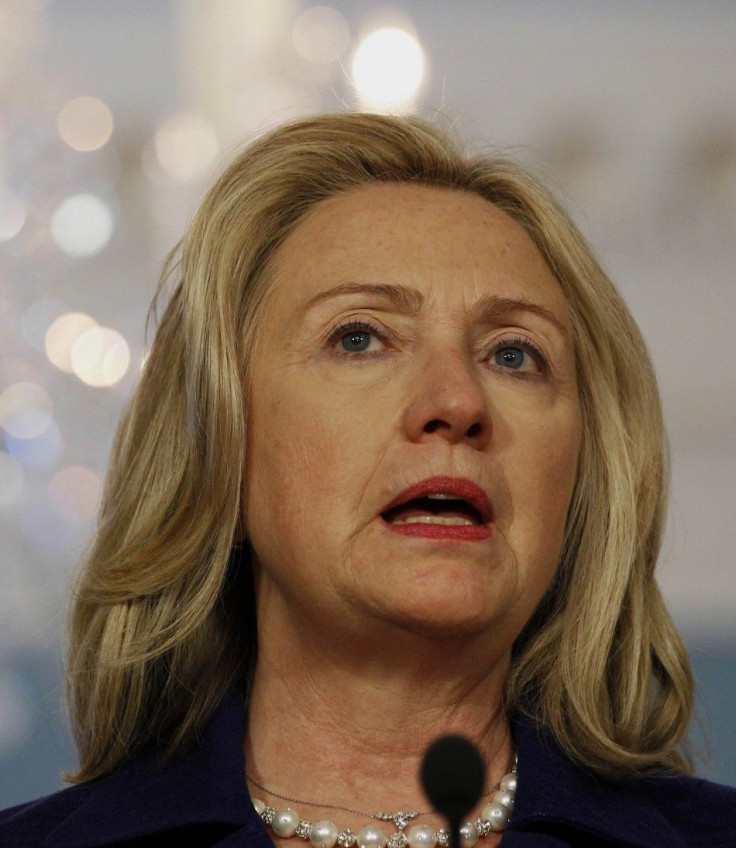 Countless celebrities are joining America in a pledge to go purple, donning purple clothing, taking to Twitter, MTV, and Facebook, and producing It Gets Better videos in support of LGBT youth for the second-annual Spirit Day.
Spirit Day was founded in 2010 by teenager Brittany McMillan, responding to several gay teens who killed themselves following years of bullying and marginalization. Since the main goal of Spirit Day is visibility, the easiest way to show support is to don purple, something celebrities are doing with a passion.
Some celebrities took to Twitter, tweeting messages of advocacy and support for LGBT teens:
Adam Lambert: Glaad Spirit Day! I support LBGT youth against bullies! Put up your forcefields and don't let anyone take your energy!!
Johnny Weir: Its Spirit Day. Wear purple. Say something nice to someone you wouldn't usually talk to. Stop attacking people for being different. #love
Sean Hayes: Hey everyone. Don't forget to wear Purple today, October 20 for Spirit Day #SpiritDay
Lea Michele: Please wear purple tomorrow in honor of our youth who have been bullied. I'll probably still be stuck on the couch [dental surgery] but I have purple pj's!!!
Stars like Ryan Seacrest, Ricky Martin, and Alyssa Milano turned Facebook lavender, worked with MTV to make the company's web stie purple, and changed their Twitter picture to the NOH8 logo while tweeting their support.
But many a celebrity has gone beyond simply posting or tweeting, donning purple on-camera and taking to the airwaves to support LGBT youth. Both Ellen DeGeneres and Fort Worth City Councilman Joel Burns, whose It Gets Better Video has almost 2 million views on YouTube, were on The Ellen DeGeneres Show this morning wearing purple clothing.
As Facebook and MTV go purple, stars like Tyra Banks, Craig Ferguson, Conan O'Brien, Regis and Kelly, and Wendy Williams have all promised to go lavender on the air, including the hosts of shows like Access Hollywood, CNBC, E! Online, Good Morning America, MSNBC, Noticiero Telemundo, The Talk, and The View.
And as Spirit Day grows, more and more will be viewing new PSA videos from a celebrity or politician, including that of Secretary of State Hillary Clinton. Hillary Clinton's video was released yesterday, and she has also pledged to wear purple for the occasion.
Imagine how powerful it can be for a young person to have a visible marker of support from his or her teachers, family and friends - or by seeing your favorite celebrity take a stand against bullying, Adam said in a statement from GLAAD.
Following a rash of gay teen suicides, including those of Jamey Rodemeyer and Jamie Hubley, to go purple on Spirit Day feels more and more crucial. Gay teen suicide rates are up to two or three times that of their straight peers, recent studies show.
GLAAD also has tools on its website to help people go purple, including apps to help users turn their social media and cell phone pictures purple, and to top blogs and websites with purple banners.
At the end of the day, I want Spirit Day to make just one person feel a little bit better about his or her self, to feel safe enough in their own skin to be proud of who they are, Brittany McMillan said in an interview with GLAAD. And even if it only stops one person from ending their life, that will be enough.
Hillary Clinton's Tomorrow Will Be Better:
Mario Lopez, Dustin Lance Black, and More for GLAAD, It Gets Better:
Shaquille O'Neal, Kristen Chenoweth, and More for GLAAD, It Gets Better:
© Copyright IBTimes 2023. All rights reserved.