Hillary Clinton Imitates Donald Trump On 'Saturday Night Live'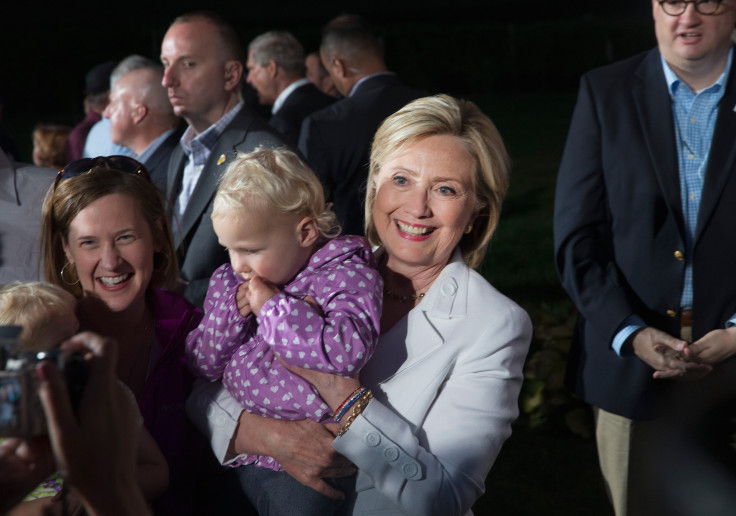 Hillary Clinton did an imitation of Donald Trump during a sketch Saturday on "Saturday Night Live." Clinton made her appearance during a sketch in which she played a bartender to Kate McKinnon's Clinton impersonation.
When McKinnon introduced herself as Clinton, a grandmother, the former secretary of state introduced herself as Val, "just an ordinary citizen who believes the Keystone pipeline will destroy our environment."
She also joked she could have come out in favor of gay marriage sooner when McKinnon acknowledged a thank you from Taran Killam for supporting same-sex couples. "You could have supported it sooner," Clinton's Val the bartender said several times.
The appearance came several hours after Clinton warned Republicans are out to overturn federal laws that ban discrimination against LGBT people, including recent Supreme Court rulings on same-sex marriage, USA Today reported.
McKinnon started complaining that all anyone wants to talk about is Donald Trump. Clinton came back with an imitation of Trump saying, "They're all losers." Trump, the current front-runner in the narrowing GOP field, bragged early in the campaign he donated lavishly to earlier Clinton campaigns but lately has been attacking the former first lady.
"He's called me a lot of things -- now that he's running against me," Clinton said in an interview aired on MSNBC Friday, CNN reported. "Before, he called me a great senator and a great secretary of state. That's what a demagogue does: They say whatever they need to say to try to stir up the passions of people."
Clinton often has been criticized for her lack of spontaneity and stiffness on the campaign trail. Her performance on "SNL" was relaxed and witty.
Clinton is not the first presidential candidate to appear on the comedy sketch institution. Past presidential hopefuls have included publishing executive Steve Forbes, former New York Mayor Rudy Giuliani, Vice President Al Gore, the Rev. Jesse Jackson, Sen. John McCain, Sen. George McGovern, consumer advocate Ralph Nader, former Nebraska Gov. Bob Kerrey and the Rev. Al Sharpton, according to Saturday-Night-Live.com.
© Copyright IBTimes 2023. All rights reserved.
FOLLOW MORE IBT NEWS ON THE BELOW CHANNELS