Hiring Seen as Dismally Weak in September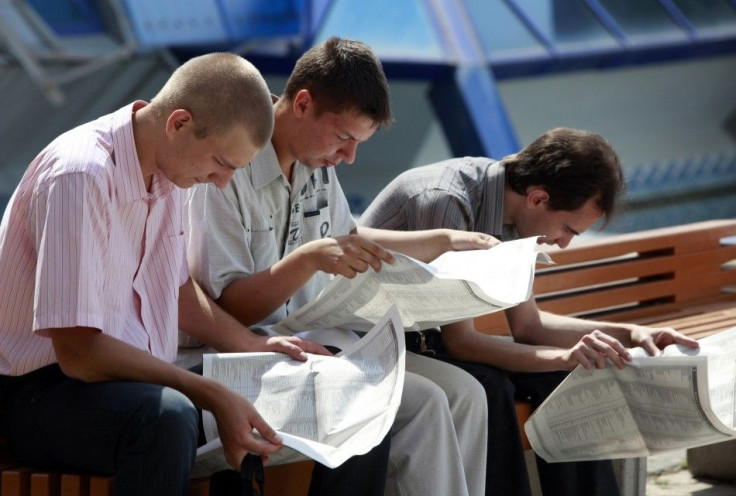 Employment likely grew only modestly in September, with hiring too weak to pull down a lofty jobless rate and dispel recession fears.
But while the tone of the government's closely followed employment report on Friday is expected to be soft, economists said it still should not be viewed as flagging a new downturn in the world's largest economy.
U.S. nonfarm payrolls probably increased 60,000 last month after holding steady in August, according to a Reuters survey. August was the first month in a year that the ailing economy failed to create jobs.
But much of September's relative strength will reflect the return of 45,000 Verizon Communications workers who had dropped off payrolls in August due to a strike. Excluding those workers, payrolls probably only increased by 15,000 for the month.
Private employment is expected to have increased 100,000 last month, an acceleration from August's paltry 17,000 count. But an 11th straight month of declines in government payrolls is expected.
The report will provide critical evidence of whether the economy is stalling in response to heightened economic uncertainty and financial market volatility, said Carl Riccadonna, a senior U.S. economist at Deutsche Bank in New York. We do not expect this to be the case.
The nation's weak labor market has posed a critical challenge for President Barack Obama, who is gearing up for a tough reelection battle in November 2012. Obama on Thursday used a news conference to press for measures to spur jobs growth that face uncertain prospects in Congress.
Recent reports on manufacturing, business spending and auto sales suggest the economy fared better in the third quarter after growing at an anemic 1.3 percent annual pace in the April-June period.
But some economists are warning Europe's debt crisis threatens to all but derail the U.S. recovery.
And while third-quarter growth is expected to top a 2 percent annualized pace, that is still too slow to make a dent in the high unemployment rate, which is expected to have held steady at 9.1 percent in September.
The economy needs to grow by at least a 2.5 percent rate, with payrolls expanding by 150,000 positions a month, to keep the jobless rate from rising.
JOBS ELUDE RECOVERY
Signs of growing labor market distress could pile pressure on the Federal Reserve and the Obama administration for more measures to put the 14 million jobless Americans back to work.
The U.S. central bank last month announced new steps to stimulate the economy by pushing long-term borrowing costs even lower by shifting assets on its balance sheet.
Since the beginning of the year, employment growth has slowed by close on 80 percent. There is little hope of an improvement in the coming months, said Harm Bandholz, chief U.S. economist at UniCredit Research in New York.
Uncertainty over the economic outlook, which continues to be muddied by acrimony in Washington over budget policy and by Europe's inability to get to grips with its debt crisis, is making businesses reluctant to hire.
While the employment report will likely be weak, a few bright spots are expected. Hourly earnings are seen rebounding 0.2 percent after falling 0.1 percent in August.
An improvement in income is crucial for consumer spending, which accounts for about 70 percent of U.S. economic activity.
We're seeing consumers dipping into their savings to finance consumption. That is a little bit concerning given that equity prices are falling and house prices are flat to down, said Moody's Analytics' Sweet.
Consumers could become refocused on building their nest egg cushion rather than spending.
Incomes dropped in August for the first time since October 2009, curbing spending and pushing savings to the lowest level in more than 1-1/2 years.
Manufacturing could provide another source of optimism, with employment in the sector expected to have risen after slipping in August. Manufacturing remains the main pillar of the economy, even though it accounts for only about 12 percent of gross domestic product.
Health care is expected to show another month of job gains. The sector has consistently added jobs as the baby boomers demand more health care services.
(Reporting by Lucia Mutikani; Editing by Leslie Adler)
© Copyright Thomson Reuters 2023. All rights reserved.