Holocaust Remembrance Day: Memorial March Hosted At Auschwitz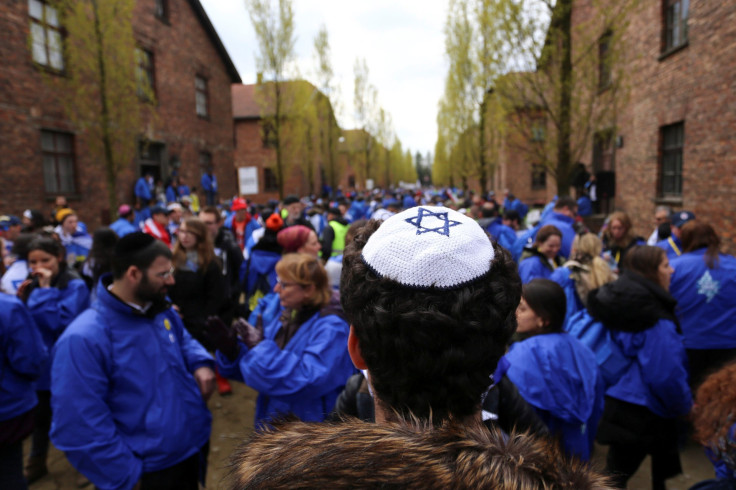 Monday marked the March of the Living, an event that thousands attended in Poland at the site of the Auschwitz concentration camp to commemorate Holocaust Remembrance Day.
People hailing from around the globe, many of whom were Israelis, attended the event that honored the lives of those who died in the large concentration death camp, the Associated Press reported. The annual two-mile March begins at Auschwitz and ends at the Birkenau death camp.
Marchers congregated underneath the camp's known entry sign, which translates to "Work Will Set You Free," and the march began in silence. The event was live streamed; a follow-up March will commence in Israel Tuesday, May 2, according to the event's website.
READ: Holocaust Memorial Day 2017 Quotes: Moving Sayings To Honor Victims And Survivors On Day Of Remembrance
The March of the Living was created as an educational program to help "participants to fight indifference, racism and injustice," and encourages people from all over to walk in remembrance of those who suffered and perished during the Holocaust. The first March took place in 1988 and hosted over 250,000 attendees from over 50 countries.
During the 2017 March, participants carried signs and wood plaques with messages that they left along the railroad tracks.
The Auschwitz camp opened in 1940 in the suburbs of Oswiecim — Auschwitz was referred to as the main camp and the second, largest part of the camp was Birkenau, which was referred to as "Auschwitz II," according to the historic website. Birkenau was constructed in 1941. Almost 1.1 million people would die in the Auschwitz Concentration Camp, according to the AP.
The first actual Nazi concentration camp opened in 1933 at Dachau and, at first, mostly held Communists, according to History.com. Regular mass round-ups to the death camps would occur roughly between 1941 and 1945. Auschwitz-Birkenau was the largest of the camps in occupied Poland — others included Treblinka, Sobibor and Chelmno.
© Copyright IBTimes 2023. All rights reserved.