Homosexuality In China: Judge Rules Against Gay Marriage In Landmark Case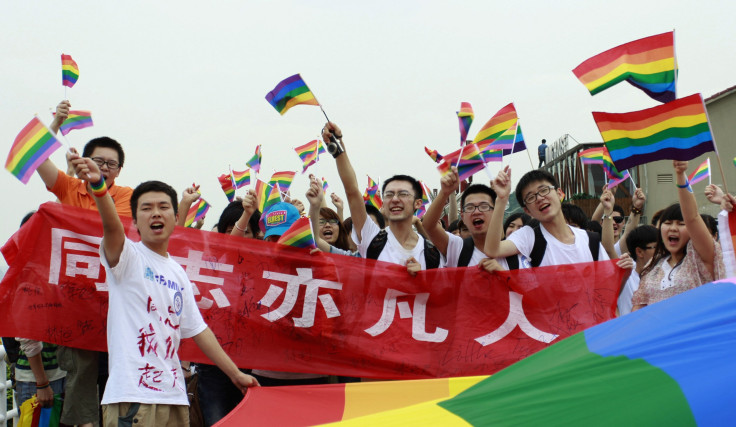 A judge in China Wednesday ruled against a gay couple's right to marry in the country's first same-sex marriage case, amid growing awareness of lesbian, gay, bisexual and transgender issues in the country. The lawsuit was reportedly filed by the couple, Sun Wenlin and Hu Mingliang, against a civil affairs bureau in Changsha, Hunan province, in southern China.
The court in the central city of Changsha dismissed the suit, which was filed after the civil affairs bureau refused to issue the couple a marriage registration certificate in June 2015, according to the Associated Press (AP). Earlier this year, the court agreed to hear their case, which LGBT rights groups said was the first of its kind in China. However, on Wednesday the judge dismissed the case just a few hours after the hearing started.
"It goes against the spirit of the laws of the people's republic of China," the couple's lawyer Shi Funong told the AP, mentioning that he didn't expect the ruling against them to come so soon.
After the verdict, Sun told the Guardian that he believes the court did not give enough time to consider their case and had been "too cautious."
"We will continue to appeal. I think it is worthwhile. It catches people's attention and it will help our opinions spread," Sun reportedly said. "All I need is freedom and equality. ... What we are trying to achieve is freedom and equality."
John Shen, a prominent gay rights activist, said he was optimistic that China's view of the LGBT community would change.
"Even though the case was rejected by the court I still think it is a big step since it has already raised huge attention and discussion, which was the case's original goal," Shen said, according to the Guardian. "It is a monument on the way to victory."
Despite activists expressing hope following last year's U.S. Supreme Court ruling on gay marriage, several challenges remain in the Asian nation. China — a country where homosexuality was decriminalized in 1997 — has seen an increase in young people becoming more outspoken about the issue.
"The U.S. ruling … will be a boost for the gay rights movement here. I've noticed that there are more heterosexuals who support [gay marriage]," sexologist Li Yinhe, who has proposed bills legalizing gay marriage to China's legislature, told Global Times last year.
© Copyright IBTimes 2023. All rights reserved.