Hong Kong Occupy Central Protests: China Tells Diplomats To Stay Away From Demonstrations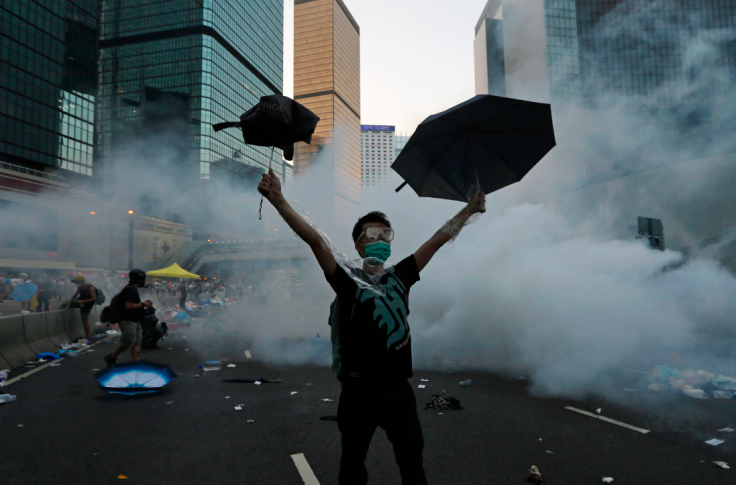 China's foreign ministry told foreign diplomats in Hong Kong to stay away from the pro-democracy protests sweeping the city's streets this week, the Harbour Times reported Monday. The Ministry of Foreign Affairs sent out its request to diplomatic missions in a letter over the weekend.
"At present, some radical groups in Hong Kong are staging illegal activities of assembly and 'Occupy Central,' some acts of violence and legal offenses have occurred as a result," the letter read. "The Hong Kong Police is dealing with them in accordance with the law. To ensure the safety of all consular personnel and foreign nationals living in Hong Kong, we hope all Consulates-General in Hong Kong will strictly abide by the Vienna Convention on Consular Relations and relevant local laws and regulations of Hong Kong, restrain the behaviors of its consular staffs, and advise its nationals living in Hong Kong to stay away from the sites of assembly and 'Occupy Central', so as to avoid violating the law and affecting their own safety and interests."
The South China Morning Post confirmed that a number of Hong Kong-based diplomats received the letter to some shock. Foreign governments will often issue advisories to employees in states experiencing unrest, but it is rare that a host government request foreign diplomats do so.
Article 55 of the Vienna Convention states that it is the duty of diplomats to respect the laws in the state to which they are representatives and to not interfere with the "internal affairs" of that state.
Thousands of Hong Kong activists took to the streets over the weekend to demand direct democratic elections for Hong Kong's leader, the chief executive. The demonstrations across Hong Kong entered their fifth day on Tuesday. Organizers laid out demands for the Hong Kong government and its leaders on Tuesday, but the Hong Kong and Chinese governments refused to concede anything to protest leaders.
Wednesday marks China's national day. Protest leaders have planned for large-scale demonstrations.
© Copyright IBTimes 2022. All rights reserved.
FOLLOW MORE IBT NEWS ON THE BELOW CHANNELS