Hong Kong Protest Erupts Into Chaos, Police Use Tear Gas, Rubber Bullets
Pro-democracy "Kill Bill" protestors and Hong Kong police clashed in their most violent street battles on Sunday, with protestors charging police time and again, and police again firing rubber bullets and tear gas grenades to repel them.
Anxious residents are now resigned to the violence carrying over into this weekend. There is also the growing concern China might be considering military intervention in the unrelenting protests that have now taken a clear anti-China bent.
The latest street demonstration on Sunday drew more than 430,000 people demanding the city's legislative council announce the formal repudiation of the controversial extradition bill that sparked the protests.
The daylight protest was mainly peaceful, with protestors marching along the police-mandated route. Violence, however, again erupted as evening set in when masked young activists, many of them "armed" with umbrellas, clashed repeatedly with police.
Police said the black-clad masked activists defied their orders and marched beyond the official end-point of the rally. Some held aloft banners that said, "LIAR" and "No excuse Carrie Lame," a play on the name of Carrie Lam, Hong Kong's chief executive who was appointed to her post by Beijing in 2017.
Hong Kong police fired rubber bullets and tear gas in a series of running street battles with protesters. Thousands of protesters converged at China's liaison office in the city -- the first such direct challenge to Chinese rule. Some protesters threw eggs at the walls of the liaison office, while others spray-painted graffiti and insults in Chinese on the office's walls.
More demonstrations are planned for the coming weekends. Analysts said Hong Kong's defiance is the greatest popular challenge to Chinese leader Xi Jinping since he took power in 2012.
The Hong Kong government strongly condemned the demonstrators' "malicious encirclement" of the Chinese liaison office building. A spokesman for the liaison office expressed "severe condemnation" at the "radical demonstrators."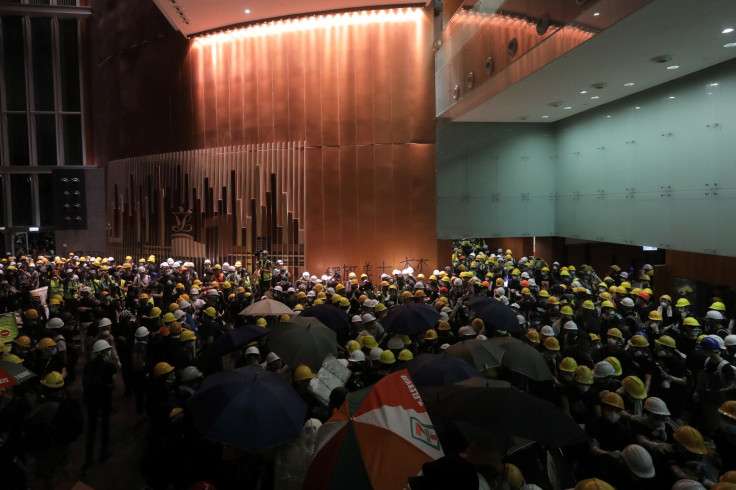 China's Xinhua propaganda agency said the Hong Kong and Macau Affairs Office "strongly condemns" radical protesters for touching the bottom line of the "one country, two systems" principle by besieging the liaison office. It also blasted protestors for defacing the national emblem with black paint, spraying insults on walls, and attempting to force their way into the building.
The protests now engulfing Hong Kong began March 31, a month after the Hong Kong government first proposed the extradition law. There have been 18 Kill Bill street protests since, with the largest drawing more than two million people on June 16.
Protestors are also condemning Hong Kong police for firing rubber bullets and tear gas at them during the rallies in June. The ongoing wave of protests is the worst political crisis to hammer Hong Kong since the United Kingdom returned it to Chinese rule in 1997.
© Copyright IBTimes 2023. All rights reserved.
FOLLOW MORE IBT NEWS ON THE BELOW CHANNELS