Hong Kong Protesters Arrested By The Hundreds After Democracy Rally While China Calls For Unity And Patience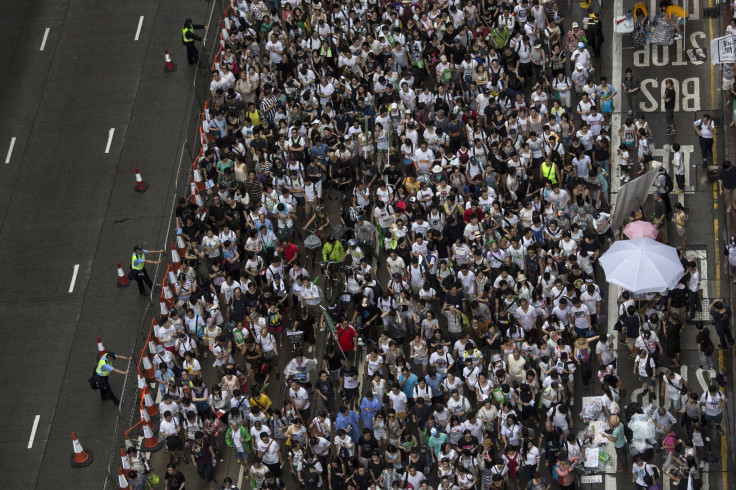 Hong Kong police on Tuesday arrested more than 500 pro-democracy protesters accusing them of assembling in violation of the law and preventing law enforcement forces from fulfilling their duties, after hundreds of thousands gathered for Tuesday's rally to demand complete autonomy from China.
The arrested protesters, who also denounced the city's leaders for allowing China to increase its influence on local policies, refused to move from Hong Kong's central business district, which was the endpoint of the rally and were preparing for an overnight sit-in protest. The march, which began at Victoria Park Tuesday followed a referendum on Sunday when most people voted for China to reduce its control over the city-state, which it took over from the British on July 1, 1997.
"If Hong Kong can develop (its) own universal suffrage election system, then in the long run, other parts of China may get inspiration on how to run an election system in line with universal values," Benny Tai, one of the organizers of the referendum and a law professor at Hong Kong University, had told USA Today last month, adding: "But in the short term, I don't see the introduction of universal suffrage in Hong Kong will immediately raise expectations or demands in mainland China."
While local authorities estimated there were nearly 100,000 protesters at Tuesday's rally, organizers of the protest claimed that more than half a million people joined in, according to Associated Press.
The referendum was the result of a white paper issued by Beijing suggesting that Hong Kong is a part of China, which enraged Hong Kongers and led them to demand that Hong Kong Chief Executive Leung Chun-ying reassert his authority and push back against China's growing influence even as others demanded that Leung step down because of his inability to fight for greater autonomy.
"Grassroots' income is [increasing], prices are stable, housing prices and rent increases are under control, the government has a financial surplus. This scenario needs to be defended by everyone, who should avoid doing anything that affects Hong Kong's stability and damages Hong Kong's prosperity," Leung said Tuesday, during the flag-raising ceremony to mark 17 years of freedom from British rule, adding: "At present, there is mild economic growth and people's employment is not a problem."
Meanwhile, China's state-run news agency, Xinhua, said in a note Wednesday that the mainland and Hong Kong's authorities are attempting to resolve protesters' issues.
The Xinhua report began by urging that "People of Hong Kong should undo the knots in their minds and unite with mainlanders to chase their great China dream," and noted that "Hong Kong has been back joined with the motherland for a whole 17 years." It added that the "one country, two systems" framework is a success that allows the people of Hong Kong the freedom to "govern the city and live the life they want to live."
"The central and Hong Kong authorities are all trying to settle the new problems. Hong Kong citizens should also be calm and all walks of life should be patient and sincere in order to resolve the issues," the Xinhua report said.
Jeff Kwok, a 28-year-old protester at Victoria Park, told USA Today: "After seeing the white paper's content, we should be worried," adding, "The central government, they're trying to tell the Hong Kong people that they are the host country and Hong Kong is just one of their regions. They're trying to tell us they have absolute power to rule us."
© Copyright IBTimes 2023. All rights reserved.