Hong Kong's High-Stakes Protests: What To Look For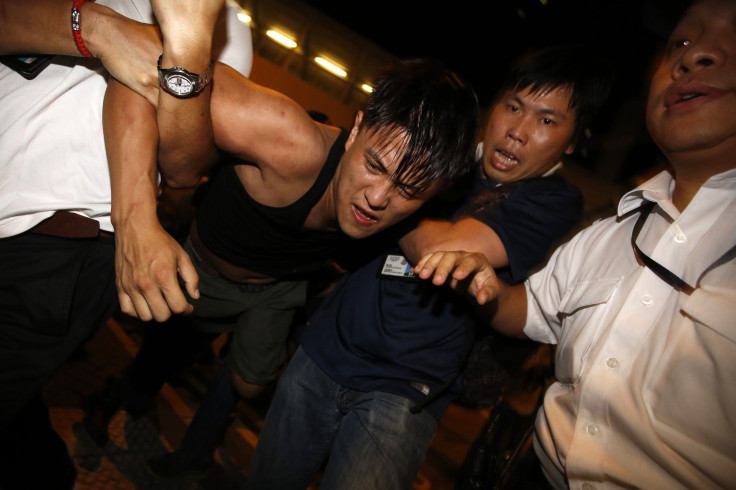 Hundreds of thousands of protesters are expected to demonstrate in Hong Kong on Tuesday, the 17th anniversary of the territory's transfer from British to Chinese sovereignty. The protests, organized by a group called Occupy Central with Love and Peace, are occurring at a time of political tension in Hong Kong: Last week, a 10-day informal referendum allowing Hong Kong residents to choose a new electoral system attracted nearly 800,000 votes, or almost one-quarter of the territory's registered voters.
Protests aren't unusual in Hong Kong, where, unlike in mainland China, freedom of assembly is legally protected. But the tense political atmosphere pervading the city has raised the stakes of the demonstration. What transpires Tuesday -- and how Hong Kong authorities react -- is likely to resonate in Beijing and beyond.
Here's a brief look at the key questions surrounding the demonstration.
Who is Occupy Central, and what are they protesting about?
Occupy Central with Love and Peace ("Occupy Central" for short) is a movement inspired by Occupy Wall Street, the New York-based protest organization that attained national prominence in 2011. But while the two groups have similar names, Occupy Central is less concerned with economic inequality than with promoting democracy in Hong Kong. The organization has chosen Central, a neighborhood on Hong Kong Island home to many banks and financial institutions, as the base of its protests.
The July 1 protest is designed to pressure Hong Kong's government to move the country's electoral system toward "international standards," resembling direct democracy. Under the Basic Law, enacted after Hong Kong's return to Chinese sovereignty in 1997, a committee of around 1,200 selects the territory's leadership. Beijing and Hong Kong's leadership have pledged to implement a form of "universal suffrage" in 2017, allowing Hong Kong voters to choose their leader from a list of candidates vetted by Beijing.
But this system isn't enough for Hong Kong's pro-democracy supporters. In the Occupy Central referendum, residents could choose between three systems that each featured popular, direct democracy. CY Leung, Hong Kong's current chief executive, has vowed to consider a compromise between his government's version of universal suffrage and one supported by the pro-democrats. The protest is intended to pressure Leung to work on this compromise without delay.
Beijing, for its part, opposes Occupy Central and denounced the referendum as "farcical."
How much popular support does Occupy Central have?
Determining the precise degree of support for Occupy Central is difficult, but the turnout for the referendum was surprisingly large: 780,000 people, more than seven times the amount that Benny Tai, a key organizer, predicted. "I think we're seeing some signs that the Chinese government understands that the civil referendum, even though unofficial, is an expression of public opinion that needs to be considered seriously," Tai said.
Not everyone in Hong Kong welcomes Occupy Central. Many members of the city's business community fear costly disruptions on the day of the protests, while others worry that political instability will cost Hong Kong its reputation as an international business center. These concerns go beyond Hong Kong's borders: The Big Four accounting firms have already gone on record, saying they opposed the protest.
How will the Hong Kong government react?
In 2003, after the Hong Kong government passed an "anti-subversion law," an estimated 500,000 people rallied on July 1. Soon after, the government scrapped the law.
Will the government be as willing to compromise this time around? This depends in part on the scope of the protests, the behavior of the protesters, and the reaction of the Hong Kong security forces assigned to maintain control.
But Hong Kong's government also faces more pressure from Beijing, which has taken an assertive stance toward the territory's autonomy in the 11 years since the anti-subversion law. The territory's once-robust media has endured coercive pressure from advertisers; The Apple Daily, Hong Kong's most prominent pro-democracy paper, reported in February that banks HSBC and Standard Chartered had withdrawn lucrative advertising contracts. And, on June 9, Beijing released a "white paper" arguing, in effect, that the Basic Law was subject to reinterpretation. This prompted the referendum in the first place.
Hong Kong's government is thus in a difficult position: If it cedes too much to Occupy Central and the pro-democracy camp, it risks alienating the pro-Beijing business community and, worse, Beijing. But if it refuses to budge on its version of universal suffrage, Hong Kong risks causing additional -- and likely more serious -- protests.
What Hong Kong decides to do won't just affect the future trajectory of the territory. It will also provide a template for Beijing to deal with political challenges elsewhere.
© Copyright IBTimes 2023. All rights reserved.