Hong Kong Protesters Attack Beijing Representative's Office, Deface China's National Emblem
Chinese media and officials have reacted with anger at protesters in Hong Kong attacking the Chinese representative's office over the weekend, with one report speaking of "unbearable pain and anger" at the defacing of the official emblem of China with black paint.
Riot police armed with rubber bullets and tear gas attempted to drive away protesters who attacked the Hong Kong China Liaison Office on Sunday. Numbering in the thousands, the protesters threw eggs and spray-painted graffiti on the building walls.
The protests were the latest demonstration against an extradition bill that would allow foreign lawbreakers to be sent to countries that do not have an extradition agreement with Hong Kong, including China with its history of human rights abuses.
The reaction in China was predictable. An editorial in the Shanghai-based state news agency Xinhau called the riots a "blatant challenge to the central government" and not to be tolerated. The editorial continued by stating, "When the majestic national emblem of the People's Republic of China was defaced with black paint, it caused unbearable pain and anger. These illegal acts are unacceptable to all Chinese people, including the people of Hong Kong. The escalating violence and provocative acts have completely exposed these mobs and the forces behind them."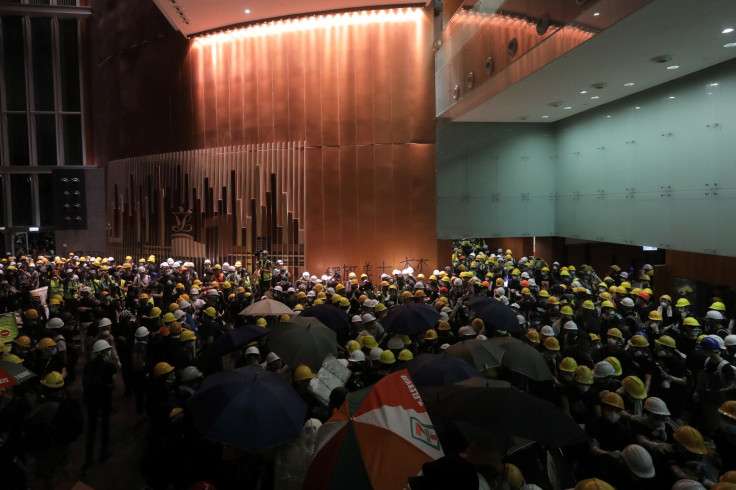 Another editorial by the China Daily, the only English-language newspaper in China, said that business leaders and other organizations were growing weary of the "radical youths" and were calling for an end to the rioting. The editorial said, "Unfortunately, some impulsive and reckless young people unhappy with social inequality have been manipulated by these political radicals to cause mayhem in the city."
Another Chinese reaction to the riots was reported by CNA, an English-language Asian news network. It reported that China's top envoy to Hong Kong, Wang Zhimin, railed at anti-government protesters for insulting all Chinese people and said they had "seriously damaged Hong Kong's highly cherished rule of law spirit ... and seriously damaged the feelings of all Chinese people including seven million Hong Kong compatriots."
A developing side story to the unrest in Hong Kong is the pledge that Taiwan has made to provide asylum to Hong Kong rioters who fear prosecution from their disruptive activities. To date more that 30 people have arrived in Taiwan, about a 2-hour non-stop flight from Hong Kong.
Taiwan President Tsai Ing-wen has made this offer as she prepares for an election in 2020 to seek a second term. She has taken a rather anti-Chinese stance with her refusal to accept the idea that Taiwan is part of "one China." Beijing's response has been to cut official communications, step up military exercises, "poach" diplomatic allies and ratchet up economic pressure on the island. In 2016 she won the election in a landslide and describes the upcoming election as a "fight for freedom and democracy" against Beijing.
© Copyright IBTimes 2022. All rights reserved.
FOLLOW MORE IBT NEWS ON THE BELOW CHANNELS