Hong Kong Protesters Vow To Keep Going, As Governments Hopes To Wear Them Out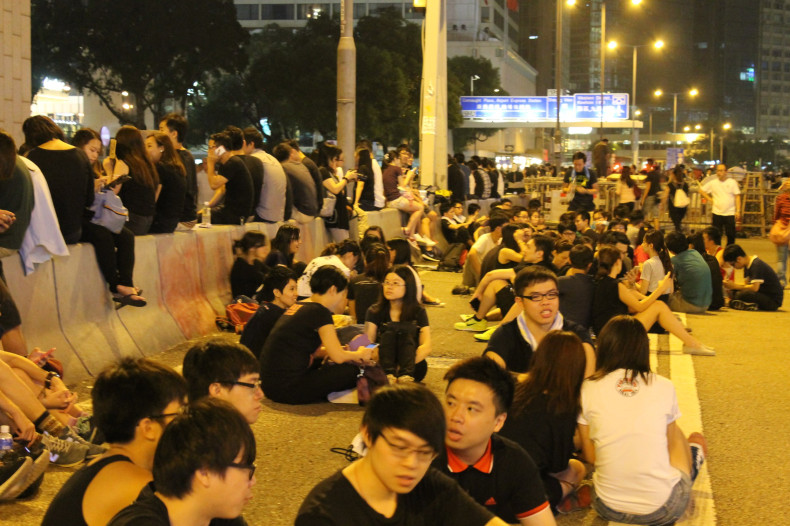 HONG KONG -- As Hong Kong's chief executive, Leung Chun-ying, appeared ready to simply wait out the mass protests that have rocked the Chinese special administrative region for almost a week, protesters signaled they were ready to dig in for the long haul. On Wednesday evening along a stretch of road between the Central and Admiralty business districts, the epicenters of the demonstrations, the protesters -- overwhelmingly, young people in their teens and 20s -- settled for the night on plastic mats along what is normally one of the busiest thoroughfares on Hong Kong Island, and said they were not going away.
"We'll just keep it up," said Carlo Leung, 25.
Some protesters expressed trepidation that police might crack down with tear gas and pepper spray, as they did on Sunday. But Leung reportedly decided not to use force to break up the demonstrations, instead relying on time to turn public opinion against a protest movement that has disrupted business as usual in this finance and commerce hub.
But on Wednesday evening, the crowd still seemed to enjoy mass support. While some looked prepared for a quiet night on the highway, chatting with friends or reading books by streetlight, pockets of the crowd occasionally burst into cheers as trucks and motorbikes carrying additional supplies made their way down the street. At times, the chant of "ga-yau" -- literally "add oil," a motivational expression equivalent to "keep going" -- rippled through the scene. Volunteers readily handed out bottles of water, snacks and emergency kits at makeshift stations down the road, and occasionally fanned passersby with plastic boards to keep them cool in the 80-degree heat.
"It's very emotional being here," said Carlo Leung. "There are so many people fighting for freedom in Hong Kong. I feel the human power here." Wednesday was his third night participating in the demonstrations, he said, after two nights at other major protest sites on the island.
"I think we just need do the right thing to be the change we want to see," said Dora Leung, also 25 and no relation, who came out to the protests for the first time on Wednesday. "After [tonight], I'll just go home and take a shower and come back again."
While some have opted to skip work or classes to support the movement full time, others scheduled protests around their other responsibilities. Kingsley Lee, 24, had come out for the past three days in between work shifts, volunteering to hand out donated water and food to the demonstrators.
Lee had not heard of reports of the chief executive's decision to wait out the protests, but said he was wary of misinformation. "There is a lot of fake information in the area," he said. "The night before last, we were told the government would use weapons against us. We don't know what is true or fake news."
"We've felt safer tonight, and last night, because we didn't think the police would come here," he added. "But we don't know about tomorrow."
"Some of the news is quite heartbreaking for us because some people say that we are paid to come out and fight against the government," said Ken Suen, a 18-year-old student. "But everyone knows we are volunteers."
King Kwong, 20, said he was hopeful that the crowds would grow even more in the coming days. "I think maybe more people will come out," he said. Lee was not worried that the movement's fervor would wane anytime soon. "We can't control this, so we try our best to do all the things we can do," he said. "If we do nothing, nothing will be changed."