Hong Kong Protests 2014: Deadline Looms For Road Occupiers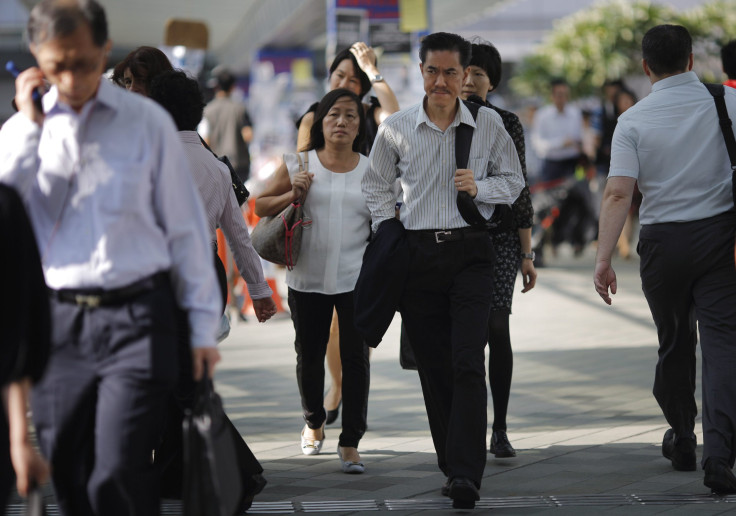 UPDATE 10:15 p.m. EDT: Talks at resolving the protests in Hong Kong stalled Monday as the government deadline for clearing the protest sites approached. The South China Morning Post reported about 200 protesters at Mong Kok and 100 more at the Admiralty Center. Government employees began returning to work as protesters said they would not block the bridge to the government offices and the Legislative Council building. Severe traffic jams were reported on King's Road.
UPDATE 1:30 p.m. EDT: Some protesters were reported pulling back from Hong Kong protest sites but hundreds more remained on the scene, bracing for further clashes with police. "We're afraid there may be a police crackdown, so we came here to support. The more people we have, the harder it is for the police to clear," Lester Leung, 25, told Reuters, adding he was ready to stay on the streets all night.
Original post
Hong Kong's protesters are bracing as the clock counts down to the government's announced deadline for clearing the camps from major roads to let traffic resume Monday morning.
While the ultimatum renews fears of another crackdown on demonstrators Sunday night, government officials and student groups are continuing to demand terms for starting talks.
Chief Executive Leung Chun-ying said in a televised address Saturday that police would take "all necessary actions to restore social order" if demonstrators continued to block roads and entrances of government buildings on Monday.
While Admiralty, the pro-democracy movement's main occupation site, still drew strong crowds on Sunday afternoon, many students still expressed trepidation over what the night's events would bring. Peter Mathieson, president and vice chancellor of Hong Kong University, also circulated pleas to students on Sunday afternoon asking them to leave protest sites to avoid any risk to their safety.
"You owe it to your loved ones to put your safety above all other considerations," Mathieson's message read.
Meanwhile, the Hong Kong Federation of Students is hammering out terms for starting negotiations with the government. In a statement issued Saturday night, the group said they would start talks if the government promised to investigate police conduct in the violence that occurred at the Mong Kok protest site on Friday evening.
Government officials, however, responded that they would only consent to talks if protesters cleared out from the front of government buildings and main roads in Admiralty. Schools in the area had been closed due to traffic disruptions when the street protests began. But the Hong Kong Federation of Students replied that "whether blocked roads are reopened should not be part of the preparation for bilateral dialogue."
Meanwhile, one man at the Admiralty site drew attention when he stood atop a pedestrian bridge and demanded over loudspeaker that the protesters clear the road. The Causeway Bay protest camp saw dwindling numbers on Sunday, as some protesters said they were moving to show support at Admiralty in case of a possible showdown with police. Mong Kok, where violent clashes between anti-protest activists and demonstrators took place Friday, saw continued verbal sparring throughout the day.
© Copyright IBTimes 2023. All rights reserved.
FOLLOW MORE IBT NEWS ON THE BELOW CHANNELS