Hong Kong Protests 2014: Protesters Steadfast But Wary Day After Attacks In Mong Kok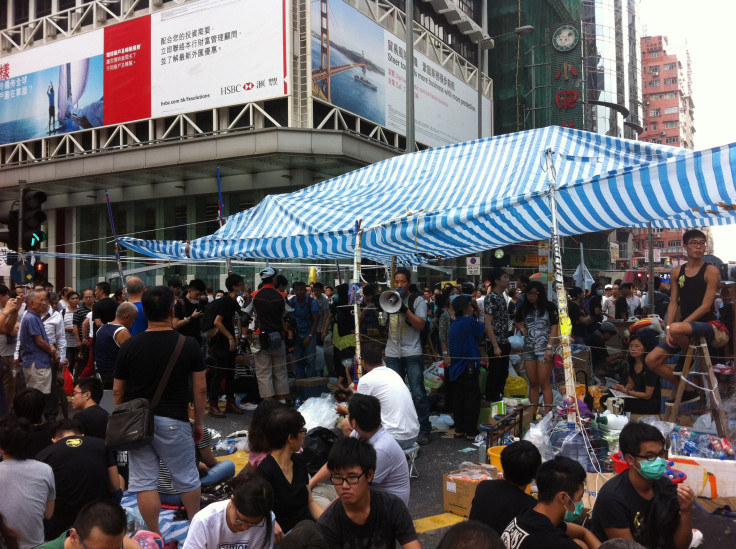 HONG KONG -- Demonstrators rebuilt encampments at the Mong Kok protest site in Hong Kong Saturday, a day after violence marred the area and resulted in at least 18 injuries and 19 arrests. Tensions continued there as confrontations flared between those for and against the pro-democracy movement, with many demonstrators determined to stay on the streets.
"The students were attacked by mobs [Friday night]," said Eric Lam, 35. "It's totally unacceptable." Lam was not at Mong Kok the night of the violence, but he showed up Saturday to support the movement after the unfolding of the violent events Friday.
Protesters have largely decried what they said was an organized attack on peaceful demonstrators, and many suspected the anti-protest group was paid to incite chaos. Pan-democrat lawmakers in Hong Kong accused the government Saturday of orchestrating the attacks Friday, as reported by the South China Morning Post. They demanded a meeting with Chief Secretary Carrie Lam to discuss the lack of police protection in the Mong Kok area.
Meanwhile, several scuffles broke out in the area Saturday between those for and against the protests, as heated shouting matches erupted and one member of the anti-protest camp attempted to take down a tent.
Demonstrator Eddie Choi, 33, said that despite the fear and uncertainty that has emerged since the events Friday, he did not expect it to dampen the protest movement's numbers. "I'm confident that more and more people will come, but it will take time because many of them are scared," Choi said. "What we can do is very limited, because those against us can shout at us or be violent, but we can persist and stay on the streets."
By and large, members of the pro-democracy movement in Hong Kong have been responding to threats of police crackdowns or violence by swelling their numbers at various protest sites. Such were the cases Thursday evening, as reports circulated that police officers were bringing riot gear into the government complex that students had threatened to occupy, and Friday night, as word first surfaced that anti-demonstration elements had attacked protesters.
Many demonstrators were uncertain of how the attacks Friday would affect the protest movement going forward, but remained adamant it was the government's responsibility to move forward on a dialogue, even after student protest leaders called off talks Friday night.
"I can understand why the students did that," Eric Lam said. "If your safety can't be guaranteed in the city center, how can you start negotiations with the government? The government needs to take the right attitude, guarantee the safety of the students and then start negotiations."
© Copyright IBTimes 2023. All rights reserved.