Hong Kong Protests 2014: Low-Key Demonstrations As Government Holds Off Clearing Sites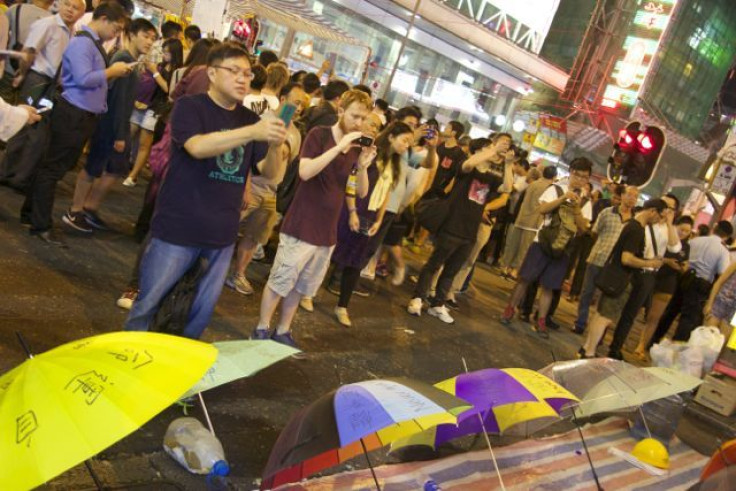 HONG KONG -- Demonstrators at all three protest sites across Hong Kong remained in position on Monday night, but the atmosphere was quiet as government officials confirmed they would not take any action to clear demonstrators from occupied roadways, for the time being.
The tension that had gripped demonstration sites in the past several days had largely subsided by Monday night. In Mong Kok, the shouting matches and sporadic fighting seen at the protest site in recent days were largely absent. By Monday evening, a few dozen demonstrators quietly camped under tents as onlookers snapped photos.
On Monday morning, protesters occupying the front of the building housing the office of Hong Kong chief executive Leung Chun-ying cleared a path for civil servants to return to work. Government officials announced that they would not make any moves on Monday night to clear out the rest of the site, although they added this did not rule out the possibility of such action in the future.
Whether this quiet atmosphere represents a temporary lull or an occupation on the decline will depend on the government's actions and the progression of talks with student activists. The two groups are continuing to hold preliminary discussions to set conditions for later negotiations.
Meanwhile, Hong Kong police are continuing to face pressure over the events of Oct. 3, in which counter-protesters attacked demonstrators at Mong Kok. So far, 275 complaints have been lodged against Hong Kong's police department over their alleged failure to protect people at the site.
© Copyright IBTimes 2022. All rights reserved.
FOLLOW MORE IBT NEWS ON THE BELOW CHANNELS