Hong Kong Protests 2014: Student Leaders Rally Protesters, But Numbers Dwindle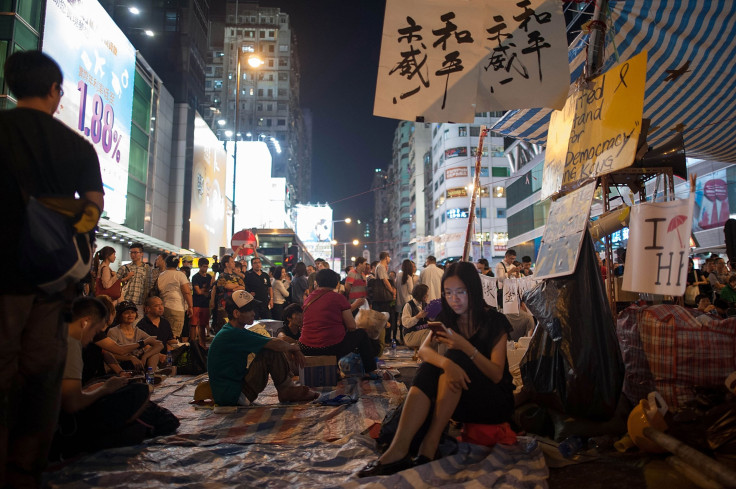 HONG KONG — As protester numbers dwindled and the authorities seemingly adopted a softer approach than they had in recent days, student leaders rallied the remaining protesters in Hong Kong with a series of passionate speeches Monday night. And as Hong Kongers return to work and school after the National Day holiday week, which had a two-day public holiday, the protesters' ability to maintain their blockade in the near term is beginning to come into doubt.
Wong Yeung-tat, the leader of Civic Passion, urged protesters to continue with their occupation of two key sites in the city at Mong Kok and Causeway Bay. "We shouldn't have to pull out of these areas just because of some political considerations.... Don't forget: Every Occupy point has been fought for very hard," he said.
Scholarism's Joshua Wong also urged protesters to remain in place until "the government faces us properly." His speech drew resounding cheers from the crowd outside government headquarters, which was noticeably smaller in size than it had been over the last week.
Alex Chow, of the Hong Kong Federation of Students, which has been holding preparatory meetings with the government as a precursor to a possible dialogue, told the assembled crowd that the government "understood [protesters'] pursuit, but had asked [them] to leave." He added that "if people don't stand up today, the next generation will suffer," which received enthusiastic applause from the crowd.
The reason for protest leaders' concern is evident on the streets: The number of protesters has drastically reduced, and in many cases, they have been replaced with tourists. At the Mong Kok protest site, the scene of violent attacks on demonstrators this past weekend, there was a heavy police presence Monday evening. The atmosphere, however, was calm, with police at times laughing and joking with each other and with protesters.
Protesters at the site appeared to be in danger of being outnumbered by sightseers and curious locals. A few hundred demonstrators sat in camps on the bustling thoroughfare of Nathan Road, while thousands of onlookers and tourists walked through, taking photographs and watching robust debates between small groups of youthful activists and older residents of the area.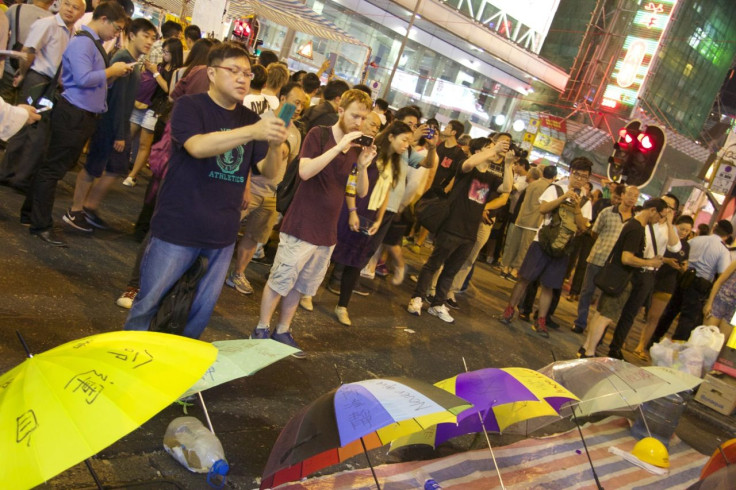 Scores of camera crews surrounded the main protest camp and perched atop nearby subway entrances, but for the most part, they appeared to busy themselves with eating noodles, waiting for something to happen.
The atmosphere at the main protest site outside government headquarters in Admiralty was markedly different. A much larger crowd was gathered, though it was smaller than it had been in previous days. Speakers who asked for the audience to repeat their calls were greeted with resounding replies and peals of applause.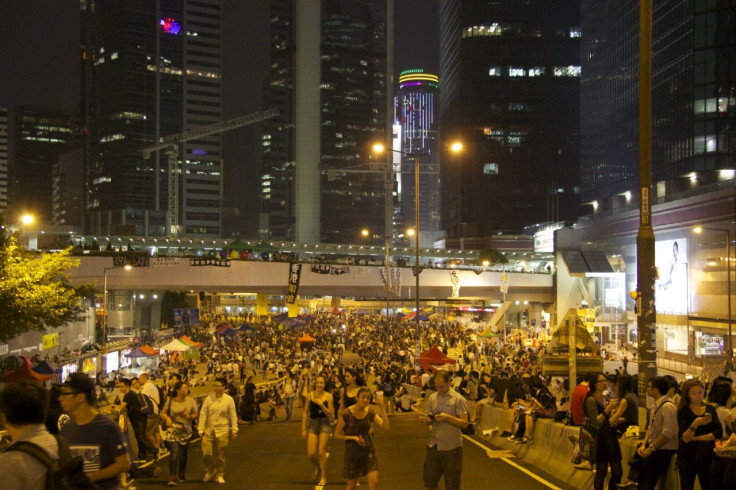 Occasional counterprotesters made their presence felt, though they were so few in number, the only way to spot them was from the chorus of "Happy Birthday," a tactic employed by protesters to silence and confuse opponents.
The movement appears to have reacted to the sensitivities of locals, who are angered by the disruption that the protests have wrought on the daily commutes of ordinary citizens. Occupy Central founder Benny Tai apologized for the inconvenience caused to ordinary citizens by the protests in a speech Monday night but said that he hoped that people understood that the "government is responsible for the stalemate."
Occupy also issued a statement apologizing to those affected by the disruption, saying that "the spirit of the movement is not to target any individual, but the system itself."
(Speech translations via @SCMP, @TomGrundy, @OCLPHK)
© Copyright IBTimes 2022. All rights reserved.
FOLLOW MORE IBT NEWS ON THE BELOW CHANNELS