Hong Kong Protests: Pro-Democracy Protesters Condemn 'Violent Actions' Of Anti-Occupy Groups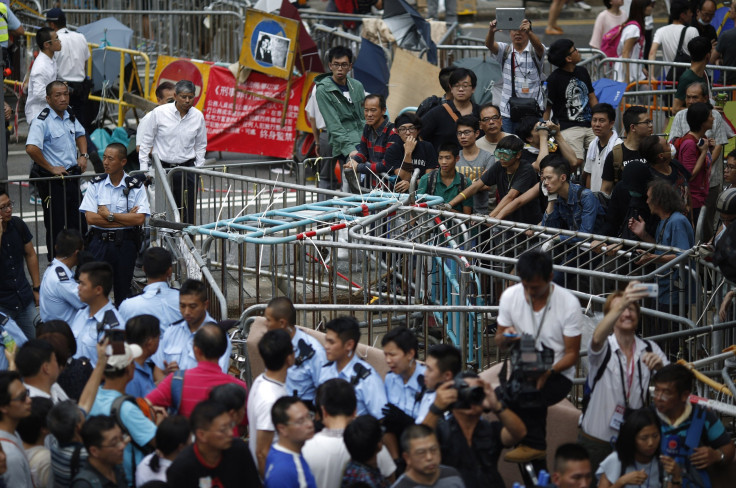 In a statement released Monday, the Occupy Central group -- the leading pro-democracy protest faction in Hong Kong -- condemned the police's attempts to remove barricades from the streets of the Admiralty district and the "violent actions" of the pro-government demonstrators.
"Occupy Central with Love and Peace (OCLP) regrets the police's removal of some of the barricades set up by the occupy movement this morning," the statement read. "We urge the police to enforce the law and prevent certain people from damaging peaceful occupy movement, and avoid any suspicion that the government may be trying to use the masses to attack the masses."
Earlier on Monday, clashes had broken out on the streets of Hong Kong after a group of masked men, allegedly pro-government demonstrators, attempted to tear down barricades erected by the pro-democracy protesters.
Hong Kong police were reportedly forced to intervene after several hundred people, including a group of truck and cab drivers, demanded that the protesters end the occupation of the Admiralty district, accusing them of harming their livelihood.
In the statement, the Occupy Central group also chided the Hong Kong administration for "passing the buck" and for failing to "reactivate the process of political reform."
"What must be removed are the fundamental barriers which cause the present crisis: the collusion of political and business interests and small circle monopoly of the legislature and the office of the Chief Executive. The people are crying out against an unjust system which is barricading Hong Kong's development into a caring society."
The student activist group Scholarism also issued a statement, calling on protesters to gather at Admiralty, Causeway Bay and Mong Kok, according to a report by the South China Morning Post. They also accused the police of "double standards" while dealing with anti-Occupy protesters.
"Police indulged the anti-Occupiers in making the damage. This stands in stark contrast to how they dealt with peaceful Occupy protesters earlier on," the group reportedly said. "Police's attitude toward the incident will only make people lose confidence in them."
© Copyright IBTimes 2023. All rights reserved.
FOLLOW MORE IBT NEWS ON THE BELOW CHANNELS