Hong Kong Protests Turn Violent In Mong Kok: Police In Riot Gear Clash With Students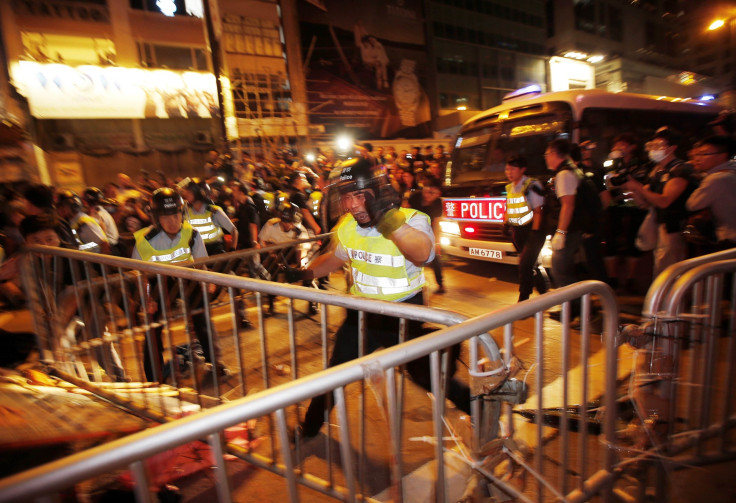 Following weeks of unrest in Hong Kong, the number of pro-democracy protesters there swelled to about 9,000 late Friday night as new clashes with riot-gear-clad police heated up in the Mong Kok financial district. Some officers fought the crowds with pepper spray and batons, according to the BBC, as protesters crossed police lines and clashes turned violent.
Some 240 people were reported injured over the last 24 hours, CNN reported, and more than two dozen were arrested. Those arrested were between the ages of 21 to 52. They now face an assortment of charges, including property damage, weapons possession and resisting arrest.
The new protests came less than 24 hours after police had cleared protest barricades and reopened roads in the busy district. According to Bloomberg Businessweek, there were about 500 police in Mong Kok at 10:50 p.m., local time, on Friday. The group Hong Kong Federation of Students is calling on the Hong Kong government to hold negotiations promised Thursday by city Chief Executive Leung Chun-ying. The students set a deadline of next Wednesday.
The pro-democracy protests, which began three weeks ago, are the largest in Hong Kong since China took control of the region in 1997.
Got a news tip? Email Christopher Zara here. Follow him on Twitter @christopherzara.
© Copyright IBTimes 2023. All rights reserved.