Hong Kong Protests Update: Amid Chief Executive Election, Government Warns Against Fresh Demonstrations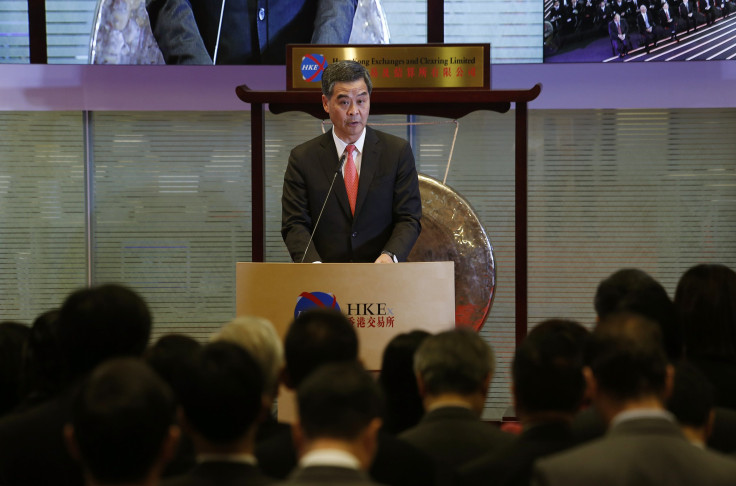 Hong Kong Chief Executive Leung Chun-ying warned protesters Tuesday that they should cease trying to spark new demonstrations against the city's ongoing political reform process. Hong Kong has been marked by protests since September 2014 as the city prepares to elect its next leader.
Leung stood firm on the city government's stance that any voting system would stick to the framework Beijing has set for Hong Kong, opting for reconciliation over conflict. "If we really want to implement universal suffrage on 2017, we ... should not do anything that threatens the Hong Kong government or the central government," Leung told reporters. He said that "coercive actions that are illegal or disrupt social order" would not change anything and that the public should take a "legal, rational and pragmatic" approach in expressing opinions, according to Channel News Asia.
The city will go through its second round of public consultation on Wednesday to select the next chief executive. Protests began back in September when mainland China announced its decision to enact political reform in Hong Kong, effectively allowing the city to elect its own leader. This will be the first time that Hong Kong gets to do so, having previously been under British rule and currently under mainland China's administration. While China has pledged to allow Hong Kong that freedom, the candidates must first be vetted by its committee.
Pro-democracy lawmakers and protesters have claimed that such a process does not reflect public sentiment. Lawmaker Kwok Ka-ki said the consultation would be a "large-scale propaganda exercise."
"Those coming from the democratic camp will be able to enter (as candidates), but they will never be able to be selected for election," Kwok told Agence France-Presse, according to Channel News Asia. "The government will try to create an impression that we have a lot of room to discuss how candidates of different persuasions can enter the race, but the nominating committee will still do the gatekeeping," political analyst Ma Ngok said.
Protests camps were cleared in December, and the courts put forth applications on Monday to formally charge more than 30 activists for obstruction of justice and unlawful assembly when the police tried to clear protest camps in November. Key leaders have been asked to turn themselves in, including student activists Alex Chow and Joshua Wong. The Hong Kong police had been criticized for using tear gas against what was largely a peaceful protest. The government defended its decision, saying that it was in response to violent protesters, according to the Wall Street Journal.
© Copyright IBTimes 2023. All rights reserved.