Hong Kong's 'Occupy Central' Wants Political Independence More Than Economic Justice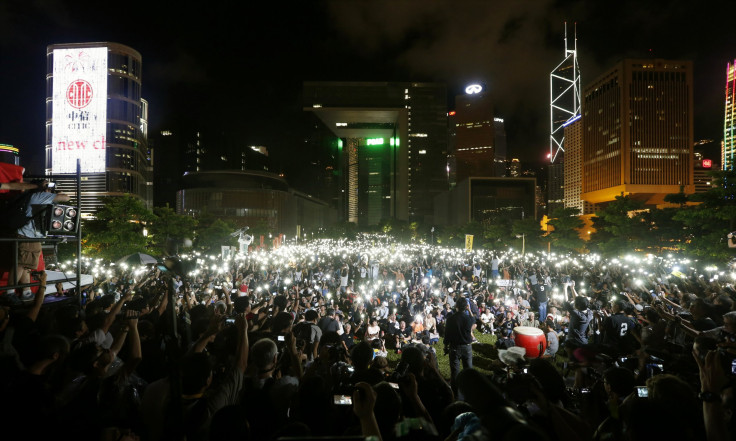 Since Occupy Central for Love and Peace emerged as a major pro-democracy movement in Hong Kong two years ago, the Chinese government has portrayed it as a threat to the territory's status as one of Asia's largest financial hubs. Like Occupy Wall Street, the movement based in New York inspired it, Occupy Central uses the central financial area of its city as the site of its demonstrations.
But unlike Occupy Wall Street -- whose manifesto targeted economic issues like executive greed and income inequality -- the Hong Kong organization has placed political, not economic, reform at the top of its agenda. This distinction came into focus amid growing tension between the territory and the Chinese government, which administers Hong Kong as a "special economic zone."
Under the Basic Law, a constitution enacted in Hong Kong following the United Kingdom's handover of sovereignty in 1997, the territory is scheduled to obtain "universal suffrage" by 2017. But in a decision announced Sunday, China's National People's Congress stipulated prospective leaders of Hong Kong must receive the support of at least 50 percent of a territorial legislative body thought to be comprised mainly of pro-Beijing representatives. The new system would make it unlikely that any politician critical of the Chinese Communist Party could emerge as Hong Kong's chief executive.
The announcement triggered immediate opposition from Occupy Central, which now plans to organize a demonstration in the city's central business district. But Occupy Central's leadership took great pains to assure residents participants do not intend to disrupt the territory's reputation for smooth business.
"We have no intention to damage the economy of Hong Kong," Benny Tai, a main organizer of the movement, told Bloomberg.
Not everyone is as certain. The Chinese Communist Party and major business leaders in the territory have both warned Occupy Central would harm economic activity in the territory, and even multinational companies -- including the "Big Four" accounting firms -- have expressed public opposition to the movement.
But other members of Hong Kong's white-collar community have been more receptive. In a December 2013 survey, more than 50 percent of self-described professionals and managers in the territory expressed support for the movement. Charles C.K. Chin, a hedge-fund manager, has emerged as the leader of the movement's "financial arm," penning a pro-democracy column in a local Hong Kong newspaper. According to Jacques DeLisle, a law professor at the University of Pennsylvania and an expert on Hong Kong, advocates of greater political autonomy in the territory are careful not to appear cavalier with Hong Kong's economy.
"There's no serious agenda to try and change the focus of Hong Kong's economy," he said.
The Occupy Central manifesto makes no mention of economic issues, instead focusing solely on supporting democracy in Hong Kong. Joseph Tse-Hei Lee, a professor of history at Pace University, said the organizers' use of the "Occupy" name was merely an attempt to benefit from an association with a movement with international recognition.
"Occupy Central appropriated the name to draw inspiration as well as energy from Occupy Wall Street," he said. "Because Hong Kong is a financial center, they felt demonstrating in a business district would get Beijing's attention."
Under President Xi Jinping, China has intervened in Hong Kong's political life more than during any other time since the territory transferred from British to Chinese control. Moves to limit Hong Kong's suffrage have sparked indignation from the territory's pro-democracy population. But the numbers indicate Beijing's leverage over Hong Kong has grown. A report by Foreign Policy Group says Hong Kong's share of China's GDP has fallen from 15.6 percent to 2.9 percent since the handover, and the economies of both Beijing and Shanghai have eclipsed the territory's in size. The Communist Party has made little secret of its desire to see the latter become China's main financial hub, a shift that may threaten some of the 228,000 finance jobs currently held in Hong Kong.
"Because of the rapid economic growth in Shenzhen, Shanghai and Beijing, Hong Kong people have become more marginalized within the Chinese union," Lee said.
© Copyright IBTimes 2023. All rights reserved.
FOLLOW MORE IBT NEWS ON THE BELOW CHANNELS