Hope Solo is not Brandi Chastain, US Women's Soccer World Cup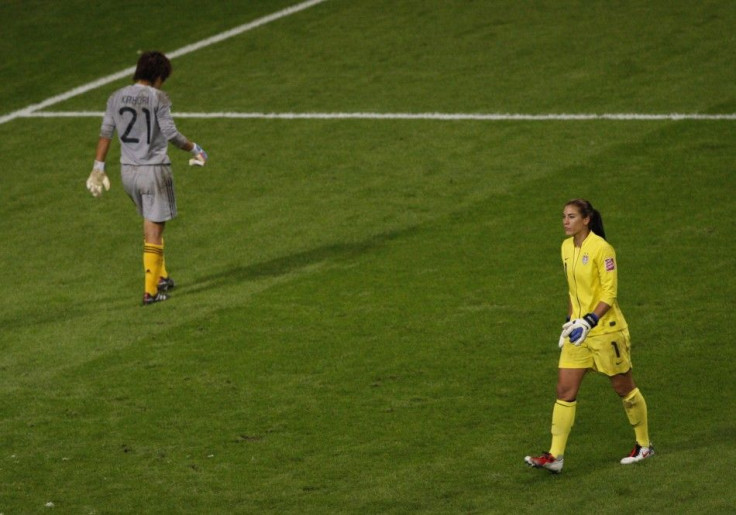 In the end, Hope Solo is not the Brandi Chastain of the new generation of soccer fans. Solo, the goalie of the US team, allowed 2 goals in the women's soccer World Cup Finals and 3 shootout goals, as Japan beat the US 2-2 (3-1) in a shootout.
It's hard to blame Solo for the loss. The first Japanese goal of the game was due to a defensive lapse. The second goal was due to bad positioning of another US player on a corner kick.
Also, goalies are at a complete disadvantage when it comes to a shootout and blocking the one shot that she did was a good accomplishment.
However, the fact of the matter is that the Japanese were able to come back in the game when they were down a goal, twice. And Japan came through in the shootout making three goals and missing one, while the US faltered missing three goals and making only one.
Japanese goalie Ayumi Kaihori came though as a hero, Hope Solo did not.
In 1999, it was a completely different story for the US Women. After a tense game between US and China, it came down to a shootout.
Brandi Chastain of the US scored the winning goal, and her celebratory pulling of the jersey and sliding to the ground was an iconic moment in the sport, making her a hero in the US.
There were a lot of anticipation that Solo could be the Chastain of this soccer generation. Solo performed admirably throughout the playoffs and could be considered the MVP of the playoffs right up to the finals.
But in the final game, Solo couldn't come through in the clutch and seal her place in soccer glory like Chastain.
The 29 year old Solo may still have another chance in 2015, if she is still on the team, but the US getting to the finals is far from a guarantee.
No, it's more than likely that this year was the best chance that the US Women have had in a long time, and this was a chance for players like Hope Solo to be christened as soccer legends, just as Brandi Chastain was a generation ago.
More World Cup Coverage

READ: Japan had something bigger on its side: Solo

READ: Japan win reminiscent of 1999 US Women's World Cup Team
READ: Will Japanese upstage US Women in FIFA World Cup Soccer?
© Copyright IBTimes 2023. All rights reserved.