With Hot Dogs And Hugs, Mothers Take A Stand Against Violence In Chicago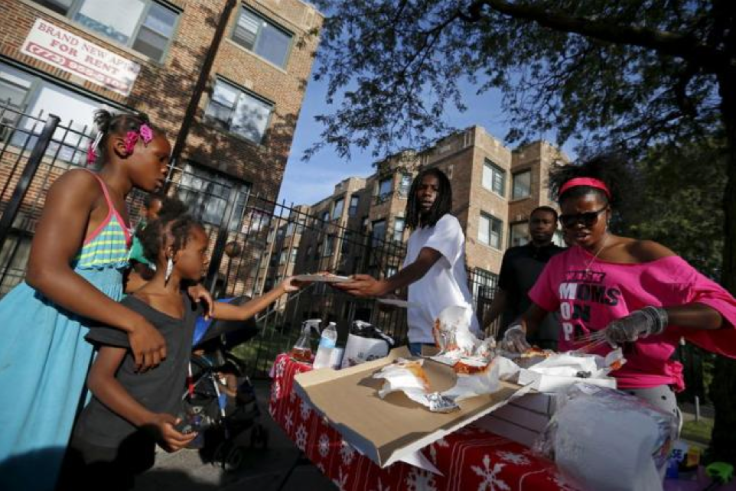 CHICAGO -- Every afternoon this summer, on a street corner in one of Chicago's most violent neighborhoods, visitors have been able to find an unusual block party. A dozen volunteers armed with lawn chairs, a barbecue grill and canopies have taken over the corner of 75th and Stewart in Englewood, a roughly 3-square-mile neighborhood that has averaged almost one shooting a day this year.
They play music, cook hot dogs, dispense advice and, as often as not, hug local boys and girls in an effort to tackle the street violence of this South Side neighborhood, scarred by trash-strewn vacant lots and boarded-up buildings.
Across Chicago, violence has reached alarming levels this year, confounding city leaders and activists, particularly in the poorest neighborhoods. Through Aug. 2, Chicago police had recorded 259 homicides, up 21 percent from the period a year ago, including 10 people killed over the Fourth of July weekend alone.
And Englewood stands among the most violent, with 19 murders so far this year. Lucille Barnes, 34, was shot June 23, at the corner of 75th and Stewart. It was her death that shook Tamar Manasseh, a 37-year-old writer who began June 29 coming to this street corner every day between 4 p.m. and 8 p.m. local time. About a dozen other volunteers have joined her, calling themselves Mothers Against Senseless Killings.
While Manasseh never met Barnes, she says she felt a connection to the woman: "We're close in age, and she was a mother like me."
The volunteers build relationships, particularly with the neighborhood's children and young adults. In between snacks, the kids jump rope and kick-box. They talk to the volunteers about their lives.
"You watch them -- you keep an eye on them. It's the same way you keep your babies from sticking things in electrical outlets," said Manasseh, adding that the group planned to stay through Labor Day, when school begins.
While it's unclear exactly what impact the group has had, crime data collected by the Chicago Tribune showed no reports of violent crime at the corner in the last month.
For the neighborhood overall, police data show that murders were down by one-half in July and early August -- from four to two since the same period last year. Shootings were down 36 percent, to 16 from 25.
Manasseh's mother, Faye McCullough, 67, in a pink T-shirt reading "Moms on Patrol," said kids were suspicious at first but relaxed because volunteers treated them like people, instead of suspects. "We're being mothers and grandmothers," McCullough said.
Police haven't visited the corner, other than driving by. But the department supports the effort, said representative Anthony Guglielmi. He also noted other anti-crime neighborhood efforts. "We can put a cop on every driveway in Chicago, but unless you get community engagement, you only get so far," he said.
A neighborhood resident, Eric Gilbert, 25, works the grill. Gilbert, whose arm is tattooed with the words "Life's a Gamble," said he has lost friends to violence. "I want to do something good," Gilbert said. "There's been no crime since we've been out here."
(Reporting by Mary Wisniewski; Editing by Steve Orlofky)
© Copyright Thomson Reuters 2023. All rights reserved.