Houston Astros vs. Washington Nationals Game 3: Prediction, Odds, Pitchers For World Series 2019
The Washington Nationals have absolutely dominated the first two games of the 2019 World Series. But the NL champions are not favorites when they return home and try to take a commanding 3-0 lead over the Houston Astros.
Washington is a slight underdog in Friday night's Game 3, according to OddsShark. The Nationals have +115 odds, while the visiting Astros have -125 odds to win their first contest of the Fall Classic. The over/under is 7.5.
Houston was favored to win the title because they are led by the top-two AL Cy Young candidates. Washington has made both starters look human, scoring nine earned runs off Gerrit Cole and Justin Verlander in 13 innings. The Nationals have put 19 men on base against the right-handers, striking out just 12 times.
It'll be another tough right-hander taking the mound for the Astros in Game 3, one that should give Houston the starting pitching edge. Zack Greinke will take the ball for the Astros. Anibal Sanchez gets the call for the Nationals.
Greinke is a future Hall of Famer and a former Cy Young winner that's made three straight All-Star appearances. Sanchez has never made an All-Star team in his 14-year career. He wasn't even expected to start Game 3, but Patrick Corbin was used in relief in the series opener.
Sanchez has actually been the better pitcher in the 2019 MLB playoffs. He's given up a single run in 12.2 innings. The veteran took a no-hitter into the eighth inning the last time he started, shutting out the St. Louis Cardinals in Game 1 of the NLCS.
After two rough postseason starts, Greinke bounced back at Yankee Stadium in Game 4 of the ALCS. He didn't exactly dominate, failing to get out of the fifth inning and allowing eight runners to reach base despite only giving up one run.
This Nationals' lineup could make any pitcher look bad with the way they're currently hitting. Washington scored 17 runs in Houston, hitting .307/.366/.547 as a team.
Washington is averaging eight runs per game in their last four contests. Juan Soto has looked like the best player in the World Series.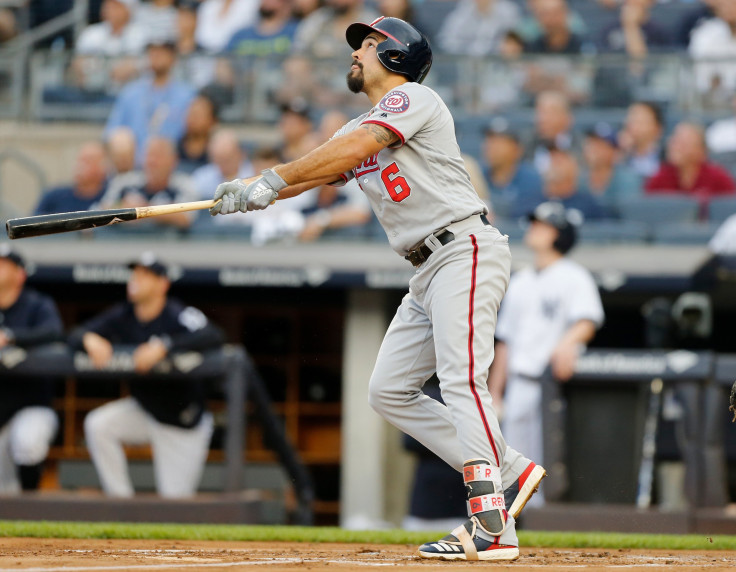 The Astros' offense has been underwhelming for much of the postseason. Houston is hitting .216 with a .292 on-base percentage in 13 playoff games. Only Jose Altuve has a batting average of .300 or higher.
Maybe Alex Bregman's Game 2 home run will get him going. Yordan Alvarez has had an encouraging series with three hits in six at-bats. The AL MVP candidate and AL Rookie of the Year favorite are both hitting below .235 this postseason. They'll need to step up in order for Houston to get back in the series.
It's going to be hard to do that against Washington's pitching staff. The Nationals' much-maligned bullpen hasn't hurt them in a couple of weeks. The ability to use Corbin as a reliever certainly helps.
Washington has held its opponents to four runs or fewer in eight straight games. Since Game 1 of the ALDS, Houston has failed to score more than four runs in nine of their 12 playoff games.
Greinke hasn't looked sharp in October. Sanchez seems locked in.
How can you bet against Washington when they are playing this well and are still home underdogs?
Game 3 Prediction: Washington over Houston, 5-3
© Copyright IBTimes 2023. All rights reserved.