How Breastfeeding Could Become Easier For Working Mothers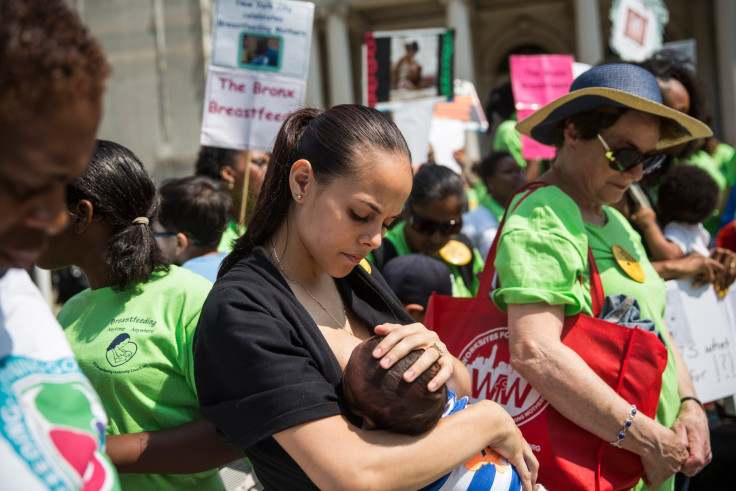 New mothers are encouraged to breastfeed — it's good for babies' health and even keeps healthcare costs down. It's just not easy when mothers are in the workplace, let alone on a business trip. But some businesses are looking to change that.
Kate Torgersen launched Milk Stork in 2015, a California-based breast-milk delivery service that aims to make it easier for working mothers to pump and ship breast milk to their newborns.
"Mothers are one of the fastest growing sections of the workforce," Torgersen told International Business Times in a phone interview. "Moms are pumping in bathrooms and wherever they can. It's not something the rest of the world knows about. A working mom also needs to send her breast milk to her child while she is away."
Breastfeeding rates are increasing in the U.S., according to the Centers for Disease Control and Prevention's Breastfeeding Report Card released in 2014. The World Health Organization advises mothers to nurse an infant from birth to six months daily. But mothers who breastfed for six months suffered greater earnings losses than women who didn't breastfeed at all, said a report published in 2012 by the American Sociological Association with data from the National Longitudinal Survey of Youth. The cause: lost work-time due to the need to pump breast milk.
Mothers need to pump several times a day, requiring extra time to pump and stockpile milk during work hours. This can become more challenging if a woman travels for work.
"When you take a business trip, now all that production of milk is offsite," Torgenson told IBT. "It's difficult to cover your absence."
Catie Trombley, a working mother from Washington D.C., had been having troubles stockpiling breast milk to feed her baby during a business trip, so she turned to Milk Stork. She discovered the service online after her father mentioned it.
"When my maternity leave was drawing to a close, I tried it out on my first business trip away from my baby," she told IBT via email. "My daughter was 4 and a half months old and still nursing as her sole source of food. I had been diligent about pumping and freezing milk while I was on leave."
Trombley, like many traveling moms, worried that she wouldn't make it back to her baby before her milk supply diminished. Milk Stork helped her store and ship the milk that she stockpiled during travel. She embarked on a two-day trip from D.C. to California and pumped on planes, in bathroom stalls, in client offices, and at airports and used plastics bags to store them, which became messy.
"I checked out the next morning at 9 a.m. PST with my Milk Stork cooler in hand," she said. "I took it with me everywhere I went that day and kept filling it with milk whenever I had the opportunity to pump. I made it home the next day at 7 a.m. EST with 50 ounces of milk all chilled. I was so relieved."
Working mothers are more likely to stop breastfeeding because of money loss. Mothers working between 20 hours and 34 hours a week had a 45 percent chance of stopping breastfeeding before their newborn became six months old, CBS News reported last year.
"Moms are using Milk Stork and asking their companies to reimburse them," Torgenson told IBT. "We have 60 enterprise companies on our roster. Moms have gone to their companies and asked them to pay for it. Companies want to do it to attract and retain talent. It allows a woman to resume her responsibilities."
Milk Stork charges based on size and shipping, so a 34-ounce Pump and Tote package will cost $79 plus shipping. Seventy-two ounces is the biggest Pump and Tote package, starting at $99.
Torgenson added: "If a mother has to go on a work trip, they will offer Milk Stork's shipping or toting services to help her get the milk back home, easing the stress before and during the trip, which supports her to keep breastfeeding."
In addition to its physical and emotional benefits, consistent breastfeeding lowers healthcare costs. If four out of five U.S. women breastfed exclusively for six months, it would save $10.5 billion in healthcare costs nationwide, a 2010 study in the journal Pediatrics concluded.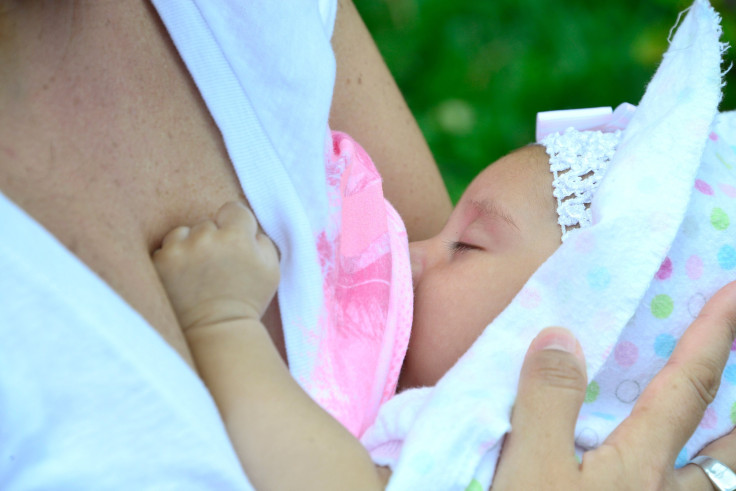 Boston Scientific, a worldwide medical device manufacturer, partnered with Milk Stork through its Benefits to Fit Your Life program. It offers support to its employees and their families.
"Boston Scientific added innovative benefits, such as Milk Stork, a breast milk shipping service for traveling, breastfeeding moms," the company told IBT in a statement. "Since the beginning of the year, 35 Boston Scientific employees have used Milk Stork's service on 67 trips, shipping nearly 50 gallons of breast milk home."
Milk Stork hopes to normalize motherhood and breastfeeding in the workplace.
"What's been amazing is to see companies respect this time of motherhood and how difficult that transition can be," Torgenson said. "I love that women are coming to a place where they don't have to ask for an accommodation. I don't think they should have to apologize."
© Copyright IBTimes 2023. All rights reserved.