How Can You Help Victims Of Ecuador Earthquake? As Death Toll Rises, Donate Funds And Goods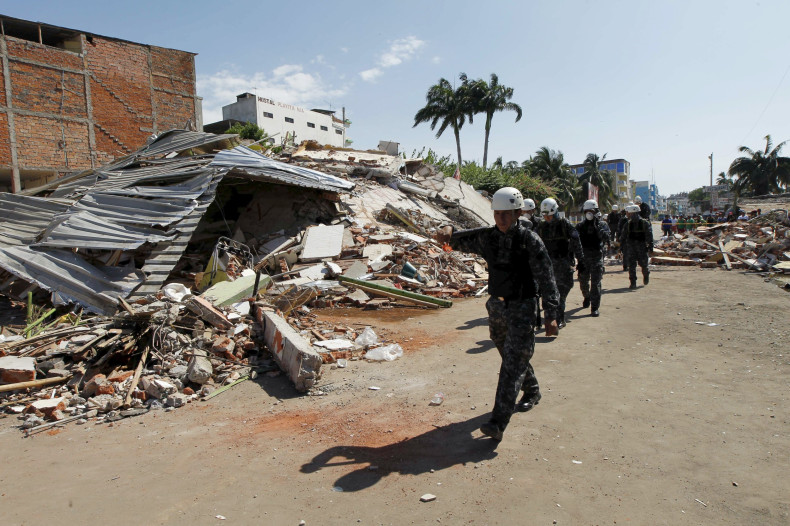 Ecuador's security minister said Monday the death toll from the devastating earthquake that struck the country this weekend has risen to 350 people, the Associated Press reported. Rescuers are still looking for more victims and survivors in the rubble after Saturday night's magnitude-7.8 earthquake, which struck about 27 kilometers (16.8 miles) southeast of the town of Muisne.
More than 2,500 people were injured in the natural disaster and more were missing as of Sunday night. President Rafael Correa warned that the death toll could continue to rise.
As officials dealt with the aftermath of the quake, aid poured into Ecuador on Sunday from neighboring countries and charities around the world. The government initially sent 10,000 soldiers and 4,600 police officers to the affected regions, CNN reported. The military set up mobile hospitals and shelters to help victims, and brought in dogs to help find survivors and bodies.
The Spanish Red Cross said early Monday that between 70,000 and 100,000 people may need help in Ecuador, according to the AP. Already, 3,000 to 5,000 need temporary housing because the earthquake destroyed their homes.
About 800 volunteers and workers with the Ecuadorian Red Cross are involved in search and rescue operations to those in the affected areas, and Mexico, Colombia, Chile, Venezuela, Peru and other countries have sent people as well. Secretary of State John Kerry said Sunday the United States would help "in any way we can."
As rescuers continue to help on the ground, people far away can help by donating funds to the organizations helping victims or donating goods for families who will be without their homes and belongings after the tragedy.
Here are some ways you can help people in Ecuador:
© Copyright IBTimes 2022. All rights reserved.