How China's Alibaba Helps Counterfeit Goods Reach US Pirates, Amazon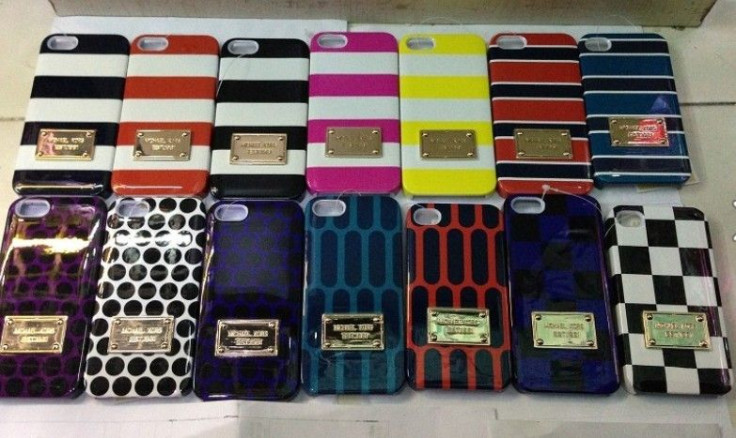 On an Alibaba-hosted website, Shenzhen CareFor Technology Co. is just another Chinese wholesaler selling cheap mobile accessories. Founded in 2011, the company based in the southern industrial city of Shenzhen specializes in custom iPhone and iPad cases printed with bubbly cartoon pandas and busty Japanese anime girls.
But if you're looking for knockoff items that copy trademarked logos and designs, CareFor, like many Chinese suppliers, will quickly and discreetly send you its latest samples via email, typically within hours.
"Please see the attached file, all products will in the packaging with the price tags," says one email response from a CareFor customer representative to a request for a price quote for counterfeit goods. The email included photos of samples that appear very similar to Michael Kors-branded cases sold on Amazon.com. Including shipping to the U.S., the counterfeit cases cost $4.38 apiece. They can be turned around by unscrupulous vendors to unsuspecting buyers – who think they're getting the real thing -- on third-party online vending sites like eBay and Amazon for as much as $35 in the U.S.
This is the kind of thing that led China's State Administration for Industry and Commerce to lash out at Alibaba Group Holding Ltd. on Wednesday. The agency responsible for monitoring China's online trading practices accused the world's largest online marketplace of becoming the medium by which manufacturers are selling counterfeit goods, like these knockoff Michael Kors iPhone cases.
"Alibaba Group has long paid insufficient attention to the illegal business activities on Alibaba platforms," the SAIC said in a report spotted on the agency's website by Reuters before it was taken down hours later without explanation.
Alibaba says it's working to improve the technology to counter the sale of fake merchandise through its sites, Bloomberg reported. The issue underscores the challenges both trademark holders and consumers have when they go to online vendors to buy products. Last year, the Wall Street Journal reported on the problem of counterfeits appearing on Amazon.com. While the reports did not say where the goods were coming from, the ease with which Alibaba connects buyers to manufacturers is clearly playing a role, as it is with the pirated mobile phone accessories. Amazon says that, like Alibaba, it's working to improve ways to "detect and prevent counterfeit products from reaching the marketplace."
Even with the shipping fees charged by Alibaba vendors, and the fees charged by Amazon.com for using its services, profit margins for selling counterfeit items online are through the roof. One person who was briefly involved in selling counterfeit goods out of a New Jersey home until last year spoke to IBTimes anonymously about how the racket works. The source showed email exchanges with the CareFor representative from late 2013 to early last year and displayed the goods he had received. Here's how he described the process of finding a reliable source of fake goods.

"Familiarize yourself with Alibaba.com," he said. "You basically search for what you want and then email a bunch of suppliers until you find a price you like. There is no foolproof way to tell if your supplier is 'legit' [able to make quality counterfeit items], but how many years they have been on the site, gold member status, etc., are good indicators."
Once he found a reliable supplier, he would order counterfeit mobile phone accessories and sell them, mostly through Amazon. The key was to be attentive to customers, because Amazon monitors the sale of counterfeit goods based on feedback from customers. For the most part, he said, customers seemed unaware that the "Michael Kors" iPhone cases were fake, or they didn't care.
"Most people don't complain," he said. "When someone does complain you immediately send them a message. You apologize and issue an instant refund and tell them they can keep the item. Sometimes we would get positive feedback for being so attentive and returning the money quickly." He said that building good customer feedback is a good way to "stay under the radar" of Amazon's efforts.
Michael Kors declined to comment for this story on the Chinese SAIC's warning to Alibaba.

So far, regulatory action is coming largely from the companies themselves. Amazon.com responds quickly to trademark owners' complaints, and Alibaba has said it's committed to cracking down on the barter of fake goods on its platforms. But regulating this digital trade has become a game of whack-a-mole; as soon as one vendor gets blocked from selling its fake goods purchased through Alibaba on Amazon.com, another one pops up.
© Copyright IBTimes 2023. All rights reserved.