How Many Points? Steph Curry Scores 40 In Preseason Win Over Timberwolves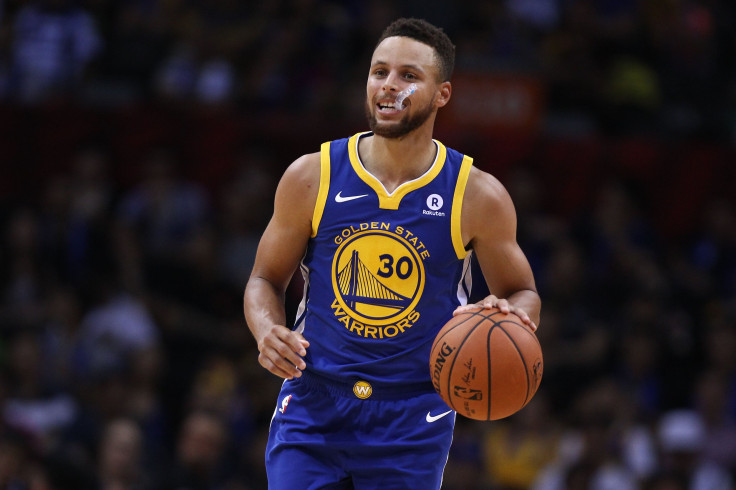 In what looked like last season's highlight reel, Steph Curry scored 40 points, lifting his Golden State Warriors to victory on Sunday. The two-time MVP lead the way with six rebounds and eight assists in a 142-110 blowout against the Minnesota Timberwolves at the Mercedes-Benz Arena in Shanghai, China.
During the last night of the Warriors' week-long tour of China, Curry racked up his points on 13-for-20 from the field and 6-for-9 from 3-point land. Fellow Splash Brother Klay Thompson pitched in with eight 3-pointers of his own, finishing with 28 points. Finals MVP Kevin Durant added 22 points and two steals. Collectively, the Warriors were 20-for-33 from 3-point territory.
Timberwolves big man Karl-Anthony Towns scored 16 points in just 24 minutes, while his teammate Andrew Wiggins had 19 points and Jimmy Butler had 15. The Wolves scored 44 points in the first quarter, but the Warriors proved to be too much as they shot an overwhelming 60 percent from the field throughout the game.
The Warriors had scored 105 points midway through the third quarter. They ended the first half on a 16-6 run, and went on a 14-3 outburst in the beginning of the third quarter.
Curry wasn't available for post-game interviews due to sponsorships obligations, however, his teammates spoke up for him.
"I've been seeing it for seven years now and he's very fun to watch," Thompson told reporters. "I'm happy the Shanghai fans and Shenzhen fans got a good glimpse of what he does so well. He works so hard and he's humble. I try to emulate what he does. It's very hard. But I just try to be like him."
This wasn't the first time Curry put on a show in China. Over the past four years, the NBA champ has visited the country on promotional tours with Under Armour. Outside of the U.S., China is his No. 1 fan-base and their admiration continues to grow as Curry has had China's best-selling NBA jersey two years in a row.
"Basketball is popular all over the world," Curry told ESPN during an interview. "And when you come here to China, to these cities and these markets that don't get the up-close-and-personal experience, it kind of takes it up another notch because this is their one chance to kind of see us live and for us to get as immersed in the culture as we can."
"I think since the last time we came here in 2013, the popularity of the Warriors has grown tenfold, so it's going to be a different vibe this time around and I'm looking forward to it."
The Warriors concluded the 2017 Global Games having split their preseason series against the Wolves, and with the win, they improve to 1-2. The team will head home from China and end their preseason schedule with a final game against the Sacramento Kings at Oracle Arena on Friday.
© Copyright IBTimes 2023. All rights reserved.