How Much US Debt Is Owned By Foreign Countries? - IBT Graphics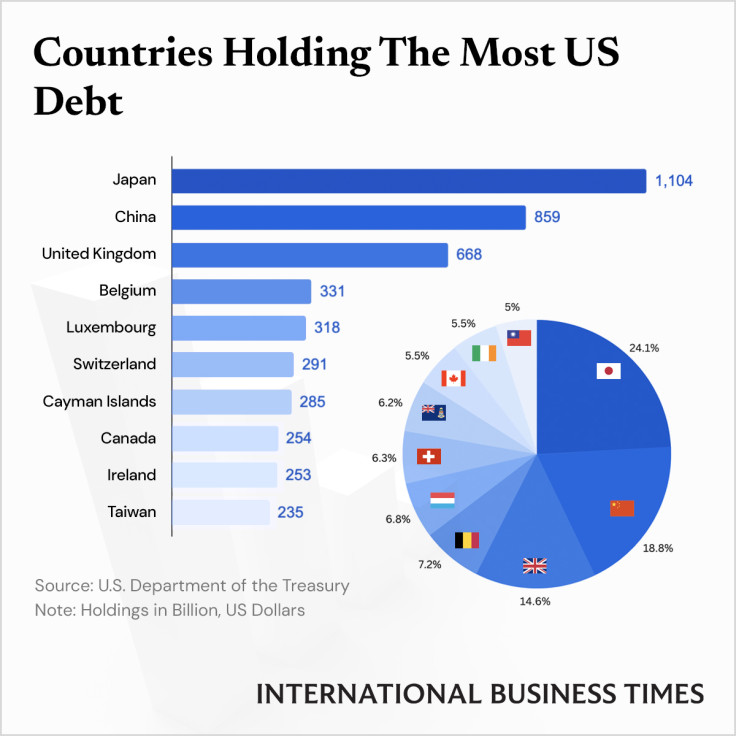 Foreign governments hold a significant amount of the public debt, with the remaining owned by U.S. banks, the Federal Reserve and individual investors, among other stakeholders. As of January, the U.S. owes $7.4 trillion of its national debt to foreign investors, according to the U.S. Department of the Treasury.
Japan ranks first as the foreign holder of U.S. debt, with $1.1 trillion in Treasury holdings, followed by China with $859.4 billion in second place. The Mainland managed to offload more than $250 billion (30%) of its holdings in the past four years.
Looking at the regions, European nations (13) are the biggest holders of the U.S. national debts, followed by Asia-Pacific with 11 holders.
Owing to high-interest rates and a robust U.S. dollar, which is making the bonds less profitable, global demand for Treasuries went down 6% over the past year. Even as Congress puts a ceiling on the debt, it can be gradually increased. In December 2021, Congress raised the debt ceiling by $2.5 trillion to $31.4 trillion in the largest dollar amount expansion. In 2022, the U.S. had a total public national debt of $30.9 trillion.
© Copyright IBTimes 2023. All rights reserved.