How Nissan Avoided the Pitfalls of Honda and Toyota, Kept Momentum in 2011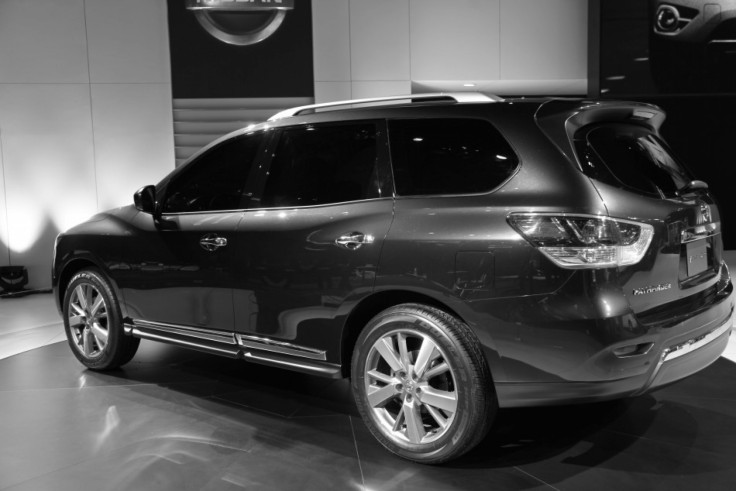 DETROIT -- Soon after the earthquake and tsunami pummeled Japan last March, Nissan sent executives to their suppliers in Japan. They reported what parts had not been affected in what quantities.
Executives from Nissan's U.S. team met soon after to discuss those results. They agreed they could produce three vehicle types in mass quantities -- body-on-frame, heightened truck and the Nissan Frontier.
Nissan rationalized that consumers needing to buy trucks may opt for a Frontier type than a full-size. So they ramped up production of the Frontier. They built an ad campaign.
We hadn't advertised it for about four or five years, Al Castignetti, Nissan North America's vice president and general manager, said in an interview with the International Business Times at the 2012 North American International Auto Show in Detroit.
It worked. Nissan upped sales of the Frontier by about 30,000 units, Castignetti said. It helped offset losses in production of other vehicles that was interrupted by the earthquake and tsunami. And it helped Nissan avoid the same pitfalls as its other major Japanese competitors, Honda and Toyota.
It really paid off for us, Castignetti said.
Nissan comes into 2012 with more momentum than those competitors as a result. It gained 8.2 percent of market share in 2011, according to data from automotive website Edmunds.com. It also enters the new year with big plans to build on that momentum, with planned introductions of new versions of a revamped Pathfinder, Altima and another car.
In Detroit, Nissan unveiled the 2013 Pathfinder, a concept that does not yet have an interior design but is expected to go on sale this fall. It also revealed a new all-electric concept van -- called the e-NV200 -- that could serve as another entry into the electric market for Nissan, which already markets the Leaf sedan.
I'm expecting Nissan to be much better, because now I get into my onslaught of product, Castignetti said of his anticipation for 2012. We have a lot of product coming that I think the market is absolutely ripe for. Quite frankly, I'm looking for a big year.
That's because of the push for gains in 2011 despite at-times rough conditions. Whereas Honda and Toyota sales plunged a similar 6.8 and 6.7 percent, respectively, Nissan sales leaped 14.2 percent in the United States.
Ironically, Castignetti said, the toughest part of Nissan's situation came in convincing its dealers that producing products at certain levels was still viable.
The dealers were saying -- and rightfully so -- 'Let me get this right. Toyota gets affected. Honda gets affected. But you guys are in Japan and you don't get affected? How does that happen?' Castignetti said. If I were a dealer, I would've been a skeptic as well.
Edmunds.com auto analyst Ivan Drury said much of the industry was surprised at Nissan's success as other Japanese automakers watched their sales whittle away. Drury said Nissan's market share stands at its highest point since at least 2001.
It's surprising in the sense that you think because they were Japanese, they would have been hindered more, Drury said in a phone interview with the IB Times on Tuesday.
But the good thing for them is that they already had more inventory available when the tsunami hit. ... I don't want to say they lucked out, because they dropped production as well. But if you were going to have that happen to you, they were a little more isolated.
Nissan sales dipped in May and the first half of June, when dealers were skeptical. But when they saw Nissan could still maintain production at the levels they claimed, sales took a 180.
Sales of the midsize Altima jumped 17.3 percent from 2010 and rivaled Toyota's Camry. Across the board of domestic and imported car and truck sales, Nissan saw double-digit gains.
It really allowed us to capitalize on a tough situation for our competitors, Castignetti said. We physically had the inventory.
Now, Nissan has the momentum. With a redesigned Pathfinder, it is aiming to revitalize a somewhat forgotten product by rebranding its image. It's still an SUV, but Nissan's marketing unit will attempt to broaden the model's potential customers by appealing to both the muscle-car customers as well as soccer moms. Gone, though, is the boxy-style frame that turned customers away as gas prices rose.
Alfonso Albaisa, the vice president of Nissan Design America and lead designer of the new Pathfinder, told the IB Times that the iconic brand had to be changed in accordance with the changing role and demand of the SUV. The new Pathfinder has 25 percent better fuel efficiency.
We know that body-on-frame cars are losing popularity, Albaisa said. When we were designing the Pathfinder, we started to play with the curves and said, 'What if the Pathfinder was a little more sleek?' But maybe that you still retain the powerful wheel form -- what we call wheel-oriented nature of the body.
In the midsize segment, the new Altima will also be an important tool for Nissan to keep its momentum in 2012. And there's still another as-of-yet mysterious vehicle that Castignetti said will be revealed later this year.
With his onslaught of product, Castignetti expects a big year. But Drury said Nissan's year will likely hinge on its new introductions, specifically the Altima.
The Altima is a huge launch, Drury said. Midsize cars are the bread-and-butter. If the Altima doesn't sell well, the brand doesn't sell well. ... If it's a success, the brand does great. If Altima has a mediocre reception or it's not well received, Nissan could be facing some issues.
FOR FREE to continue reading
✔️ Unlock the full content of International Business Times UK for free
offer available for a limited time only
✔️ Easily manage your Newsletters subscriptions and save your favourite articles
✔️ No payment method required
Already have an account? Log in
© Copyright IBTimes 2023. All rights reserved.