How Politicians From Hillary Clinton To David Cameron Reacted To Ireland's Same-Sex Marriage Vote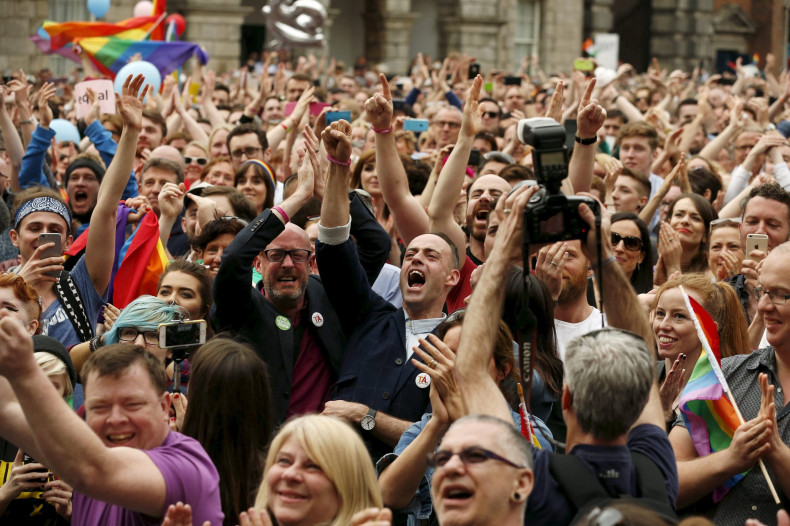 A job "well done" for Ireland, wrote Hillary Clinton shortly after news broke that Ireland had legalized same-sex marriage. The Democratic presidential contender took to microblogging site Twitter to commend the country.
Other politicians followed suit, congratulating the country for supporting equality. Ireland Saturday became the first country in the world to legalize same-sex marriages by a popular vote.
U.S. Vice President Joe Biden also welcomed the measure via Twitter, but it is unclear whether he was speaking on behalf of the White House, the country or himself. Biden had endorsed same-sex marriage before President Barack Obama, which left the president in an uncomfortable position, as the Washington Post reported.
We welcome Ireland's support for equality. #LoveWins pic.twitter.com/11IhOv4yHm

- Vice President Biden (@VP) May 23, 2015
Clinton has flip-flopped with respect to same-sex marriages over the years. During her 2008 presidential race, she opposed same-sex marriages and supported same-sex civil unions. This time around, the former U.S. secretary of state has changed her position and said she would back a constitutional amendment legalizing same-sex marriages, CNN reported.
"Hillary Clinton supports marriage equality and hopes the Supreme Court will come down on the side of same-sex couples being guaranteed that constitutional right," Clinton representative Adrienne Elrod said in a statement.
Most candidates for the Republican Party's presidential nomination -- Dr. Ben Carson, Sen. Ted Cruz of Texas, former Arkansas Gov. Mike Huckabee and Sen. Marco Rubio of Florida -- have come out as opposed to same-sex marriage, Time reported. Former Hewlett-Packard Co. CEO Carly Fiorina is a supporter of same-sex civil unions.
In New York, city and state political leaders voiced their support of Ireland's move to legalize same-sex marriages. Mayor Bill de Blasio -- who has challenged Democratic leaders such as Clinton to unite on a progressive agenda with his 13-principle plan called the Progressive Agenda to Combat Income Inequality -- tweeted his support of the move, while Gov. Andrew Cuomo wrote about his support for a national upheaval in the U.S:
Across the Atlantic Ocean, U.K. Prime Minister David Cameron congratulated Ireland. In 2013, the British Parliament passed legislation to allow same-sex marriages in England and Wales. Scotland followed suit in 2014.
However, Northern Ireland has yet to introduce similar legislation -- an issue that perturbs some influential U.K. celebrities, including Sir Ian McKellen:
Other celebrities took a more light-hearted approach to Ireland's news:
Ireland just made the entire world a partier place.
- ANDREW W.K. (@AndrewWK) May 23, 2015
Within the U.S., Maine, Maryland and Washington in 2012 were the first states to legalize such unions through popular votes. Meanwhile, 37 states and the District of Columbia recognize same-sex marriages, according to the National Conference of State Legislatures. A measure to legalize unions via popular votes could be added to the ballots in the 13 other states during the 2016 general election when it conceivably could have the support of at least one presidential candidate.
© Copyright IBTimes 2022. All rights reserved.