How To Reach 90 Years Old In A Country With A Life Expectancy In The 50s: A Few Tips From Robert Mugabe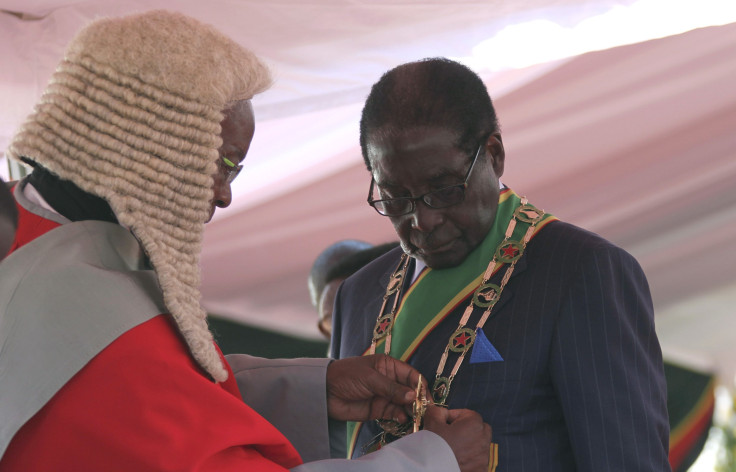 Officials in Zimbabwe are planning a weekend of festivities to celebrate the 90th birthday of President Robert Mugabe – no mean feat in a country with an average life expectancy in the 50-year range – but not everyone is up for the party.
The Independent of Britain reported that the president's party last year cost more than $600,000 and included a cake weighing 196 pounds, and this year's bash is rumored to be even more extravagant.
Zimbabwe's gross domestic product per capita is a little over $700, according to the World Bank.
Mugabe was born in 1924 and went to college in South Africa and later became a teacher in Ghana. Between 1964 and 1974 he was a political prisoner in what was then white-ruled Rhodesia. In 1980, after leading a guerrilla war, he became the first head of state of the newly renamed Zimbabwe.
He's now going on 34 years in the post, which makes him one of the three longest-serving state leaders in Africa, according to this chart in the Economist. He is just one year shy of Teodoro Obiang Nguema from Equatorial Guinea and Angola's José Eduardo dos Santos.
BBC News compiled a trove of advice on how a few ways he made this happen. Exercise, for instance, is important.
"In prison we had no equipment, we just had ourselves and that's what I still do today," he said.
Besides his workout choices, Mugabe credits his predilection for traditional food and love of cricket for his ability to stay healthy enough to father a child at age 73, among other things.
Good fashion and music sense is also a bonus: Mugabe reportedly prefers Jimmy Cliff to Bob Marley, but the politician has a few preferences that are even less popular.
"There is nothing to celebrate about his birthday or his legacy," Dewa Mavhinga, a Zimbabwe researcher at Human Rights Watch, told The Guardian. "His human rights record is one that no one can honestly admire."
It's a reasonable judgment for a man who once said publicly that gay rights were "not worthy of discussion," called himself "the Hitler of the time" and said he was better than Jesus, as reported in The Independent.
And this year's state birthday may not be the last. Though experts, economists and the people of Zimbabwe worry about what will happen when Mugabe no longer rules, he doesn't seem to worry.
"Only God, who appointed me, will remove me," he said, according to The Telegraph.
© Copyright IBTimes 2023. All rights reserved.