How A Simple Identity Check Triggered Riots In A Small Town In France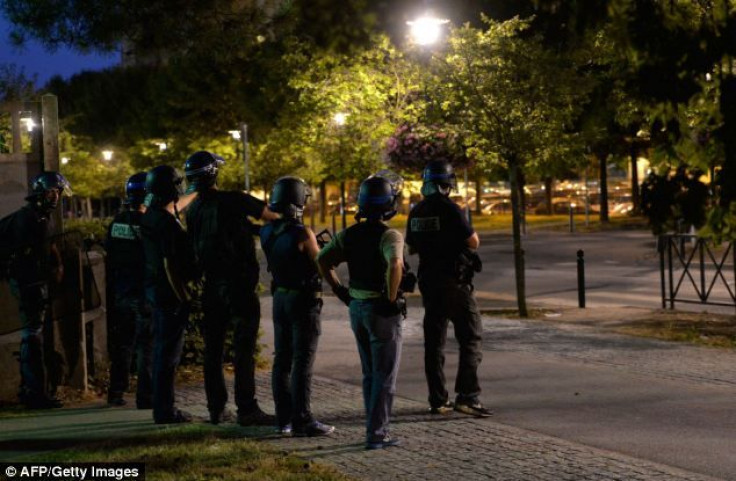 France's interior minister, Manuel Valls, has defended the government's ban on women wearing full-face veils in the wake of almost three days of rioting in a Paris suburb that was sparked by a policeman questioning a Muslim woman wearing a niqab.
What began as a simple identity check of a woman in Trappes, a poor, heavily immigrant neighborhood of some 30,000 residents southwest of Paris, on Thursday, eventually metamorphosed into a conflagration that led to stone-throwing at police, the surrounding of the local police station by hundreds of people, the burning of a building, destroyed cars, street violence and at least six arrests. The violence also spread to the surrounding towns of Elancourt and Guyancourt, before calm was restored on Monday.
Although no one died in the disturbances, a 14-year-old boy reportedly lost his eyesight when police fired teargas at demonstrators, according to radio station Europe 1.
The niqab-wearing woman in question was a 20-year-old from the French Caribbean island of Martinique who converted to Islam. Her 21-year-old husband reportedly objected to the policeman interrogating his wife and allegedly assaulted and even tried to strangle him, leading to his arrest. But the young woman claimed it was the police officer who attacked first.
"Police did their job perfectly," Valls told radio station RTL. "The law banning full-face veils is a law in the interests of women and against those values having nothing to do with our traditions and values. It must be enforced everywhere." Valls was referring to controversial legislation introduced in 2010 by then-President Nicolas Sarkozy which was intended to prevent people from hiding their identities in public. Sarkozy also said the law was meant to "to protect women from being forced to cover their faces," and also "to protect France's secular values."
In France, the authorities are allowed to check someone's identity on the streets, although it has been said that the practice it is often discriminatory because it is usually based on race (i.e., used against France's huge Muslim population). Moreover, people arrested on the streets by the police for wearing a full-face veil are often fined. Consequently, with respect to the latest disturbance, groups like the Collective Against Islamophobia in France condemned the "heavy handedness" and "provocation" by the police.
But Valls steadfastly called on opponents of the veil law to refrain from violence. "I call riots and urban violence unacceptable," he told RTL.
France witnessed much worse rioting in its immigrant "banlieues" in October 2005, when authorities had to declare a state of emergency after two youngsters (one Arab, one African) died as they were trying to flee from the police in the Paris suburb of Clichy-Sous-Bois.
Now, under Socialist President Francois Hollande, right-wing politicians are accusing the government of failing to maintain law and order. "There is a denial of reality, a refusal to see that violence is rising," said Jean-François Copé, chief of Sarkozy's center-right UMP party.
© Copyright IBTimes 2023. All rights reserved.
FOLLOW MORE IBT NEWS ON THE BELOW CHANNELS