How To Watch Boston Marathon 2015: Live Stream, Best Viewing Spots, Start Times, Athlete Alerts And More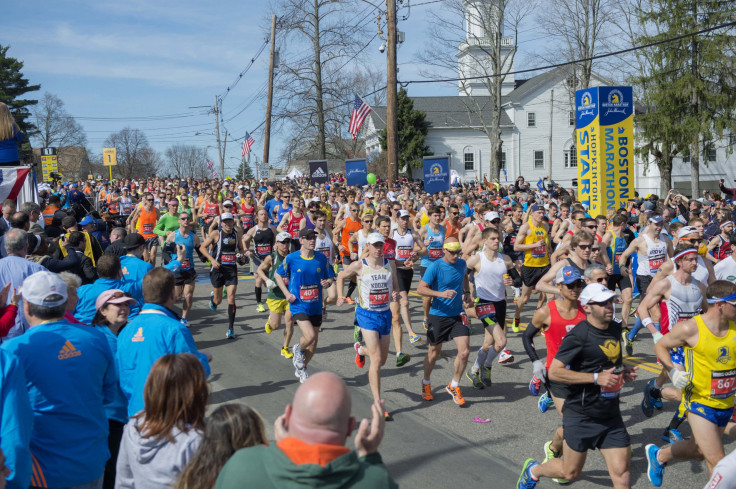 Don't let your inability to travel to Boston on Monday hinder your plans to watch America's most beloved marathon. Thanks to technology, there are multiple ways to watch this event and stay posted on the status of your friends, family or other runners. Whether you plan to watch the race in person, view it from a live stream on your desktop at work or follow Twitter updates on your phone, here's all you need to know to get the most out of your Boston Marathon spectator experience.
Start times: The race kicks off at 8:50 a.m. EDT, with mobility-impaired racers. Next, those competing in wheelchairs and handcycles will start moving at 9:17 a.m. and 9:22 a.m., respectively. Elite female runners take off shortly after 9:30 a.m., elite men and the first wave of runners at 10 a.m. and three waves of runners starting every 25 minutes after that. About 30,000 runners in all will participate in the marathon.
Live stream: You can watch a livestream of the race, courtesy of the Boston Athletic Association, on your computer. To watch on your iPhone or another Apple device, scroll to the bottom of this page.
Watching in Boston: The marathon begins way out in the suburb of Hopkinton, Massachusetts, and ends in the center of Boston on Boylston Street. If you're planning to watch from anywhere in between, don't miss this list of tips from the Massachusetts Emergency Management Department, which warns that spectators should "expect a significant presence of uniformed and plainclothes police officers." There's an understandably extensive list of stuff to leave at home, including coolers and glass containers, given the bombings that happened in 2013.
Some of the best places to watch include Commonwealth Avenue in Newton, which includes Heartbreak Hill, where runners could always use extra encouragement; in Hopkinton, about a mile from the start, where the sidelines will be less crowded; and Wellesley's Hunnewell Park, which reportedly offers a great view of the race.
Twitter: Follow the race through Boston Marathon's official Twitter feed, @BostonMarathon.
Athlete Alerts: Stay posted by signing up for text or email alerts on how your favorite athlete is doing. You will need to know that person's bib number, which you can text to 234567 (you may incur extra fees) for instructions about how to get updates. You can also sign up for email alerts on runners here.
© Copyright IBTimes 2023. All rights reserved.