How To Watch Duke vs. UNC, Kansas vs. Villanova In 2022 Final Four, Start Times & TV Channels
The 2022 Final Four brings one of the most highly anticipated conclusions to March Madness in recent memory. Millions of viewers will watch Duke, North Carolina, Kansas, and Villanova compete Saturday at Caesars Superdome in New Orleans.
There are several ways to watch both Final Four games. The contests will be available through live streaming and on multiple TV channels.
TBS, TNT, and truTV will broadcast a simulcast of Saturday's games. Villanova takes on Kansas at 6:09 p.m. ET. Duke and North Carolina are scheduled to meet at 8:49 p.m. ET, though the start time could be delayed if the first contest goes long.
Viewers can stream the Final Four with March Madness Live.
The matchup between Duke and North Carolina is a historic one. Throughout their rivalry, the ACC teams have never met in the NCAA Tournament. UNC has a chance to end Mike Krzyzewski's coaching career just a few weeks after the Tar Heels spoiled his final game at home.
Duke is favored to beat North Carolina. The Blue Devils are led by three potential lottery picks in the 2022 NBA Draft.
Kansas is the betting favorite against Villanova. The Jayhawks are the only No. 1 seed that survived their portion of the bracket to reach the Final Four. The Wildcats will be without No. 2 scorer Justin Moore, who suffered an Achilles injury in the Elite Eight.
Villanova has been the top college basketball program of the last few years. The Wildcats have won two national championships since 2016. It's been five decades since any team won three titles in six years.
North Carolina, Duke and Kansas are college basketball blue bloods, all of which rank in the top four in all-time wins. Only Kentucky has more victories those than schools.
Saturday's winners will meet in the 2022 national championship game Monday night.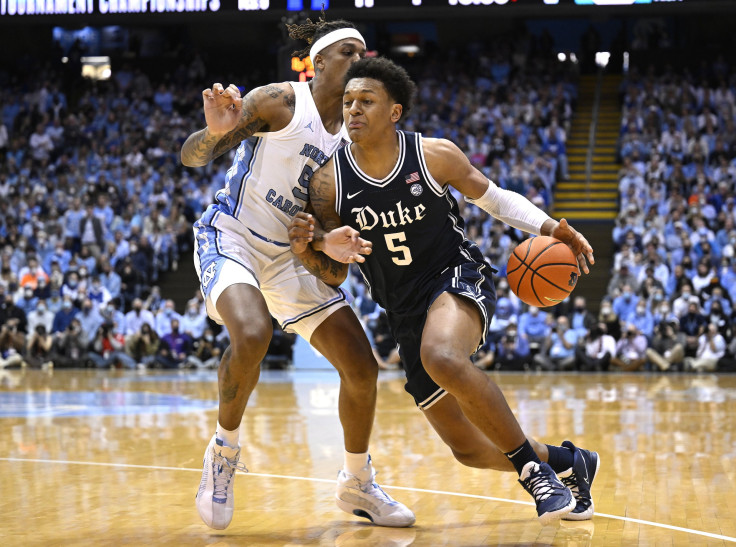 © Copyright IBTimes 2023. All rights reserved.