HSBC's China Manufacturing PMI Drops to 11-Month Low In July, While Official PMI Stays In Expansion Territory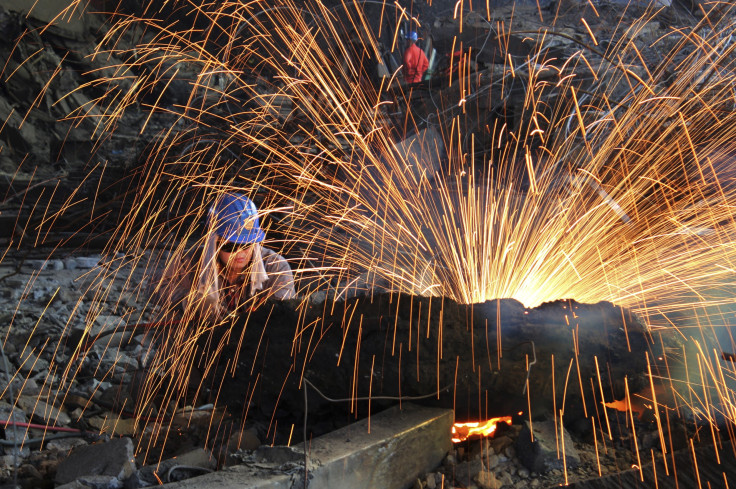 China's manufacturing activity contracted for the third consecutive month to an eleven-month low in July, a HSBC-Markit survey showed on Thursday, while official data, which samples a different set of responders, released earlier in the day by the National Bureau of Statistics, showed that China's factory output in July managed to expand.
According to HSBC's Purchasing Managers' Index, or PMI, China's manufacturing activity fell to 47.2 -- its lowest level since August 2012 -- and down from June's final reading of 48.2. A preliminary reading, released on July 24, had showed the HSBC PMI for July at 47.7. A reading of above 50 indicates expansion, while a reading below 50 shows contraction.
"With weak demand from both domestic and external markets, the cooling manufacturing sector continued to weigh on employment," said Hongbin Qu, China chief economist at HSBC, in a release. New orders index fell to 46.6 in July -- its lowest since August 2012 -- reflecting weak demand in the domestic market as well as abroad, data showed.
However, HSBC's PMI is in contrast with China's official PMI data, also released on Thursday, which showed signs of a slight recovery in the economy.
According to official data, manufacturing PMI rose to 50.3 in July from 50.1 registered in June, and the data topped a Reuters' consensus estimate of 49.9. The index has managed to stay in the above-50 territory for 10 straight months.
Some analysts believe that the official data indicate that a slowdown in the world's second-largest economy is not as bad as many observers have warned, but the marginal improvement in the PMI is not significant enough to point to a full-scale economic recovery.
"Let's be clear. Things aren't looking terrible. (But) a movement of two-tenths of a percentage point in an index number, not even a hard number, is not statistically significant," Peter Morici, a professor in the Smith School of Business at the University of Maryland, told CNBC. "The markets will make something out of it, but I would read it as the same."
Analysts also pointed out that the difference in the data compiled by the two surveys is due to the fact that both HSBC and the National Bureau of Statistics target different types of companies for the survey.
The official PMI data is derived mostly from bigger firms and state-run companies, which are involved in housing and infrastructure-related projects, and benefit from a slew of measures announced by the government to boost investment in these sectors.
"What we had in China is stress in the financial system and that affects smaller companies more than state owned enterprises. Official PMI is more skewed to larger companies and the HSBC figure reflects the smaller companies and that is where you get this divergence," Frederic Neumann, managing director and co-head of Asian economics research at HSBC, told CNBC.
But, the two different sets of data from China make it difficult for economists to examine the real health of the country's economy, which grew at its slowest pace in more than ten years in the last quarter. In addition, China, last month, had stopped announcing data from various sub-indexes of the survey, stating a lack of time to tabulate the data.
Despite the mixed numbers, markets in China responded positively with the Shanghai Composite index jumping 1.17 percent and Hong Kong's Hang Seng Index rising 0.60 percent, following the release of the PMI data.
© Copyright IBTimes 2023. All rights reserved.