Huntsman Threatens to Boycott Nevada if Caucus Isn't Postponed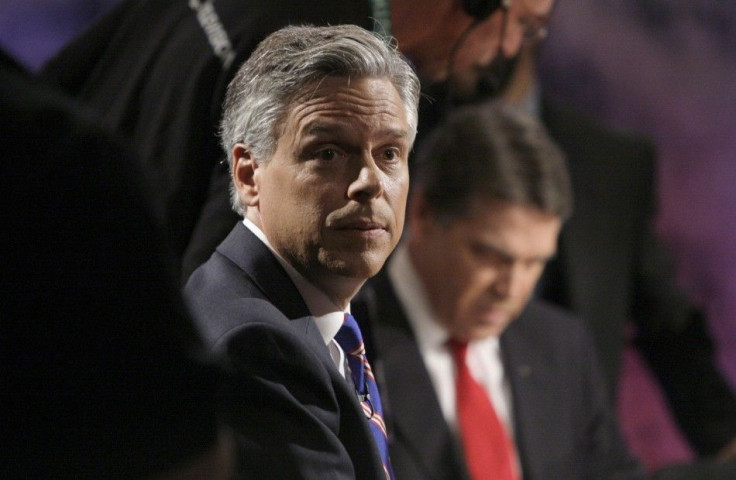 Former Utah Gov. Jon Huntsman is threatening to boycott the Nevada caucus if officials there do not push the date back to accommodate New Hampshire, as the battle over the 2012 Republican primary schedule rages on.
Republican officials in Nevada have scheduled the state's caucus for Jan. 14, less than two weeks after Iowa's tentative date of Jan. 3. Traditionally, the first four states to vote are Iowa, New Hampshire, Nevada and South Carolina, in that order, but there are supposed to be at least seven days between each election, and New Hampshire does not want to cram its primary into the short window between Iowa and Nevada.
That means New Hampshire is considering holding its primary in early December, which would make it the first state ever to hold its primary before a general election year.
We cannot allow the political process to squeeze us into a date that wedges us by just a few days between two major caucus states, Bill Gardner, New Hampshire secretary of state said in a statement on Wednesday. Our primary will have little meaning if states crowd into holding their events just hours after our polls have closed.
Nevada Gov. Brian Sandoval responded on Thursday that he would not consider rescheduling his state's caucus. He added that the seven-day rule was only meant to space out two caucuses or two primaries, not a caucus and a primary.
A caucus is not the same as a primary election, Sandoval said in a statement. Nevada has chosen Jan. 14, and New Hampshire could easily choose Jan. 10 for its primary and still preserve the intent of its seven-day rule, as it applies to primary elections.
If Nevada did move its caucus back, it would come into conflict with South Carolina's primary on Jan. 21.
Primary/Caucus Leap-Frog
The scheduling mess began late last month, when Florida announced that it would hold its primary on Jan. 31, in express violation of Republican National Committee rules that allow only Iowa, New Hampshire, Nevada and South Carolina to hold primaries or caucuses before March 7.
The four traditional early states promptly announced that they would move up their dates to stay ahead of Florida, and the jockeying sparked efforts by other states, including Arizona, Colorado and Missouri, to violate the RNC rules as well.
This issue is really about Florida, not Nevada, Sandoval said. Perhaps [Gardner] should be asking Florida to change its position.
The jockeying does add a certain amount of ridiculousness to the process here, Dan Hart, a political analyst, told a Fox News affiliate in Las Vegas. People keep leapfrogging and jumping and changing things. It gives people a sense of uncertainty about the political process.
National party officials might have to step in, Hart said.
I think that the Republican Party needs to get a hold of this before it gets ridiculous, he said. We could be having a primary next week for all we know.
Huntsman doesn't risk much by boycotting Nevada, because he hasn't spent significant time campaigning there anyway. He has staked his floundering candidacy on a strong showing in New Hampshire, and he is probably hoping that his public show of support for the state will win him some votes.
He is urging his fellow candidates, particularly Mitt Romney, to join him in boycotting Nevada, but Romney, who has a strong lead in New Hampshire, has little incentive to do so.
© Copyright IBTimes 2023. All rights reserved.