Hurricane Irene: It Brought Out the Best (and Worst) of U.S.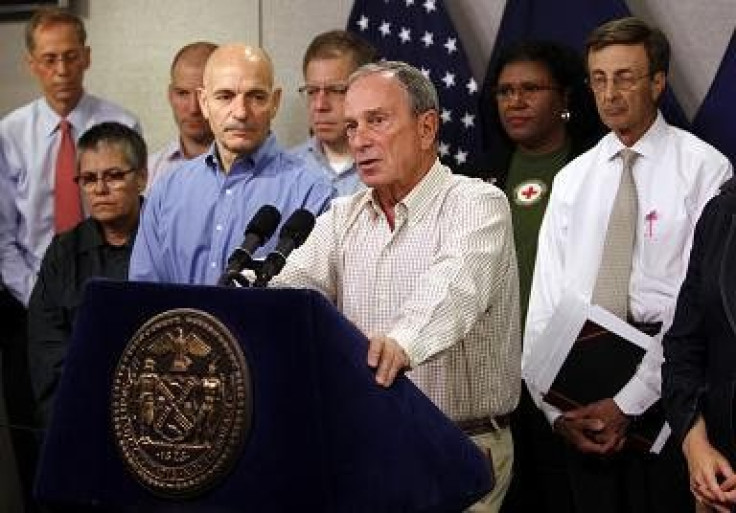 Selected observations on the response to Hurricane Irene / Tropical Storm Irene, and its aftermath...
A ♥ heart to the brave New York Police Department Harbor Patrol who rescued two, mind-numblingly careless and reckless kayakers who decided Saturday that 60 mile per hour winds, storm surge, and torrential rain create ideal conditions to kayak.
Without the heroic efforts of the NYPD Harbor Patrol, these two kayakers -- who were plucked from the water Saturday about 9 p.m. EDT clinging to their life jackets after their vessels capsized -- would have likely perished.
To say that the kayakers irked New York City Mayor Michael Bloomberg, not one to display ire publicly, would be an understatement:
Why they were out there despite all the warnings? I don't know. They were rescued and are ok, said the visibly annoyed Bloomberg, at a Saturday evening press conference.
**
A huge dart to those two kayakers. What geniuses! The men, both Staten Island, N.Y. residents in their 30s, were taken to dry land and then to the NYPD's 123rd Precinct in Tottenville, N.Y., where they were each issued a criminal summons for violating a local emergency order, a misdemeanor, police said.
The view from here argues the two should be sentenced to community restitution -- some social service activity that will improve the lives of those less fortunate -- but no doubt more-wise -- than the pair. Each should also be placed on probation for one year.
**
A ♥ heart to President Barack Obama, New York City Mayor Michael Bloomberg, New York Gov. Andrew Cuomo, and New Jersey Gov. Chris Christie, who made, by and large, the correct decisions during the Hurricane Irene preparation and evacuation period.
Gov. Cuomo said it best, in so many words, when reporters questioned the large preparation and evacuation effort for what amounted to a severe, damaging storm, but not catastrophic Category 1 or Category 2 hurricane: I'd rather be safe and alive, than sorry and dead, anytime.
The view from here argues: We agree.
**
A dart to U.S. Rep. Ron Paul, R-Texas and 2012 Republican presidential candidate.
Incredibly, Paul does not see a role for the federal government in disaster response. The U.S. Government, he said, is not needed in a national emergency, catastrophe or other emergency. The states can handle it.
Paul added that we need to return to the public policies of 1900.
[ Paul later added that he also does not see a role for modern plumbing, electricity, or modern surgery. No, on the latter three, Paul actually did not say that, but I think you get the point. ]
**
A dart to U.S. Rep. Michele Bachmann who, like Paul, is a 2012 Republican presidential candidate.
Bachmann, during a speech in Florida, said Hurricane Irene and the recent East Coast earthquake were God's warning about government spending.
I don't know how much God has to do to get the attention of the politicians, Bachmann said. We've had an earthquake; we've had a hurricane. He said, 'Are you going to start listening to me here?' Listen to the American people because the American people are roaring right now. They know government is on a morbid obesity diet and we've got to rein in the spending.
**
A ♥ heart to all those -- in an official capacity or a citizen -- who took time out to check on the elderly, relatives, friends, neighbors, and others in need during the hurricane.
You represent the constructive -- and the best of America.
**
A ♥ heart to anyone to takes time out to visit Vermont later this autumn.
Vermont has been hurt bad by widespread flooding and the clean-up cost will be enormous.
Of course, attention now is focused on getting all residents away from flood zones and related dangers, which will be followed by a long period of rebuilding.
But the point here is that after state officials say it is safe to do so, planning a weekend (or longer) vacation in Vermont to see the foliage etc. would be a great way boost Vermont's economy and help local businesses recover.
© Copyright IBTimes 2023. All rights reserved.