Hurricane Irene Threatens D.C. Area With Tropical Storm Warning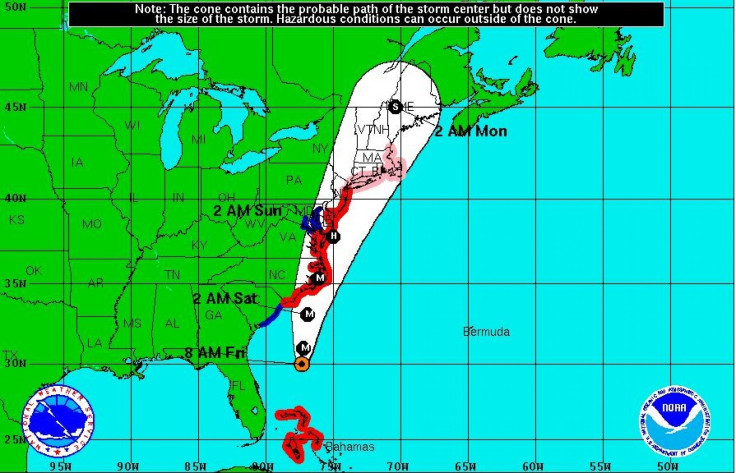 As the hurricane warning area expands on the East Coast covering a large area from North Carolina to Boston, the National Weather Service warned Washington, D.C. area with a higher danger.
The U.S. capital is now facing the second natural disaster in one week after Tuesday's earthquake, as Hurricane Irene nears its landfall in North Carolina Saturday morning.
Friday morning, a Tropical Storm Warning was issued for the upper Chesapeake Bay and the Tidal Potomac, as well as Washington, D.C. greater metropolitan area, with flash flood watch in effect from Saturday afternoon through Sunday morning.
A tropical storm warning is an announcement that tropical storm conditions such as sustained winds of 39 to 73 mph are possible within 48 hours.
Irene is expected to peak in the metro area Saturday night, as the storm center passes off the Virginia capes, and conditions will gradually recover in the D.C. area Sunday.
Saturday night, D.C. metro area can expect showers with a chance of thunderstorms in the evening, turning to shower after midnight, according to the NWS. Heavy rainfall after midnight will turn to showers Sunday morning, with winds high in the lower 80s.
The lower Chesapeake Bay and the Delmarva shore are under a Hurricane Warning, which means hurricane conditions, with sustained winds of 74 mph or higher, are expected.
The flash flood warning has been issued for the following counties: Anne Arundel, Calvert, Charles, Harford, Howard, Montgomery, northern Baltimore, Prince George's, and St. Mary's.
The Category 3 storm pummeled the northern Bahamas on Thursday, as it continued on its path for an eventual meeting with the Carolinas. The storm could strengthen to a Category 4 storm by Friday, according to the National Weather Center, as East Coasters begin to evacuate coastal towns.
Irene is currently a major Category 3 hurricane with winds of 115 mph. The storm is centered about 575 miles south of Cape Hatteras, N.C., and moving north-northwest at 14 mph.
Hurricane Irene has grown into a massive storm with hurricane-force winds extending outward up to 90 miles from the storm center and tropical-storm-force winds extending outward up to 290 miles. This means that even if the center of the storm doesn't pass directly over your area, the effects will be felt far and wide.
Although Baltimore hasn't ordered residents to evacuate, it has encouraged residents to make storm preparations. Baltimore Mayor Stephanie Rawlings-Blake urged building owners in at-risk coastal flood areas, including the popular Inner Harbor and Fell's Point, to begin preparing for the massive storm.
Amtrak canceled trains operating south of Washington for Friday through Sunday, and suggested the possibility of additional cancellations.
Threatened by Irene, the dedication event for Martin Luther King Jr., initially scheduled to be held on Sunday, was postponed. Tens of thousands of people, including President Barack Obama, were expected to attend the 11 a.m. event at the National Mall. However, the dedication will instaed take place in September or October.
Ocean City, Maryland, activated phase three of its hurricane action plan and saw the evacuation of thousands of residents and visitors as officials made strict orders following Hurricane Irene's expected hit at the Maryland shore, while danger warnings were issued by Gov. Martin O'Malley of the monster storm.
A mandatory evacuation also began Friday morning in Long Beach Island, N.J., as residents packed up their cars and headed out of town.
The governors of New York and Connecticut ordered agencies to make ready for the storm. In Rhode Island, officials plan to activate a 24-hour operations center, said Denis Riel, a spokesman for the Federal Emergency Management Agency.
For New York City, hurricane evacuation zones are specified in a hurricane evacuation map.
© Copyright IBTimes 2023. All rights reserved.