Hurricane Joaquin 2015: Storm Disrupts Vital Mail Boat, Ferry And Airline Service In The Bahamas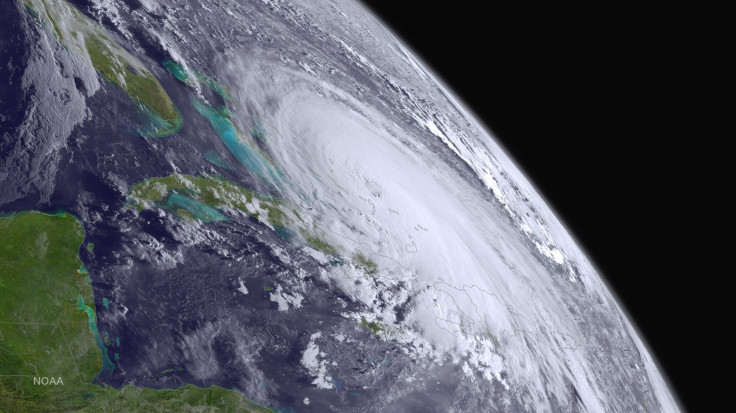 UPDATE 11.25 p.m. EDT: Hurricane Joaquin continued moving northeast toward Bermuda late Saturday, bringing extremely high winds and rain. Reports from an Air Force Reserve Hurricane Hunter aircraft indicate that maximum sustained winds are near 130 mph with higher gusts, according to the National Hurricane Center.
Tropical storm conditions are first expected to reach Bermuda by Sunday morning, with hurricane conditions expected by Sunday afternoon.
Joaquin is expected stay away from the Atlantic coasts of the U.S. and Canada.
UPDATE 9 p.m. EDT: Hurricane Joaquin took aim at Bermuda Saturday night, packing maximum winds of 145 mph. At 8 p.m. EDT, Joaquin was 455 miles southwest of Bermuda, moving northeast at 17 mph. Tropical storm and hurricane warnings were posted for the island.
The National Hurricane Center in Miami said Bermuda could expect tropical storm conditions early Sunday with hurricane conditions expected by afternoon. Three to 5 inches of rain was forecast.
Original post:
As Hurricane Joaquin bore down on the Bahamas, Captain Jack Stuart ventured out onto the open water.
At the helm of his mail boat, Current Pride, a vessel he has operated for nearly 40 years, Stuart tested his fortunes before Joaquin's Friday landfall in the hope he might reach a protected harbor 72 miles to the west. That cove, known locally as Spanish Wells, was first used by the Spaniards while transporting goods between the Americas and Europe in the 17th century.
He knew that if he were successful, his last-ditch effort to protect his beloved boat could well separate him from his family during the storm. "Sometimes you can't be where you would like to be, but you have to make sure your livelihood is protected," said Stuart on Saturday, safely back with his family on the thin outer island of Eleuthera.
Stuart and his family are among the thousands of Bahamians who rely on mail boats such as Current Pride to deliver a weekly supply of groceries as well as mail and visitors from the capital city of Nassau to some of the nation's 700 outer islands. Residents of the Bahamas depend heavily on the daily ferries, flights and mail boats, operated largely by regional and family-owned businesses, to stay connected -- and to survive. When Joaquin arrived, it did more than bring forceful winds and torrential rains -- it also disrupted these critical links.
The Category 4 hurricane arrived swiftly, buoyed and strengthened by the unseasonably warm waters of the Atlantic. The storm hit the nation's southern islands hardest, pounding them with a foot or more of rain in some areas throughout Friday and 130 mph winds that have grown to 155 mph as the storm moves north.
On Saturday morning, the storm began to slowly move northeast toward Bermuda. No injuries or fatalities had been reported at that time, but the U.S. Coast Guard was searching for a cargo ship carrying 33 crew members that left from Florida on Thursday.
The storm also temporarily cut ties between residents and communities of this spread-out nation of islands. Amid the hurricane, virtually all of the nation's vital transportation networks went out of service. All flights from Nassau Lynden Pindling International Airport, the main airport serving the Bahamas, were suspended from Friday afternoon to Saturday morning.
Bahamas Ferries, a passenger and freight ferry service company that typically runs at least five ferries a day, suspended all service on Friday and Saturday. Alexis Nevers, 23, a customer service representative based in Nassau, says about 85 percent of ferry passengers are locals who use it as a means of daily transportation.
"We don't have an airport on every island, so some people use it to get to and from the islands," she says. "Some prefer the boat because they're afraid to fly." The company expects to run at least one route on Sunday afternoon.
The "family" islands, as residents call them, also rely heavily on deliveries of food and supplies from Nassau. These shipments typically arrive by mail boat, a long-standing tradition in the Bahamas. A storm, however brief, interrupts these tenuous supply lines.
Stuart, 57, makes a weekly run with Current Pride from Nassau to Eleuthera, where his family lives. He estimates he serves about 3,000 to 4,000 families through his deliveries of mail and cargo. On the trip back to Nassau, he brings oranges and vegetables grown by Eleuthera's farmers to buyers in the city.
"It's the lifeline between the family islands. It's our way of connecting," he says. "You use trucking in the U.S.; we use mail boats as similar in the family islands. They're very much relied on for our means of survival."
Stuart is unsure whether he'll be able to make his weekly run from Nassau on Tuesday morning. If he can't, the thousands of families he serves will have to make do with the supplies they've stored up.
Hurricanes occur somewhat frequently in the Bahamas -- one of the most memorable is Hurricane Andrew, a Category 5 storm, which hit the islands in 1992 and caused $26.5 billion in damage across the Bahamas and the southeast United States.
© Copyright IBTimes 2023. All rights reserved.