Hurricane Maria, Now Category 5, Blows Away Roof Of Dominica PM's House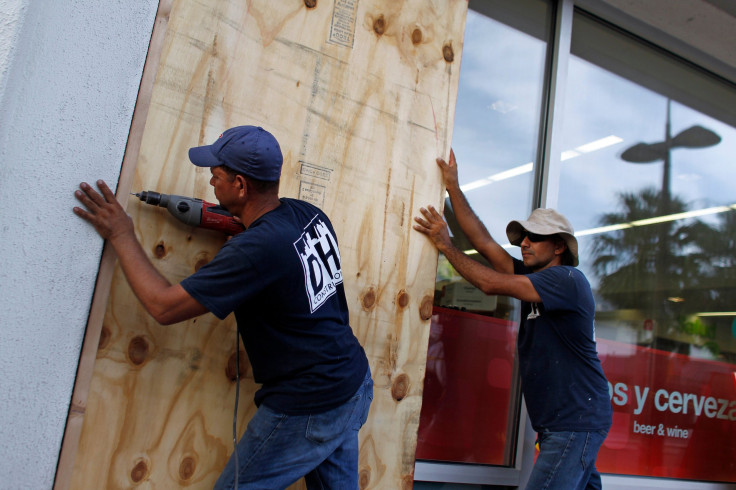 UPDATE: 2:45 a.m. EDT –
After being rescued from his house, whose roof had been blown away by Hurricane Maria on Monday, Dominica Prime Minister Roosevelt Skerrit updated his people and the rest of the world about the current situation of the mountainous Island. In a long Facebook post, Skerrit stated that he was afraid of waking up to news of deaths and destruction wrought by the hurricane on his homeland.
The aftermath of Hurricane Maria is still being assessed in Dominica. No news of any casualties has been reported yet.
Next in line of targets for Hurricane Maria is the French territory of Guadeloupe, the Guardian reported. Residents of the island were told to stay indoors from Monday 8 p.m. EDT. It is 2:40 a.m. EDT Tuesday in the island and the hurricane warning has not been lifted yet.
Original story
Hurricane Maria made landfall on the Caribbean island of Dominica around 9:15 p.m. local time (11:45 a.m. EDT) Monday as a Category 5 storm before moving toward the eastern Caribbean, according to the National Hurricane Center. As Hurricane Maria swept through Dominica with wind speeds of 160 mph, forecasters warned that it stands to grow even stronger before it reaches Puerto Rico on Wednesday.
There have not been many reports of destruction brought on Dominica as the eye of the storm moved ashore. Social media became a vital source of information as it had been during Hurricane Irma earlier this month. The Prime Minister of Dominica Roosevelt Skerrit took to Facebook, stating that his roof had been blown off by the hurricane, leaving him and his family in a vulnerable position.
Skerrit's posts went viral on Facebook, garnering over 2,900 shares. The situation turned so bad that he had to be rescued from his house. Later, Skerrit posted an update reassuring people that he had been safely rescued from his storm-hit residence.
According to the Guardian, Dominica-based lawyer Anthony Astaphan also faced a similar plight as the hurricane showed no mercy towards his house. "We lost the roof," he said. "My total upstairs, the ceiling and everything collapsed. I have two inches of water downstairs. My god, I can only feel the pain of those who don't have the house that I have. It was terrible and I just hope people didn't die."
As the storm passed Dominica, Skerrit spoke to Caracas-based Telesur TV about the devastation wrought by Maria, saying: "Please tell the world that Dominica has been devastated … In the morning we will know how many dead there are … We were brutally hit."
Before the deadly storm made landfall, Skerrit had held a press conference where he warned the residents of his island to "treat the approaching hurricane very, very seriously."
"This is not a time for heroism. This much water in Dominica is dangerous given our terrain, and therefore persons should not wait for something to happen in order to take action," he added, ABC News reported.
Anil Etienne, a spokesperson for Dominica's Office of Disaster Management said that their mountainous island had "shut down" as it braced for impact. More than 140 shelters were set up in the low-lying areas in order to accommodate the evacuees.
President Donald Trump declared a state of emergency for Puerto Rico and the U.S. Virgin Islands, where Hurricane Maria is headed, in the next 24 hours. "We are informing citizens that it is time to seek refuge with a family member, friend or move to a state shelter because rescuers will not go out and risk their lives once winds reach 50 miles per hour," Puerto Rico Gov. Ricardo Rosselló said Monday, the Weather Channel reported.
The National Weather Service has issued hurricane warnings for several islands in the Caribbean including Puerto Rico, Culebra and Vieques and remains in effect for the British Virgin Islands, the U.S. Virgin Islands, Guadeloupe, Dominica, St. Kitts, Nevis, Montserrat, and Martinique.
© Copyright IBTimes 2023. All rights reserved.