Hurricane Sandy Lawsuit Battle: Homeowners Take On Insurers Claiming 'Secretly' Altered Engineering Reports
The winter after Hurricane Sandy tore through their Long Beach, New York, neighborhood and filled the streets with thick sand, Deborah Ramey and her husband Robert Kaible tried desperately to reach their flood insurance carrier. They called Wright National Flood Insurance dozens of times. The yellow house they owned and rented to tenants, one block from the ocean, did not look right.
To Kaible's eye, the floors had shifted. He had to bust down the back door just to open it. A city inspector recommended the home be torn down, and valued it at $205,000. Yet their insurer, after sending an engineer to inspect, had agreed to pay them only about $60,000. A report the couple received was particularly troubling: It chalked up the uneven floors and leaning walls to "long-term" deterioration – not flooding.
Finally, the insurer agreed to send an engineer to take another look. To Kaible's surprise, it was the same man who'd showed up about six weeks earlier from an engineering firm called U.S. Forensic. According to Kaible's testimony in federal court last fall, he confronted the engineer about the document the couple had received from the insurance company.
"I said: 'George, how can you possibly write this report?'
"And he says: 'It's not my report. It's not the report I wrote.'"
Kaible testified that the engineer retrieved from his car a version of the damage report he said he had written. It differed substantially from the document Kaible had received from Wright Flood, which advertises itself as the largest flood insurance carrier in the U.S. Kaible snapped photos of key excerpts with a cell phone.
Some 1,500 homeowners in New York and New Jersey, including Ramey and Kaible, are still fighting for insurance payouts they say they're owed from Hurricane Sandy flood damage. Many have sued the private insurance companies who sell policies for the federal government – FEMA's National Flood Insurance Program. Amid the slog of a court battle over cost estimates and policy coverage, allegations of altered engineering reports have swirled like a tempest.
Some 5.3 million homeowners in America's flood plains depend on the National Flood Insurance Program for coverage against the most frequently occurring natural disaster in the United States. Congress enacted the program in 1968 to hedge disaster recovery costs – which, in recent years, have mounted alongside the more frequent and severe weather events associated with climate change. In terms of total insured losses, Hurricane Katrina, in 2005, wrought $81 billion in damages, and Hurricane Sandy, in 2012, caused $31 billion (in 2014 dollars), according to reinsurer Aon Benfield.
Those storms have weighed heavily on a program now $23 billion in debt to the U.S. Treasury. Last week, the Government Accountability Office featured the NFIP in its latest report to Congress on troubled government programs. The NFIP has held a spot on this "High Risk" list since 2006, reflecting two running themes: the political turmoil on Capitol Hill that surrounds flood insurance pricing, and FEMA's lax oversight of the raft of private contractors that administer government-backed flood insurance.
Last fall, U.S. Magistrate Judge Gary Brown blasted the "secretly" rewritten report on Ramey and Kaible's home. "Worse yet," he wrote, "this unprincipled practice may be widespread." Judges in the U.S. District Court for the Eastern District of New York are now looking into just how common it is for insurers to minimize damages by altering reports. They have ordered Allstate Insurance, American Bankers Insurance Company of Florida, Hartford Casualty Insurance Company of the Midwest, and other insurers to turn over all "draft" engineering reports ahead of a major hearing to be held Thursday.
The accusations have drawn the ire of U.S. senators and pushed FEMA to agree to a number of concessions. Homeowners have filed three class-action racketeering suits against insurers and engineering firms. And the New York attorney general has reportedly opened a criminal investigation into whether distorted engineering reports factored into Sandy claims.
Both Wright Flood and U.S. Forensic have denied wrongdoing in assessing Ramey and Kaible's claim and each company has stood by its work.
Wright Flood president Henry "Neal" Conolly told International Business Times in an email that the company "responded to [Ramey and Kaible's] complaint, and Wright adjusted the loss properly based upon the actual physical evidence" once sand and debris were removed from the scene.
U.S. Forensic attorney Larry Demmons says the final report — the one Kaible and his wife received from Wright Flood — was sound, and that a draft is just that, a draft. "The conclusions in the final report are accurate, and to date no evidence has been introduced in this matter that contradicts those conclusions," he told IBTimes in a written response. "Unfortunately," Demmons added, "it appears that the plaintiffs, the court and the media have simply assumed that the draft report was accurate – without any evidentiary or scientific support for that assumption."
Indeed, these assertions have done little to quiet questions about FEMA's oversight of the flood insurance program, the profit motives of private contractors, and the extent to which fraudulent reports may have hindered families' insurance claims.
"A wider legal question, relative to all cases, is: Where else did this happen, and is this pervasive?" says Denis Kelly, an attorney for Ramey and Kaible and more than 200 other Long Beach families. "And the bigger — much bigger — question is: If it is, why?"
Island Life
Long Beach is a barrier island along the South Shore of Long Island, home to about 34,000 people hemmed in between Reynolds Channel and the Atlantic Ocean.
As the Long Island Railroad crossed over the channel on a Sunday morning in early February, the train creaked and ducks bobbed beneath an overcast sky. In town, a stone's throw from the train station, you'll find Denis Kelly's office. Robert Kaible showed up to see him in the spring of 2013 with his cell phone photos of the engineer's initial report.
"He came in saying, 'Can you believe they did this?'" Kelly recalls. Even so, Kelly believed the couple would settle with the insurance company without having to go to court. It did not happen, he says. Instead, they had to file suit (the original suit is in Deborah Ramey's name, misspelled on the court docket as "Raimey" and so referred to in the litigation). Now Ramey and Kaible are the lead plaintiffs in a class-action RICO suit against Wright Flood and U.S. Forensic, joined by four other sets of Long Beach homeowners.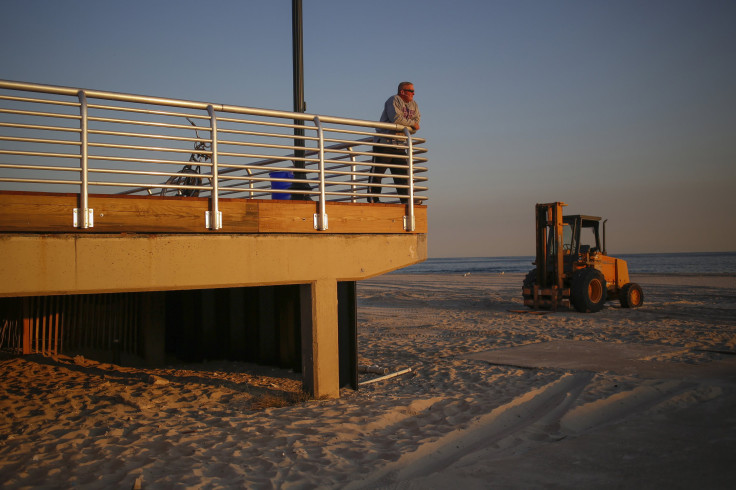 Kelly, who runs a personal injury law practice, moved to Long Beach in 2001 with his wife, Eileen, a paralegal who manages the office. They live in a charming two-story home, built in 1947, on a street once lined with a canopy of tall trees. Then came Sandy. Water filled the street high enough to cover a pickup truck, reached the Kellys' front porch, and poured into the basement, rising all the way up the basement stairs. Outside, many of the trees eventually died.
Sandy's havoc compelled neighbors to help each other and volunteer in various ways. The Kellys decided to do their part by disseminating information about flood insurance — which, at the time, they knew little about. But they couldn't ignore a growing sense of foreboding about the claims process. Denis Kelly, a former city councilman, organized a seminar at the elementary school down the street. The event featured New Orleans lawyer John Houghtaling, who has won millions for Gulf Coast hurricane victims, as the expert speaker.
About 600 people showed up, and the questions poured in. Kelly teamed up with Houghtaling's firm to represent clients whose homes were destroyed, as well as those who had gone into debt to make repairs. Ramey and Kaible, who received an additional $11,000 from Wright, wound up having to sell the property when they couldn't carry the mortgage. (The couple declined to be interviewed for this story.)
Like their clients, Kelly and his wife had flood insurance through the National Flood Insurance Program. Buying a policy is mandatory when someone purchases a home in a flood plain with a federally backed mortgage. The NFIP offers policy limits up to $250,000 on a home and $100,000 on contents.
Some homeowners buy the policies directly from the government, through NFIP Direct. More than 80 percent of the program, however, is administered by private companies known, in the program's parlance, as "Write Your Own" (WYO) insurance carriers. They collect a commission on the policies they sell, and get a percentage of any claim paid. If they get sued for denying a claim, FEMA covers their legal bills — which amount to $12.4 million so far in the Sandy litigation.
Superstorm Sandy, like Katrina, packed a devastating financial wallop for those in its path. Many turned to their flood insurance policies to restore order to their lives. As FEMA is quick to point out, the flood insurance program has paid more than $8.1 billion on more than 135,000 Sandy claims. According to the agency, 99 percent of all Sandy claims are closed. In other words, policyholders still pursuing lawsuits are a tiny minority.
But critics say the process of appealing a payout is byzantine, and that homeowners often struggle with low estimates from insurers and the adjusters they dispatch.
"The prices they give for the materials are so ridiculously low," says Maryann Flanigan, a staff attorney with Legal Services of New Jersey. "It's almost unbelievable."
Flanigan testified at a U.S. Senate hearing last July on the subject of underpaid claims. "There's a lot of room for conflict," she says, "…for disputing what the insurance company has, and what the homeowner has."
At that hearing, and since, Sen. Robert Menendez, D-N.J., repeatedly challenged FEMA chief Craig Fugate on whether the flood insurance program creates a perverse incentive: heavily penalizing insurers for overpaying a claim (by clawing back the funds, for example), but not for underpaying one. Months later, Brown's decision on the engineering report gave Menendez another opening to press this point, and Fugate has since agreed to analyze the penalty structure with members of Congress and the insurance industry.
Fugate, in a Dec. 5 letter to insurance carriers, also warned the companies to keep legal spending in check, and echoed the Eastern District of New York judiciary's orders to turn over draft engineering reports in all pending cases. "We owe it to our policyholders to provide this level of transparency," he said.
The Sandy lawsuits themselves illuminate the dense thicket of players involved in evaluating a flood claim. It's a world of adjusting firms and engineering firms, and individual adjusters and engineers — not to mention defense attorneys. All take part in deciding how federal dollars from the flood program will make their way to people who've been paying their premiums and believe their losses were covered.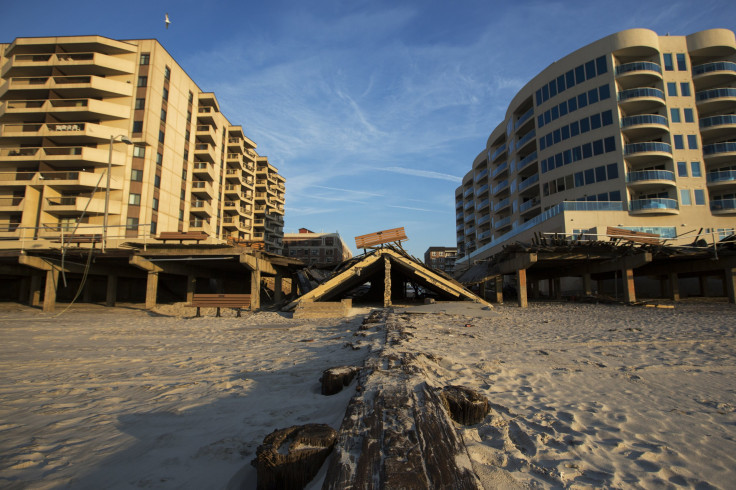 George Hernemar, an engineer licensed in New York, answered an ad on Craigslist to inspect houses for U.S. Forensic. That's how he wound up at Ramey and Kaible's yellow house in Long Beach, which backed up to the home where they live.
In turn, Hernemar sent his report and photos of the yellow house to an out-of-state engineer, Michael Garove. A report that Ramey and Kaible received, dated Jan. 7, 2013, made no mention of Garove.
Steve Mostyn, a Texas trial attorney, has filed three class-action RICO suits: Ramey and Kaible's, and one each against Travelers Insurance and Hartford Insurance Company of the Midwest involving alleged forged reports by HiRise Engineering. Each of the three RICO suits alleges that the insurance companies and other contractors financially benefited by altering damage reports.
Conolly, Wright's president, says the company has no incentive to underpay policyholders. The company "is under no pressure to underpay claims, nor would it pressure any contractor to make an incorrect finding," he told IBTimes.
A spokesperson for Travelers said, "We take these matters very seriously. Because of pending litigation, we cannot discuss them at this time."
The Hartford has denied the allegations against it. "When the Hartford was notified by a claimant that an engineering report from a vendor may have been improperly altered, we arranged for a new report by an independent engineer," according to a statement from spokesman Thomas Hambrick. He added that the Hartford "has also suspended all further use of the engineering firm while the allegations are being investigated."
Attorneys for HiRise did not respond to a request for comment.
The House on Michigan Street
In Long Beach's West End, where Kaible and Ramey live, the island is so narrow that residents can stand on a given street corner, look to one side and glimpse the channel, and turn to the other side and see the beach. The streets in this neighborhood are named for states, and a cab driver cruised along toward the ocean on this winter-cold morning.
The driver paused in front of a peach-colored dwelling, and pointed at a window on the first floor. The first apartment she'd ever rented on her own. During Sandy, it filled with "four or five feet" of water, she says. A full-sized refrigerator somehow landed on the kitchen table, and all of her clothes and belongings were ruined.
"The whole place was destroyed," says the driver. She is still staying with a friend.
Ramey and Kaible used to own the property on the corner of Michigan Street and Oceanview. The lot backs up to their own home on the next street over. From this corner, you can spy a hill of beach, and hear the waves on the other side.
The ultimate "author" of the damage report, according to Brown, never saw the yellow house with his own eyes, never stood here to take it all in. Instead that author, in a remote office, reviewing photographs, "transformed the report to indicate a conclusive absence of storm damage," the judge wrote.
To re-examine the house now would be impossible. The corner of Michigan and Oceanview is a construction site with a port-a-john near the sidewalk. Atop a concrete foundation, a house under construction rises three stories from the lot that Ramey and Kaible used to own. It belongs to someone else.
© Copyright IBTimes 2023. All rights reserved.