Hurricane Sandy Live Blog, Day 10: 113 Dead; NJ Allows Email Voting; Cold Weather Arrives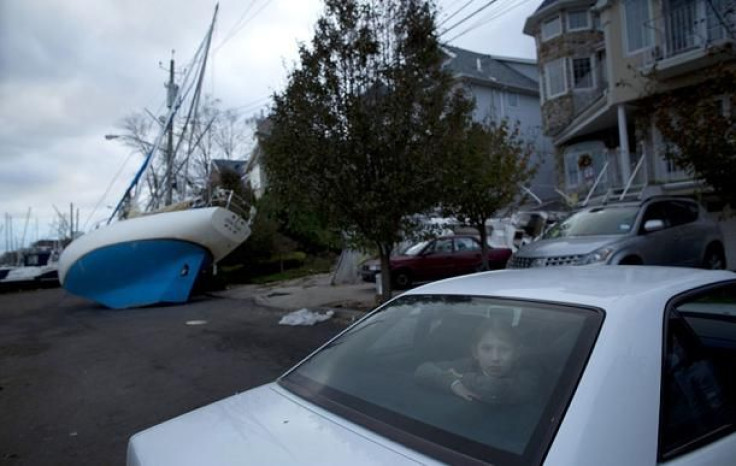 [Update 04:30 a.m.] Ahead of another storm hitting the Northeast Wednesday, New York and New Jersey Tuesday ordered the evacuation of residents from some low-lying areas which were devastated by Superstorm Sandy.
The areas in New York City where evacuation has been ordered include the Rockaways section of Queens and the south shore of Staten Island, where over 20 people were killed when Sandy hit the East Coast.
Mayor Michael Bloomberg said people from the low-lying areas would be evacuated to shelters.
The residents of at least two New Jersey towns were also told to leave, Reuters reported.
The new storm is not expected to be as strong as Sandy, but it is likely to bring flooding and wind gusts of up to 80 km an hour.
**
[Update 03:45 a.m.] Commuting between New York City and New Jersey is set to be less taxing after the reopening of the Holland Tunnel Wednesday morning.
On Tuesday evening, New Jersey Governor Chris Christie and New York Governor Andrew Cuomo announced that the tunnel connecting the two states under the Hudson River would reopen to all commuter traffic starting at 5 a.m., according to Reuters.
The tunnel was closed following flooding in the wake of Superstorm Sandy.
An estimated 91,000 vehicles use the Holland Tunnel to commute between New York and New Jersey.
**
[Update 01:45 a.m.] Did Sandy help President Obama retain office?
People might have disapproved of his handling of the economy and foreign affairs. But many of them seem to have appreciated his work in the aftermath of the natural calamity. His popularity apparently rose thanks to his handling of the crisis.
Surveys conducted a few days after the storm showed that 68 percent of people approved his handling of the crisis. But a CBS exit poll Tuesday presented another picture - 54 percent of the voters said Obama's response to Sandy had no impact on their vote while 42 percent of voters said it was a factor in their vote.
**
[Update 00:30 a.m.] Confusion and long lines were witnessed in many polling stations in the storm-affected areas. Officials faced "unprecedented challenges" across the region, reports Reuters.
According to Reuters, New York Governor Andrew Cuomo's decision to allow people to vote at any polling station by presenting an affidavit created confusion among the voters. This contributed to the slow progress of polling and long queues.
Chaos and long queues were also seen in makeshift polling stations.
Meanwhile, long lines were seen at gas stations in New Jersey, where fuel rationing was in force.
**
[Update 10:30 p.m.] The Occupy Wall Street movement has set up online wedding-like registries on Amazon.com to funnel aid to victims of Hurricane Sandy, the New York Daily News reports.
Donors can purchase gifts at the Sandy Registries like fleece blankets, coolers, extension cords, flashlights, trash bags, diapers and such clothing items as socks and underwear.
The items on the New York registry will be shipped to the Brooklyn chapter of Occupy's Sandy relief operation at the Church of St. Luke and St. Matthew in Clinton Hill, where they will be taken to those in need, the Daily News says. Gifts from the New Jersey registry will be sent to Occupy's office at the Barrow Mansion in Jersey City.
The Occupy Sandy registry was launched Sunday and is being updated to reflect the latest needs of storm victims.
"My friends and I talked about how we could improve the donation system while we were walking to the store to buy some food for meals," Occupy Sandy member John Heggestuen told Bloomberg.com in an email. "We have worked feverishly on this all weekend and now it is blowing up."
Volunteers seeking on what is still needed can contribute on the Amazon website, or check out further opportunities at OccupySandy.org.

[Update 6:34 p.m.] Hurricane Sandy cut gasoline demand in the Northeast less than expected last week, Reuters reports, even though the storm dealt a direct blow to the New York fuel hub that will persist for weeks.
A major refinery in New Jersey remained shut Tuesday, and long lines persisted at gas stations.
Weekly data from MasterCard, reported by Reuters, showed gasoline sales in the mid-Atlantic region dipped by less than 4 percent last week.
MasterCard, which estimates gasoline demand based on credit card, cash and other payments at service stations, said consumers filled up on the weekend before the storm and bought fuel to power generators afterward. This tempered the year-over-year drop in demand during the days when motorists stayed off the road.
Gasoline sales Saturday and Sunday reached 70 million to 80 million barrels, twice as much as other weekends, said John Gamel, gasoline analyst with MasterCard.
"That's why this was not as bad as Katrina, but we still saw year-over-year declines," Gamel said.
Last year's Halloween snowstorm, which briefly halted traffic in the Northeast, cast a shadow on the year-over-year comparisons as well.
Demand in the central Atlantic region fell more than it did in the rest of the country. Average demand nationwide dropped 2.4 percent from a year earlier, the data showed.
Sandy flooded the New York region's second-largest refinery, cut power to dozens of terminals in New York and New Jersey and choked the New York Harbor with debris.
A week later, some infrastructure was still struggling to come back. Phillips 66 has said its flooded 238,000 barrels-per-day Bayway refinery in Linden, N.J., will be out of service for two to three weeks.
But overall, by Tuesday, just nine of the 57 terminals in Sandy's path were still down, the U.S. Department of Energy said. Seven of these were in New Jersey, including Motiva Enterprise's 5-million-barrel Sewaren tank farm, where cleanup efforts were nearly complete after two tankers spilled 378,000 gallons of diesel into the Arthur Kill waterway.
Colonial Pipeline resumed service to eight of the more than 20 customer terminals linked to its Linden terminal, the company said Tuesday.
[Update 11:30 a.m.] The National Weather Service said a powerful nor'easter is on track to hit New York by dawn on Wednesday, bringing wind gusts of up to 60 mph. The storm could cause more power outages, impede recovery efforts, last for days, and bring several inches of rain. New coastal flooding is expected Wednesday night due to the combination of rain and the evening high tide. Some Sandy-devastated communities are considering new evacuations, Officials in New Jersey advised those on the coast to "replenish storm supplies, such as flashlights, batteries, medications, non-perishable food, baby and pet supplies," Fox News reported. The storm will not be as powerful as Sandy, according to officials, but it could bring snow, adding to the misery of Sandy victims.
[Update 11:00 a.m.] FEMA said it dispensed close to $200 million in emergency housing assistance and placed 34,000 people in New York and New Jersey up hotels and motels. There is currently no comprehensive plan for finding displaced storm victims long-term places to live, a task made more difficult due to high housing costs and lack of open space in New Jersey and New York.
[Update 10:00 a.m.] New York Gov. Andrew Cuomo signed an executive order Monday allowing residents to cast a provisional ballot at any polling place in the state for president and statewide office holders. New Jersey is allowing voters the same opportunity to vote provisionally anywhere in the state. "Just because you are displaced doesn't mean you are disenfranchised," Cuomo said. "Compared to what we have had to deal with in the past week, this will be a walk in the park when it comes to voting." Provisional ballots are counted after elected officials confirm a voter's eligibility, and often they are only counted if the number of provisional ballots exceed the margin of victory for a particular race.
[Update 9:00 a.m.] Staten Island workers set up a polling site Tuesday morning at the last minute, according to CBS News. Flares were set up at the entrance to Public School 52 in the Midland Beach neighborhood as there was no light for the poll workers to set up the voting booths. Local police helped the poll workers get gas for their generator. The voting machines were retrieved from inside the school and moved into tents, and heaters were stacked on tables in the tents. The temperature was around 29 degrees as bundled-up voters began to line up in the dark. The MTA also said it is providing free "voter shuttles" on Election Day for people in the Rockaways, Staten Island and Coney Island whose regular polling places were damaged in last week's storm. The shuttle buses will run every 15 to 20 minutes Tuesday in addition to regular bus service and carry voters to alternate voting sites. The buses marked "MTA Voter Shuttle" will run from 5:30 a.m. to 9:30 p.m.
Mayor Michael Bloomberg urged city residents to check the Board of Elections website to find out about polling changes. New Yorkers seeking information about voting, poll site changes and absentee ballots can call toll-free 1-855-NYS-SANDY (1-855-697-7263).
[Update 8:00 a.m.] Temporary polling places were set up in neighborhoods where the storm had damaged regular polling places. On Tuesday morning lines could be seen of voters casting their ballots in outdoor tents as police stood guard.
CBS Station WCBS reported voting was delayed at a location at Rockaway Park in Queens because of a power outage.
[Update 7:00 a.m.] Hurricane Sandy has killed at least 119 people in the United States. Power outages now stand at about 1.3 million homes and businesses, down from a peak of 8.5 million.
Now, fears of a new storm coming on Wednesday, expected to bring gusts of up to 55 miles per hour, are rising. The storm is projected to pass within 50 to 100 miles of the N.J. coast. Flooding could potentially be catastrophic, especially in the areas where the coastline was eroded by superstorm Sandy. Many homes are still without heat and power, and any freezing rain or snow could make the situation much worse than it already is.
In Connecticut, utility companies say all 192 polling places will have power on Election Day, although some might be from generators. Commuter rail service along the Danbury and Waterbury branches of Metro-North Railroad's New Haven Line will resume Monday. There will be bus service on the New Canaan branch line, at least for two days.
CBS reports the following about Connecticut: Deaths: 3. Power outages: 35,000, down from a peak of 625,000.
[Update 6:00 a.m.]
MASSACHUSETTS:
According to CBS News, there is a Ship heading from Massachusetts to Elizabeth, N.J., to house emergency workers, power crews and others. Deaths: None. Power outages: none, down from 400,000.
NEW JERSEY:
CBS News reports that an odd-even rationing system for gasoline was in effect for its first full day Sunday, while water recedes in some shore towns. N.J. Transit buses are operating at 90 percent.
Limited train service is available on the Northeast Corridor between Trenton and New York. North Jersey Coast Line service is suspended due to overcrowding. Passengers are advised to drive to Metropark for bus shuttle service to access ferries into New York City. The plan calls for moving bus passengers from park-and-ride hubs to give them access to light rail and ferries in Hoboken, Weehawken and Jersey City.
Raritan Valley trains are operating between Raritan and Newark. Main Line trains are carrying passengers from Suffern, N.Y., to Secaucus. The Atlantic City rail line has reopened. Details are available at www.njtransit.com.
Students returned to class Monday in dozens of schools shuttered by Sandy.
On Sunday, about 50 members of the Mississippi Highway Safety Patrol's Special Operations Group made the 15-hour trip to New Jersey after a request from Gov. Chris Christie to Mississippi Gov. Phil Bryant. Department of Public Safety spokesman Warren Strain said the troopers are prepared to spend as long as 15 days in New Jersey.
Deaths: 23. Power outages: 779,571, down from 2.7 million.
NEW YORK:
Commuters into New York City endured long waits and crowded trains, giving the recovering commuter system a stress test a week after Superstorm Sandy ravaged the New Jersey and New York coast lines.
Trains were so crowded Monday on the Long Island Rail Road that dozens of people missed their trains.
With PATH trains between New Jersey and Manhattan still out, lines for the ferry in Jersey City quickly stretched to several hundred people by daybreak.
Key subway lines connecting Manhattan and Brooklyn under the East River had been restored after a week off-line. But officials warned that other water-logged tunnels still weren't ready for Monday's rush hour and that fewer-than-normal trains were running.
Gov. Andrew Cuomo says the fuel shortage gripping the area is a "short term" problem, but will continue for days.
Children went back to New York City public schools Monday.
About 40,000 homes were lost during the storm.
Deaths: 47, including 40 in New York City. Power outages: 538,000, down from 2.2 million.
PENNSYLVANIA:
The Southeastern Pennsylvania Transportation Authority is loaning 31 of its buses to NJ Transit, which will use the vehicles to support shuttle service for New Jersey commuters traveling to New York City.
Deaths: 15. Power outages: 32,000, down from 1.2 million.
RHODE ISLAND:
Police and National Guard troops continued to staff checkpoints as officials in Westerly and Charlestown limited access to damaged beach communities to property owners and construction workers.
The Providence Journal reports that the Save The Bay's Exploration Center & Aquarium in the rotunda at Easton's Beach was damaged by a direct hit by the storm, but every animal was saved. Education director Bridget Prescott says many sea creatures that were rescued after the storm subsided were adopted by the Mystic Aquarium in Mystic, Conn.
Prescott says aquarium officials prepared for Sandy and likely power outages by placing battery-powered aerators in each tank to keep the water oxygenated. The basement, where pumping and filtration systems are located, was flooded and the motors were burnt out.
Sharks in a new petting tank exhibit were released into the bay. Prescott says that's probably the safest for them.
Deaths: None. Power outages: none, down from more than 122,000.
WEST VIRGINIA
The Secretary of State's Office moved five precincts in three counties hard hit last week Sandy. More changes could come before Election Day on Tuesday. Details can be found online at www.sos.wv.gov.
Deaths: 6. Power outages: 53,000, down from 270,000.
Other states with storm-related deaths: Maryland (4), New Hampshire (1), North Carolina (3), Ohio (2), Virginia (2).
To help victims of Sandy, donations to the American Red Cross can be made by visiting Red Cross disaster relief, or you can text REDCROSS to 90999 to make a $10 donation.
[Update 04:55 a.m.] New York Governor Andrew Cuomo has asked the insurance companies to ease the rules on documenting the damage caused by Superstorm Sandy and not cancel any policies for 30 days, the Associated Press has reported.
The governor directed the state's Department of Financial Services to issue an order asking the insurance companies to do away with the on-site inspection of the damage. They should accept photos or videos of losses as proof for a claim. This will ensure the smooth removal of the debris piling up on the streets before another storm hits.
Another storm is on the way and is likely to hit the Northeast Wednesday.
[Update 03:45 a.m.] The WTC site will reopen to the public following a weeklong closure. The cleaning work was completed Monday afternoon, employing five pumps that sucked gallons of water out of the memorial to facilitate reopening at 10 a.m. Tuesday. The memorial will close at 4 p.m. every day until power is restored to the World Trade Center site.
[Update 02:10 a.m.] Nearly all of the schools in New York City reopened Monday and attendance was normal, according to Mayor Michael Bloomberg. The mayor claimed that public transportation was returning to normal, Voice of America reported.
Bloomberg said: "Things there, I'm happy to report, went relatively smoothly and will almost certainly improve in the days ahead. Mass transit is definitely the way to go, given that gas supplies in our city remain below normal."
[Update 00:10 a.m.] Train services from New Jersey to Manhattan remained affected Monday with many stations and tunnels still flooded, according to the New York Times. New Jersey Transit operated only 13 trains into New York Monday. It is not clear when the full services will be restored.
The United States Department of Transportation Monday sent 350 buses to areas where the train services were hit. But the reinforcement did not reach many commuters in time, according to the New York Times.
[Update 11:28 p.m.] New Jersey officials said Monday that people displaced by Hurricane Sandy who vote by email must mail in paper copies of their ballots too.
Lt. Gov. Kim Guadagno announced Saturday that New Jersey residents affected by the storm could vote by e-mail under the state's overseas voter law – but didn't say they must send in paper backup, USA Today reports.
Like 30 other states, New Jersey allows overseas and military voters to return their ballots via email. But only New Jersey also requires voters to mail in a paper version.
Online voters will get instructions to mail in a paper copy when they receive ballots via email. To vote electronically, residents will have to print their ballot, mark it, then fax it or scan and email it to their county clerk. They then must mail in the hard copy of the ballot.
"We weren't changing the instructions. The process was going to be the same all along," Guadagno's spokesman Ernie Landante said.
[Update 9:07 p.m.] As relief efforts for Hurricane Sandy victims continue in New York and New Jersey, another storm is on the way that will push temperatures below freezing. Meanwhile, many in Brooklyn, Queens and Long Island are still without power and there are few answers as to when power will be restored.
The Long Island Power Authority reports on its Twitter Monday evening that 42 of 50 substations have been restored but there are still 250,000 residents without power.
The Northeast is expected to be hit with another storm on Wednesday, with temperatures dropping into the lower 30's and wind gusts up to 40 miles per hour, and as the recovery process is going, it seems many Long Island residents will still be without power and heat when it arrives.
As the storm hits, LIPA's recovery efforts may be interrupted. Some residents may be without power for nearly two weeks while facing near-freezing temperatures. LIPA is trying to restore power town by town, inspecting businesses and residences to ensure they can safely receive power.
LIPA has been sending tree trimmers to places such as Hempstead, Oyster Bay, Smithtown, Nesconset, Long Beach and Glen Cove. In addition to the lack of power and heat, there is also a fuel shortage that the residents of Long Island have to deal with, according to the Wall Street Journal.
The cold is more than just an inconvenience. The elderly are especially affected by colder temperatures and some illnesses, including respiratory problems like asthma, are also exacerbated by the cold.
There are some parts of Long Island where the entire town is without power, while in other patches just one block is out. NPR has reported from the village of Mastic Beach, where out of 5,000 homes, 1,000 are flooded.
On the South Shore of Long Island, which includes towns such as East Islip, Oceanside, East Meadow, Merrick, Lindenhurst, Wantagh and Long Beach, residents may have to wait until Friday. Oceanside has been hard hit by Hurricane Sandy and when the power will return to that town remains a mystery.
On Twitter, LIPA notes some flooded houses in Oceanside need to be inspected in order to make sure it's safe to restore power. Nassau County Comptroller George Maragos assailed LIPA on Twitter: "Oceanside. Mostly without power. LIPA nowhere in sight. No Gas Where is LIPA? #LIPAStorm #Sandy #oceanside."
[Update 8:25 p.m.] Santiago de Cuba continues to struggle 10 days after Hurricane Sandy struck, Fox News Latino reports. The eastern Cuba city's electrical grid is only 28 percent restored as workers replace power lines downed by thousands of fallen trees.
The state power company Empresa Electrica said, "The task is titanic since it means building practically all of the secondary networks from the ground up," the official news agency Prensa Latina reported Monday.
Much debris in the city of 500,000 people has been cleared, and schools reopened Monday. Residents who cannot cook in their darkened homes are relying on canned goods and the few with power are helping neighbors by boiling their water or allowing them to charge cell phones, Cuban media report.
Sandy hit southeastern Cuba on Oct. 25 as a Category 2 hurricane, killing 11 people and damaging more than 200,000 homes, causing major losses to coffee and other crops.

[6:00 p.m. ET] In an unprecedented decision, New York Governor Andrew Cuomo announced Monday that he will sign an executive order that will allow registered New York voters to vote by affidavit Tuesday at any polling station. The decision comes as many New Yorkers are uncertain of how and where they may be able to vote, particularly those on Long Island and in coastal sections of Brooklyn and Queens that are still without power and basic services, and where many residential and commercial buildings are facing serious flood damage from Hurricane Sandy.
According to a NY1 report, voters will need to cast their ballots for their district's associated elections at the designated polls.
[4:40 p.m. ET] Between 30,000 and 40,000 are facing temporary homelessness as coastal areas of New York City and Long Island were ravaged by Hurricane Sandy. With temperatures dropping into the 30's and daylight ending earlier this week in areas where power has still not been restored, many homes are uninhabitable even without serious structural damage.
New York Governor Andrew Cuomo described the situation as a "massive housing problem" and New York City Mayor Michael Bloomberg said he was uncertain of how the city might handle the displaced residents.
"We don't have a lot of empty housing in this city," Bloomberg said in a Sunday news brief. "We are not going to let anybody go sleeping in the streets. We're not going to let anybody go without blankets, food and water, but it's a challenge and we're working on that."
[3:15 p.m. ET] With boardwalks underwater and beachfront homes beyond repair, Jersey Shore residents and visitors are facing hard questions about whether some seaside communities will ever be fully restored.
According to the Associated Press, Gov. Chris Christie has promised to rebuild the Jersey Shore but cautioned that it may not ever be the same.
"Who ever thought they'd see a roller coaster in Seaside Heights in the ocean?" he asked.
According to the same AP report, the Jersey Shore accounts for the lion's share of the state's $35.5 billion tourism industry.
In recent years, the coastal community has gotten a boost in publicity -- for better or worse -- due to the hugely popular MTV reality show "The Jersey Shore," which was not renewed this year.
MTV plans to air a benefit on Nov. 15, "Restore the Shore," to raise money for rebuilding the Jersey Shore. Cast members from the reality show are scheduled to appear.
[1:43 p.m. ET]Voters in some New York counties still in the dark from Hurricane Sandy could get a second day to vote if voter turnout falls below 25%, according to state board spokesman Thomas Connolly speaking to CNN on Monday. Counties with significantly lowered turnout can request a second voting day, which would take place within 20 days of Tuesday's official presidential election.
Nassau County Elections Commissioner William Biamonte told expects a "significant drop off" in the turnout of Long Island voters who are without basic necessities like shelter, electricity, adequate food and warm clothes in the aftermath of Hurricane Sandy.
"A lot of people that are displaced ... they're worried about getting their lives back, and whether they're going to go back to an area where they've lost power, or their home has been lost, rather than take care of what their immediate needs are, that's a big question," Biamonte said.
It is unclear how a second day of voting would impact the election returns and the announcement of the winner. President Obama is expected to easily win the New York electoral college.
[12:01 p.m. ET] New York Attorney General Eric Schneiderman is investigating hundreds of reports of price gouging in areas of affected by Hurricane Sandy, and is urging New Yorkers to continue to report any incidences of price gouging by phone at 800-771-7755 or via his office's website, http://www.ag.ny.gov/.
In a press release, Schneiderman explained that his office has sent letters to retailers warning of repercussions should they take excessive advantage of the supply-and-demand shift wrought by the storm. State law prohibits sellers of essential goods and services from raising prices when a natural disaster or other destructive event disrupts the market.
"Our office has zero tolerance for price gouging," Schneiderman said in a statement. "We are actively investigating hundreds of complaints we've received from consumers of businesses preying on victims of Hurricane Sandy, and will do everything we can to stop unscrupulous inpiduals from taking advantage of New Yorkers trying to rebuild their lives."
Schneiderman's investigation comes three days after the New Jersey pision of Consumer Affairs issued subpoenas to 65 businesses across the state Friday, in response to over 500 complaints of price gouging from consumers.
"Having seen firsthand the suffering people are experiencing, I assure New Jersey's residents and retailers that we are taking a zero-tolerance approach to price gouging," said New Jersey Governor Chris Christie in a statement. "We are not asking businesses to function as charities. We require that they obey New Jersey's laws – or pay significant penalties."
[11:30 a.m. ET] More bad weather is expected in areas ravaged by Hurricane Sandy last week, no doubt complicating the recovery and cleanup progress in communities still without power and habitable living conditions.
The Weather Channel reports that conditions are expected to get very cold, windy and wet by Wednesday in New England and on the Northeast corridor, with the possibility of snow in upstate New York and inland New England.
High winds could potentially cause additional flooding in coastal areas, many which are still currently underwater.
"Though this storm will not have near the magnitude of the impact Sandy had, the combination of rain, wind and snow will add insult to injury for the recovery process along the East Coast," TWC's Chris Dolce said.
[6:34 a.m. ET] A minor earthquake was felt in northern New Jersey early Monday morning, centered in the borough of Ringwood, 34 miles north of Newark, which is an area still recovering from the effects of Superstorm Sandy. The 2.0-magnitude tremor struck at 1:19 a.m., according to the Lahmont-Doherty Earth Observatory at Columbia University.
No damages were reported, but some people were said to have heard an explosion and people in surrounding communicates living in upper floors could have felt shaking, Geophysicist Jessica Turner at the National Earthquake Information Center, told the Associated Press.
[06:15 a.m. ET] There seems to be no respite for the people living in the New Jersey and New York coastlines as new challenges loomed for the region a week after storm hit the East Coast.
Adding further to the woes of the people whose houses are badly damaged, temperatures sank to 30s Fahrenheit (-1 to 4 degrees Celsius) overnight Sunday. It could further drop to 20s Fahrenheit (-6 to -1 degrees Celsius) and bring "strong gusty winds" as the week progresses, according to the National Weather Service forecast.
[04:50 a.m. ET] Sussex County, the northernmost in New Jersey, can expect to feel the full effect of a nor'easter moving up the Carolina coastline late Wednesday, according to a report in the New Jersey Herald which quoted Accuweather News Service.
The storm system is expected to make its way up the East Coast past the Carolinas Monday and Tuesday and will turn inland late Wednesday with 60 mph winds on the New Jersey coast and driving rains expected for the higher elevations.
There is a consensus among the four major global weather models — the European (EURO), the UKMet, the Canadian and U.S. GFS — indicating that a strong fall nor'easter will begin forming Tuesday night and then move up the Mid-Atlantic and Northeast coast Wednesday and Thursday, the Washington Post has reported.
[03:45 a.m. ET] All but 65 schools in New York City are set to reopen Monday. The students of the 65 badly damaged schools would be relocated to other city schools Wednesday.
[02:15 a.m. ET] It is expected that more train services will be resumed by Monday morning. But experts say it will take months to restore full services since the damage caused to the lines by Superstorm Sandy is very severe. It has affected an estimated 435,000 commuters in New York City, according to Reuters.
"Getting the system back to normal, where every train is operating as it was before the storm, I could easily see it being months," Conrad Ruppert, associate director of research at the University of Illinois Rail Transportation and Engineering Center, was quoted as saying by Reuters.
[01:10 a.m. ET] Superstorm Sandy-hit New York City is facing a housing crisis as the victims struggled in cold weather Sunday. According to Mayor Michael Bloomberg, 30,000 to 40,000 people in New York City alone would need shelter, Reuters reported.
He said, "We don't have a lot of empty housing in this city. It's a problem to find housing. We're not going to let anybody go sleeping in the street. But it's a challenge and we're working on this as fast as we can," according to Reuters.
[00:10 a.m. ET] Power outages and gas shortages continued to plague Superstorm Sandy-hit New York and New Jersey Sunday. Long queues were seen at the gas stations and the police were called to monitor them in many places where altercations were reported. Gather.com reported an incident where a man allegedly took out a gun following a quarrel.
[11:49 p.m. ET] With Weather.com currently forecasting the air temperature outside the Empire State Building in New York may fall to 33 degrees Fahrenheit and feel like 26 degrees on Monday at 5 a.m. EST, conditions are becoming increasingly dangerous for the estimated 1,855,958 customers in seven U.S. states that have not had their electrical service restored since it was knocked out by Superstorm Sandy last week.
The latest estimate of current customer outages appears in the U.S. Energy Department's "Hurricane Sandy Situation Report #15," which was published Sunday at 3 p.m. EST. Below is the report's state-by-state breakdown of these power outages:
New Jersey: 999,927
New York: 654,623
Pennsylvania: 77,630
Connecticut: 64,955
West Virginia: 41,618
Ohio: 10,007
Maryland: 7,198
Total: 1,855,958
[10:56 p.m. ET] In the aftermath of Superstorm Sandy, the Board of Elections of the City of New York is temporarily relocating or combining some poll site locations across all five boroughs.
"We urge New York voters to visit our poll site locator on our website or through our smartphone applications to verify their poll site location prior to Election Day this Tuesday," the board said Sunday in its "Poll Site Changes Post Hurricane Sandy" brochure, which is accessible by clicking here.
As many as 143,000 New York voters will have to find places to vote other than their regular polling locations, city Mayor Michael R. Bloomberg estimated Sunday, according to Reuters.
[9:33 p.m. ET] The New York City Marathon was canceled because of the destruction occasioned by Superstorm Sandy, but almost a thousand runners showed up at the starting line in Staten Island Sunday morning anyway.
However, they weren't there to run -- they were there to help the city's relief efforts.
Click here for an account of the way New York Runners In Support of Staten Island spent their day.
[8:50 p.m. ET] The American Red Cross and NBCUniversal have reported that "Hurricane Sandy: Coming Together" -- the live, one-hour benefit telethon aired on many of the media giant's networks Friday -- raised almost $23 million in support of victims of Superstorm Sandy.
"We are incredibly grateful and humbled by this outpouring of support for those who are suffering as a result of Superstorm Sandy," said Peggy Dyer, the American Red Cross' chief marketing officer. "Our preliminary results of nearly $23 million raised are an extraordinary example of how the American people pull together in times of disaster. Their generous donations will go directly to those in need, and we urge the public to continue to give. We also thank the dedicated and talented team at NBCUniversal for the millions of people they have helped through this telethon."
The star-studded telethon featured performances by Christina Aguilera, Mary J. Blige, Jon Bon Jovi, Billy Joel, Joe Perry, Bruce Springsteen and the E Street Band, Sting, and Steven Tyler.
Also appearing at the event hosted by NBC "Today" anchor Matt Lauer were Kevin Bacon, Jimmy Fallon, Tina Fey, Whoopi Goldberg, Jon Stewart, and Brian Williams.
The Comcast Corp. (Nasdaq: CMCSA, CMCSK) holds a controlling 51 percent interest in NBCUniversal, and the General Electric Co. (NYSE: GE) owns a 49 percent stake in the venture.
[7:23 p.m. ET] PPL Electric Utilities, a unit of the PPL Corp. (NYSE: PPL), based in Allentown, Pa., announced minutes ago that by late Sunday it will have restored power to 99 percent of its customers who lost their service because of Superstorm Sandy.
"We have the largest force ever assembled by PPL Electric Utilities undoing the damage caused by Hurricane Sandy, and they have brought power back for well over 400,000 of our customers," said Dave Bonenberger, vice president of distribution operations for PPL Electric Utilities. "With the extensive damage from this storm and the time it's taking to complete many complex jobs, unfortunately a few thousand customers will be without power into Monday."
Outages are expected to continue into Monday in some areas of Bucks, Lehigh, Montgomery, Northampton, and Wayne counties in eastern Pennsylvania.
Importantly, power is expected to be restored at all public schools and voting locations in the PPL Electric Utilities service area by late Sunday. The operating unit provides electric delivery services to about 1.4 million customers in Pennsylvania.
[6:19 p.m. ET] More than 122,000 people in the tristate area hit hardest by Superstorm Sandy had registered for Federal Emergency Management Agency disaster assistance, and more than $107 million in such assistance had been approved, as of yesterday, FEMA reported.
Below is a breakdown of disaster assistance in these three states:
-- In New York, more than 69,000 people had registered for aid, and more than $75 million in assistance had been OK'd.
-- In New Jersey, more than 49,000 people had registered for aid, and more than $31 million in assistance had been OK'd.
-- In Connecticut, more than 2,400 people had registered for aid, and more than $368,000 in assistance had been OK'd.
FEMA said it anticipated these figures would rise as electrical service is restored in the region and those affected by the disaster become able to register for assistance either online or by phone.
FEMA urged anyone living in an eligible county who has been adversely affected by Sandy to apply for assistance by either clicking on this link or phoning 1-800-621-FEMA(3362), TTY 1-800-462-7585.
[5:20 p.m. ET] As New York and New Jersey continue to reel in the aftermath of Superstorm Sandy, about 1.7 million people still without electricity in their homes -- and fellow residents of those two states -- are grappling with another thorny question as the energy infrastructure is slowly re-established: Where can they get gasoline? Click here for an answer.
[2:45 p.m. ET] A nor'easter is expected to hit the tristate area of New York, New Jersey, and Connecticut on Wednesday, according to ABC News. The National Weather Service forecast temperatures as low as the 20s for midweek, with likely strong winds, rain and coastal flooding in some areas.
Many New York City schools will reopen Monday after being closed to students last week. At a press conference, New York Mayor Michael Bloomberg said that 65 schools will remain shut. Many schools will not have heat, and the mayor urged parents to dress their kids in warm clothes.
New Jersey Gov. Chris Christie suspended the so-called Blue Laws in Bergen County that require businesses to be closed on Sundays, the New York Times reported.
"During this time of recovery and rebuilding, our citizens must have adequate access to the supplies they need to help return their lives to normal -- particularly those residents who are still without power," Christie said in a statement.
The Times compiled a list of ways that people can donate to storm victims and offer assistance that is accessible by clicking here.
[1:15 p.m. ET] Eight fuel-carrying tankers are anchored in New York Harbor with traffic restrictions still in place after Superstorm Sandy pummeled the port and clogged it with debris, according to the U.S. Coast Guard. Some of the tankers are transferring fuel to light barges that can easily enter the port and deliver supplies to working terminals, according to Reuters.
Nearly a week after one of the worst storms in U.S. history flooded homes in coastal neighborhoods, leaving many without heat and in need of shelter, New York City Mayor Michael Bloomberg said 30,000 to 40,000 people in New York City alone would need housing.
[Noon ET] The Associated Press reported that at its peak, Superstorm Sandy had a diameter of 1,000 miles; killed more than 100 people in 10 states; canceled almost 20,000 flights; left more than 12 inches of rain in Easton, Md.; covered Gatlinburg, Tenn. with 34 inches of snow; and left in its wake an estimated $20 billion in property losses, placing the storm among the most expensive natural disasters in U.S. history.
New York Gov. Andrew Cuomo, New York City Mayor Bloomberg, New York Sen. Chuck Schumer, FEMA Administrator Craig Fugate, and other city and state officials spoke at a press conference at the governor's New York City office in Manhattan.
In regard to gas being available at gas stations, Cuomo said that there will be more supply and more distribution in the coming days. "It doesn't mean there will be total allieveation of problems in the immediate future," he said, "but it is getting better. We're monitoring the situation on a daily basis. ... now is not time to be using car, if you dont need to. Now is not the time to be hoarding fuel. That's actually increasing the demand."
"I plan to take the subway tomorrow, and most people will be able to take subways and buses," Bloomberg said at the press conference.
Cuomo said that 730,000 New York state residents still have no power, including 145,000 in NYC, 7,000 in Manhattan, 12,000 in the Bronx, 20,000 in Brooklyn, 20,000 in Staten Island, and 86,000 in Queens.
[11 a.m. ET] More than 1,000 people, many who had planned to run the cancelled New York Marathon, crowded onto two Staten Island Ferry boats early on Sunday, headed to the stricken borough with relief supplies including food and plastic bags to help residents store belongings from damaged or destroyed homes, Reuters reported. New York City's overstretched police got a break with the cancellation of Sunday's marathon, a popular annual race expected to draw more than 40,000 runners to the city. New York's Central Park was also crowded with runners near what would have been the marathon's finish line. A group called run4allcauses was collecting donations for Sandy victims.
Power restorations over the weekend relit the skyline in Lower Manhattan for the first time in nearly a week and allowed 80 percent of the New York City subway service to resume. Some 2.5 million homes and business still lacked power across the Northeast on Saturday, down from 3.5 million on Friday.
Temperatures dipped to 39 degrees Fahrenheit (4 degrees Celsius) early on Sunday morning in New York, the lowest in days, with below-freezing temperatures expected on Monday. An early-season "Nor'easter" storm was expected to hit the battered New England coast this week with strong winds and heavy rain.
New York Mayor Michael Bloomberg urged those without power and heat to head to shelters where they could keep warm and receive food.
An NBC/Wall Street Journal poll released on Sunday found that 68 percent of those surveyed approved of how Obama handled Sandy and just 15 percent disapproved.
Tight gasoline supplies have tested the patience of drivers - fistfights have broken out in mile-long lines of cars - but a reopened New York Harbor meant fuel was reaching terminals.
Bloomberg said the fuel shortages would be easing soon, and the U.S. Department of Energy confirmed on Saturday that most filling stations in the metropolitan area had fuel.
Some 731,490 customers in New York state were still without power, the governor's office said on Sunday. In Manhattan, electricity had been restored to most neighborhoods.
[9 a.m. ET] Superstorm Sandy's death toll rose to at least 110 with nine more deaths reported in New Jersey on Saturday, raising the total in that state to 22. Bloomberg put New York City deaths at 41. The Los Angeles Times placed the storm's total deaths at 113.
The U.S. Northeast contended with near-freezing temperatures overnight. New York Mayor Michael Bloomberg warned the city that it would be days before power was fully restored and fuel shortages ended.
Officials across the storm-ravaged U.S. Northeast are increasingly worried about getting voters displaced by Sandy to polling stations for Tuesday's election. Scores of voting centers were rendered useless by the record surge of seawater in New York and New Jersey. New Jersey is allowing voters displaced by superstorm Sandy to vote by email, Reuters reported, while some voters in New York could be casting their ballots in tents in an 11th-hour scramble to ensure voting in Tuesday's elections. New Jersey Governor Chris Christie ordered county clerks to open on Saturday and Sunday to accommodate early voters and ensure a "full, fair and transparent open voting process." New Jersey authorities also took the uncommon step of declaring that any voter displaced from their home by superstorm Sandy would be designated an overseas voter, which allows them to submit an absentee vote by fax or email.
Sandy killed 69 people in the Caribbean before turning north and hammering the U.S. Eastern Seaboard on Monday with 80 mph (130-kph) winds and a record surge of seawater that swallowed oceanside communities in New Jersey and New York, and flooded streets and subway tunnels in New York City.
As the biggest U.S. city slowly returns to normal, Bloomberg said the "vast majority" of New York's 1,750 public schools would reopen on Monday.
[6 a.m. ET] Motorists in 12 northern New Jersey counties with license plates ending in an even number will be able to buy gas on even-numbered days, and those with plates ending in an odd number can make gas purchases on odd-numbered days, says a gas rationing order issued by Gov. Chris Christie.
[5:30 a.m. ET] Falling temperatures Sunday has added pressure to expedite recovery measures in areas battling gasoline shortage and continuing power crisis. New York City has opened warming shelters in areas without power supply and older residents lacking heating facility have been requested to move into them. The city administration also handed out 25,000 blankets to residents, who insisted on staying in powerless homes.
[4:30 a.m. ET] A study released just before Hurricane Sandy struck the U.S. East Coast by Geo Risks Research center of Munich Re, the global company that insures other insurers, noted how North America has been most affected by weather-related extreme events in recent decades.
"The North American continent is exposed to every type of hazardous weather peril – tropical cyclone, thunderstorm, winter storm, tornado, wildfire, drought and flood," the report stated, adding: "One reason for this is that there is no mountain range running east to west that separates hot from cold air."
The study showed a nearly five-fold increase in the number of weather-related disasters in North America in the last three decades, compared to an increase factor of 4 in Asia, 2.5 in Africa, 2 in Europe and 1.5 in South America.
[3 a.m. ET] New York Mayor Michael Bloomberg's decision to cancel Sunday's New York City marathon may have ruined the spirits of hundreds of runners who were gearing up for the event for several months now. However, some of them intend to take part in informal marathons for the benefit of the Superstorm's victims, Reuters reported.
A charity run has been planned for Sunday in hard-hit Staten Island that is expected to attract over 500 runners. The participants will start from Staten Island Ferry terminal in Manhattan and take different routes across Staten Island and distribute supplies along the way.
Other informal runs that will be held Sunday loop around Central Park, following the original 1970 route of the New York City marathon, Reuters reported.
[2 a.m. ET] The NFL confirmed that Sunday's game between the New York Giants and Pittsburgh Steelers will occur as scheduled. The game is set to kickoff at 4:25 p.m. EST at MetLife Stadium, the Associated Press reported. New Jersey Gov. Chris Christie did not address the game during a briefing Saturday, and questions regarding the schedule were deferred to the NFL.
© Copyright IBTimes 2023. All rights reserved.