Hurricane Season 2013: The Forecast Is In, And If It's Accurate, We're In For Some Severe Atlantic Storms This Year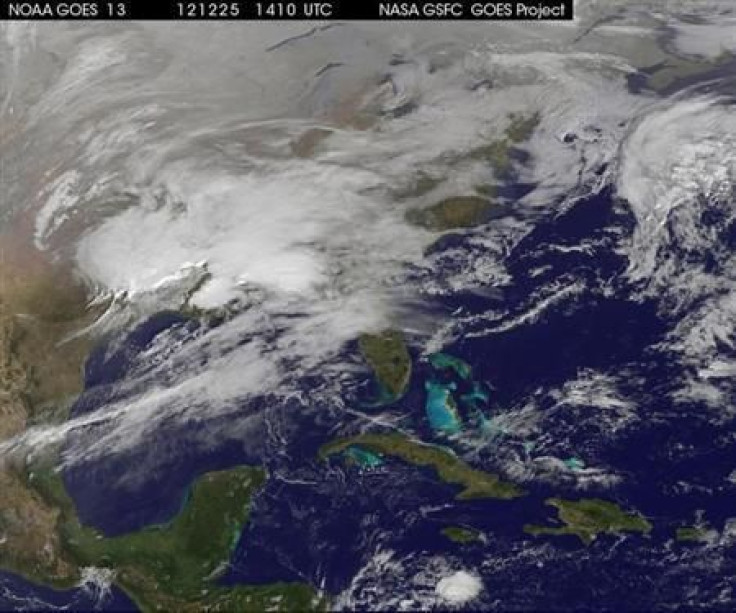 Last year's hurricane season was a doozy, despite the fact that top forecasters were way off in their predictions of how many tropical storms would actually strike the U.S.
But the 2013 Atlantic hurricane season, which spans June 1 to Nov. 30, is indeed predicted to be "above average," according to forecasters at Colorado State University. Meteorologists Philip Klotzbach and William Gray at the university's Tropical Meteorology Project predict 18 storms, nine of which will be hurricanes, several news outlets reported.
In 2012, Colorado university team -- which has been doing seasonal hurricane forecasts for 30 years -- named 10 storms and four hurricanes. But what really happened was far worse: 10 hurricanes, including the enormous Sandy, which led to dozens of deaths and billions of dollars in destruction.
This year, for the entire U.S. coastline, there is a 72% chance of a major hurricane hitting land, USA Today noted. For the East Coast, including Florida, the chance of a significant slamming is 48 percent and the chance along the Gulf Coast from the Florida Panhandle to Brownsville, Texas, is 47 percent, the news outlet reported.
The Tropical Meteorology Project forecast for the Atlantic basin, which covers the Caribbean Sea and the Gulf of Mexico, noted that of the nine hurricanes forecast, four of them will likely become major hurricanes -- categories 3, 4 or 5 -- that can produce winds of 111 mph and greater, Reuters said.
Gray said one of the reasons for last year's inaccurate forecast was the lack of a predicted El Nino. "We thought an El Nino was coming," he said, but they were obviously wrong. Another reason: Seven of the 10 hurricanes were in the northeastern Atlantic, far from land.
"The tropical Atlantic has anomalously warmed over the past several months, and it appears that the chances of an El Nino event this summer and fall are unlikely," Klotzbach said. "Typically, El Nino is associated with stronger vertical shear across the tropical Atlantic, creating conditions less conducive for storm formation."
As it turns out, the Colorado State meteorologist's seasonal forecasts are often conservative. According to a USA Today analysis, the team has under-forecast the amount of named tropical storms and hurricanes seven times, has over-forecast three times and has been "almost right -- within two storms -- three times."
To give Gray and Klotzbach credit, their forecasts in 2010 and 2011 were good. In 2010, they predicted 15 storms, and 19 formed; the next year, they forecast 16 storms, and 19 formed, USA Today said.
The first named storms of the Atlantic hurricane season will be Andrea, Barry, Chantal, Dorian and Erin, according to the newspaper.
© Copyright IBTimes 2023. All rights reserved.
FOLLOW MORE IBT NEWS ON THE BELOW CHANNELS